The growth needle is once again shifting into high gear at National Storage Affiliates (NYSE: NSA).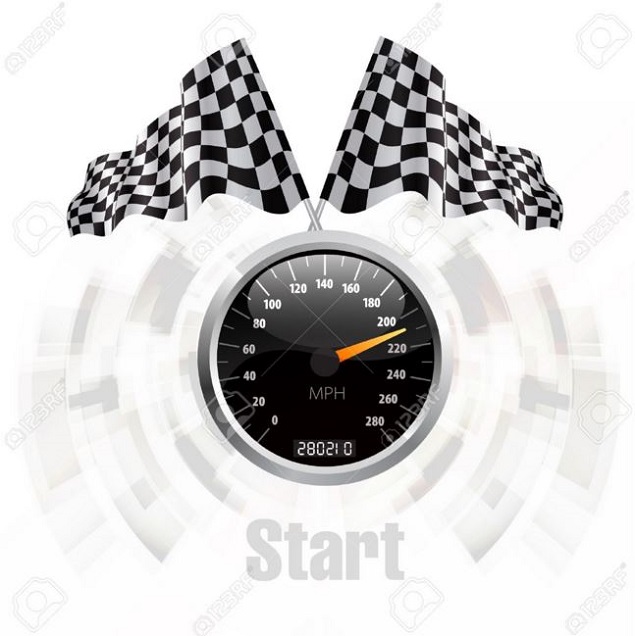 Source: image - 123RF
The newest publicly traded self-storage REIT continues to demonstrate that its unique business model resonates with large private self-storage operators.
This is especially true when it comes to family-run businesses, where management is looking to stay active and continue building upon a life's work.
After the bell, on Feb. 23, 2017, NSA announced the latest PRO to join its ranks, Personal Mini Storage of Orlando, a brand the Shader family has used to grow its self-storage business in Central Florida for several decades. NSA typically targets top industry operators with 20 or more properties located in larger US markets.
The Shader Brothers Corp. owned and operated portfolio contains 36 properties in a high-growth region of Florida. In the case of Personal Mini Storage, the Shader family has been an industry leader in Central Florida since the early 1980s. This acquisition will bring a portfolio of 36 well-seasoned self-storage properties to the table for NSA.
While the terms of the deal were not announced, (NSA reports Q4/FY'16 results on February 28th), NSA has the flexibility to issue OP/SP units in addition to cash for acquisitions. The OP units eventually convert 1:1 to NSA common shares. However, the SP units incentivize the new PRO with a formula that rewards strong performance, and protects existing shareholders in the event operating results are below par.
This optionality can give NSA a leg up versus its larger and better-known peer group, which includes: REIT blue-chip Public Storage (NYSE: PSA), Extra Space Storage (NYSE: EXR), CubeSmart (NYSE: CUBE) and Life Storage (NYSE: LSI).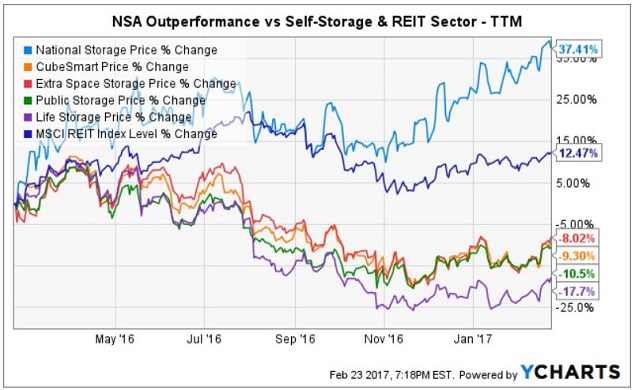 The chart shows that National Storage delivered solid results compared with its peer group and the broader equity REIT sector.
Read more: Why Self-Storage REIT NSA's $630 Million iStorage JV Is A Big Deal
If you are not familiar with NSA, the article above provides background and links to previous articles.
Self-Storage - Bigger Picture
The recent self-storage sector underperformance is an anomaly. However, self-storage REITs had become a victim of their own success over the past few years. After piling up a couple of years of record high occupancy and blistering same-store NOI growth each quarter, same period result comparisons get tougher.
After the Great Recession, there were about five or so years of muted new supply, which contributed to the strong industry fundamentals and record performance. Notably, during the past few quarters, some local markets have seen notable increases in new supply. This can create a headwind for both street rates and occupancy. Since new self-storage properties open 100% vacant, operators typically use incentives to attract customers until occupancy becomes stabilized.
By late January, the pendulum of pessimism appeared to have swung too far, which I pointed out last month for SA readers in Self-Storage REITs In Full Retreat - Time To Buy?
Mr. Market's relentless selloff created an opportunity for investors to once again initiate positions in the desirable self-storage REIT sector.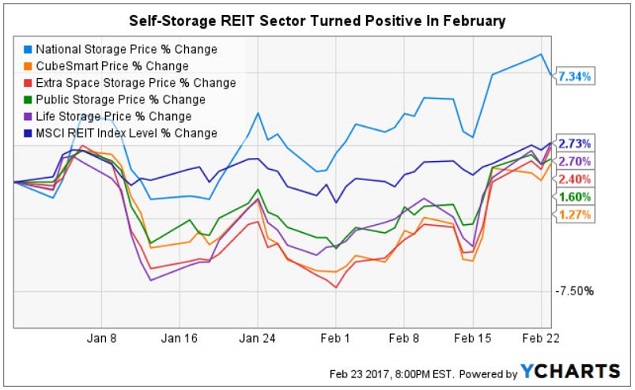 During the past month, the sector has slowly begun to come out of its funk. Recent results by CubeSmart seemed to trigger a bit of optimism and helped bring buyers back. Extra Space Storage also has led the February upswing.
Adding PROs Pays Dividends
CEO Arlen Nordhagen has assured analysts and investors that NSA will only bring a new PRO aboard if it makes sense strategically, culturally, and adds to the bottom line. This discipline may have slowed the growth a bit, but it has resulted in a steadily rising dividend since the NSA IPO in 2015.
It is in both the NSA shareholders' and OP unit holders' (NSA PROs) interest that any major acquisition is immediately accretive to earnings. Management incentives are clearly aligned with shareholders.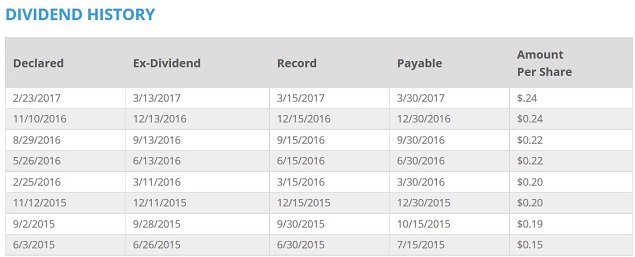 Source: NSA irwebsite - Feb. 23, 2017
Once a new PRO joins National Storage, implementing a revenue management program, the national call center, and an advertising program, can help drive better operating results. It is also a given that NSA as a publicly traded REIT has a much lower cost of capital.
New PROs are a source of local market knowledge, and they can sharpshoot one-off "bolt-on" acquisitions for NSA. PROs can also be instrumental in convincing other privately owned self-storage operators to take a long look at the NSA value proposition. The industry profile of Marc Smith of Personal Mini Storage, is a perfect example:
"Marc M. Smith, President of Personal Mini, is currently completing a six-year term on the national Self Storage Association ("SSA") board, where he has served in various executive roles, including Board Chairman for the 2016 term. Marc has also served as past President and National Board Member of the Southeast Region of the SSA. He is a licensed Florida real estate broker and a licensed Florida building contractor. Marc has a B.S. in real estate and finance from The University of Texas, a M.S. in building construction from The University of Florida and is a graduate of the Owner President Management Program at Harvard Business School."
NSA will be able to leverage the relationships of a veteran self-storage industry team, Marc Smith and his wife Laurie Shader Smith, who grew up with the business in Orlando. On a personal note, I was privileged to get to know Laurie and her family back in the mid-1980s, and they are top-notch folks.
FAST Graph - Valuation Analysis
It's time to use the F.A.S.T. Graphs tool to check under the hood. The black line is price. It is a visual comparison relative to the blue line, which is "normal" P/FFO for the selected number of years. The red line corresponds to the dividend yield on the far right of the chart.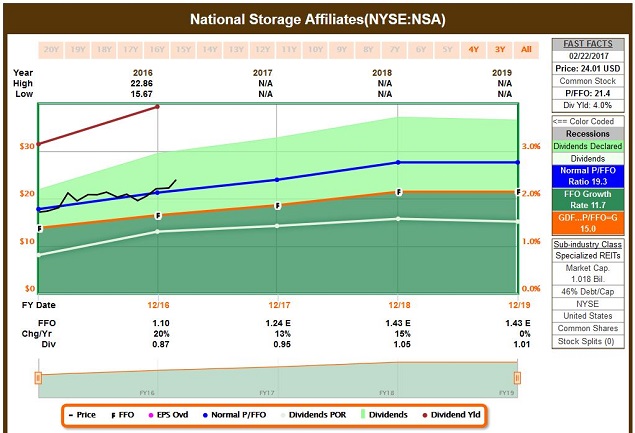 The NSA double-digit FFO growth potential can support the current valuation. In fact, the lack of consensus 2019 estimates for this relatively young REIT actually understates the growth. Meanwhile, investors are being paid an attractive 4% yield, backed by a solid history of dividend increases since the National Storage IPO.
Investor Takeaway
National Storage has been one of my top picks since the end of 2015. Last year, NSA shares returned over 30% to shareholders.
Read more: My REIT Small-Cap Gems 2016 Performance Update: 30%-Plus Returns
Notably, NSA shares are trading near their all-time high. However, that is not unusual for this top performer.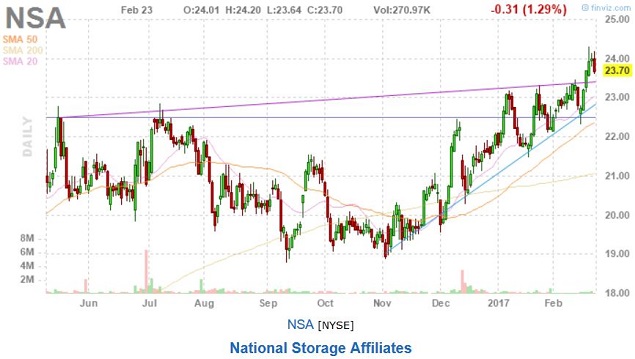 During the past 52 weeks, NSA shares have traded in a range of $17.10-$24.32 per share.
The challenge with most REITs which are fully valued is to find a catalyst to send the shares on the next leg up. However, the unique NSA business model has accretive portfolio acquisitions baked into the cake. Self-storage operators can cash in on high current valuations for their stabilized storage properties and remain active running the business. It is a way for them to diversify and obtain liquidity, to essentially have their cake and eat it too.
I fully expect management to raise FY 2017 guidance metrics to reflect the latest PRO acquisition. Additionally, NSA has been rolling out its revenue management program across the portfolio and this should bode well for same-store NOI results.
These "PROs," or preferred regional operators, can diversify and achieve some liquidity while still being able to participate in the upside of their life's work. NSA gives shareholders the opportunity to invest side by side with entrepreneurs who have a vested interest in the continued success of their legacy businesses.
If NSA does a secondary share offering in conjunction with the acquisition of the Central Florida portfolio, it could provide an opportunity for investors to initiate a position. I previously have suggested ~$20.00 as an acquisition target price. I think bumping that up closer to $22.00 per share would now be reasonable for new investors looking for an entry point.
I am contemplating whether to launch a Seeking Alpha Marketplace Premium subscription service. I would appreciate any feedback from readers who may be interested. Feel free to share them in the comment thread below, or send me an Inbox message.
I relentlessly hunt for diamonds in the rough and rising stars, in addition to closely following data centers, covering REIT blue-chips, and breaking news. Please consider following me as a Seeking Alpha author if you would like to be notified when my future articles are published.
Disclosure: I/we have no positions in any stocks mentioned, but may initiate a long position in NSA, EXR, CUBE, LSI, PSA over the next 72 hours.
I wrote this article myself, and it expresses my own opinions. I am not receiving compensation for it (other than from Seeking Alpha). I have no business relationship with any company whose stock is mentioned in this article.
Additional disclosure: Members of my household are long NSA.