For the past few months, the question of how to trade based on the effects of a Trump presidency has been a very hot topic in the finance-related media. Given his "America first" slogan, one could be forgiven for overlooking the fact that a European company may stand to benefit a great deal as a result of Trump's positions on a number of issues. I do believe, however, that Airbus (OTCPK:EADSY) may in fact get a greater boost than many American companies as a result of events that are already unfolding, in part as a result of Trump's position on demanding fellow NATO members spend more on defense. Airbus does have a solid line of military hardware that is available to European and other customers, as long as they are willing to spend.
The 2% of GDP threshold
Currently, only a few European countries are meeting the 2% of GDP military spending target set in 2014 at the Wales summit.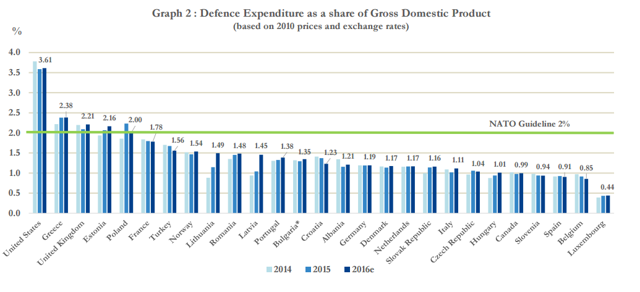 Source: NATO.
Just so we are clear, I do not believe that all the members of NATO will meet the 2% target by 2024. Some countries are facing acute economic problems. In fact, I believe that bankrupt Greece, which is one of the few countries which currently spends above 2% on defense, will move in the opposite direction. Other countries such as Italy, do not have much of a chance of increasing military spending to 2% of GDP either. Italy would have to double military in the next seven years to make that happen, which is hard to do given that it is hardly managing to stay afloat economically speaking as it is, without the extra burden of having to spend all that extra money on defense.
Even a country like France, which really does not have far to go in terms of meeting that 2% threshold, given that it spends close to that amount right now will have a hard time reaching and maintaining that level of spending on its military. I believe that it will strive to do so out of a sense of national pride more than anything, but as I pointed out on many past occasions, it cannot even meet its EU treaty obligation to keep its deficits under 3%.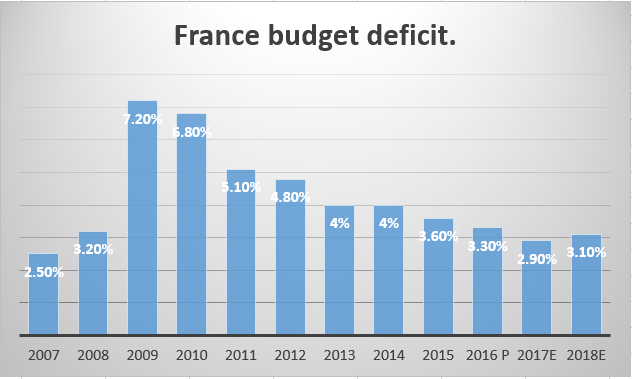 Data sources: Trading Economics, EC.
While we should be under no illusions in regards to all European NATO members actually meeting the 2% defense spending target, we should also recognize the fact that they will try to do it. We should also recognize the fact that there are countries such as Germany which is currently running a budget surplus, while as we can see from the NATO member defense spending data, it is only spending about 1.2% of its GDP on defense. I fully expect to see Germany achieve that 2% target, which by itself means an increase in military spending in Europe of almost $30-35 billion per year. Adding up the entire potential increase if most European countries will do their best to try to meet the military spending goal, we can easily see an increase in spending by about $100 billion per year, which may end up being greater than any potential increase in spending we may see in the US. I believe that most of the increase will go on equipment spending, given today's needs.
Airbus does have the right product lineup to take advantage of this increase in military spending. I don't think that the equipment spending increase will go to a great extent on strengthening land forces. It will go instead to air transport resources meant to get the soldiers and equipment they already have in possession to the places where they may potentially be needed as soon as possible. In other words, rapid response capabilities. In this respect, the Airbus A400M is the perfect contender for such purchase contracts. It is suited for a versatile number of missions, including troop and humanitarian transport, air-to-air refueling, as well as airdrop operations.
The Eurofighter is a versatile multi-role fighter jet that Airbus produces. It is likely to see increased sales as well, given the attractive aspect of its versatility, which offers individual European military forces the benefit of purchasing one aircraft to perform a number of needed tasks. We should remember that Europe is made up mainly of relatively small nations. Therefore, their military structure will continue to be relatively compact, even if they will increase spending, which will make an aircraft that can perform most duties attractive.
Aside from the above-mentioned big-ticket items, Airbus also offers a variety of drones, which tend to be hot items this day and age, given that information gathering and precision operations are a desired feature of any modern military. Satellite technology used to be thought of as the must-have capability, but increasingly armed forces around the world desire to have well-developed drone capabilities in place. In addition to drones, Airbus also has a number of smaller sized military aircraft, for transport, evacuation and other uses which I see as being potentially desirable for the smaller militaries of Europe.
It is impossible at this point to project the exact effect a potential increase of defense spending of as much as $100 billion per year will have on the bottom line of Airbus. According to its 2016 report, it had a revenue intake of 66.6 billion euros ($70 billion), of which over 11 billion euros came from defense-related sales. Airbus does have competitors for those defense contracts, but an increase of about $100 billion per year in European defense spending can easily translate into Airbus sales increasing by billions of dollars per year. It might even have the potential to lead to a doubling of defense-related sales volume in the next decade or so.
In light of this, and keeping in mind the probability of increased global air travel which is assumed to take place as the global middle class continues to expand, Airbus stock seems like a good long-term bet for those looking for exposure to aircraft manufacturing. It is currently a stock which in my view is greatly overlooked and underappreciated as a way to play the changes taking place as a result of the Donald Trump presidency.
Disclosure: I/we have no positions in any stocks mentioned, and no plans to initiate any positions within the next 72 hours.
I wrote this article myself, and it expresses my own opinions. I am not receiving compensation for it (other than from Seeking Alpha). I have no business relationship with any company whose stock is mentioned in this article.
Editor's Note: This article discusses one or more securities that do not trade on a major U.S. exchange. Please be aware of the risks associated with these stocks.