February 23rd was, for lack of a better word, an abysmal day for shareholders of Chesapeake Energy Corp. (NYSE:CHK). After releasing results for the fourth quarter of its 2016 fiscal year, shares of the business fell as much as 9.1% before clawing back toward the end of the day and closing out down 2.9%. In what follows, I will cover some details of its press release and give my thoughts on what it all means for investors moving forward.
A disclosure
Not too long ago, I published an article that covered management's 2017 guidance that was released prior to this earning's release and which addressed some things I covered in an even earlier article on Chesapeake. For the sake of not repeating the news so that I don't waste your time, I highly recommend that you all read that piece as well, because my thoughts on the firm's data that was released at that time still stand. In this article, my goal is to cover only newer items of relevance that I believe warrant investors' attention.
Management is making some progress on debt
One of the problems not only with Chesapeake but also most of the competitors I've looked at in this space is that they tend to have a great deal of debt. So long as companies in this space can continue to service their interest, keep lenders happy, and refinance debt as it comes due or (even better) pay some off, the debt of any one firm is not too much of a concern but, even so, that doesn't mean that businesses shouldn't be focused on reducing debt whenever possible until energy prices rebound.
Due to a series of twists and turns, as well as an issue of timing, the debt picture at Chesapeake actually worsened between the fourth quarter of 2015 and the fourth quarter of 2016, with total debt outstanding rising from $9.71 billion to $9.99 billion. At first glance, this appears to be a major concern, but by tapping into $882 million in cash and cash equivalents, as well as benefiting from asset sales in the first quarter of this year that brought in gross proceeds of $915 million, Chesapeake has since reported that debt today stands at around $9.10 billion. Net of payments, management expects to see excess cash on hand of around $300 million by the end of February this year.
When you consider that management received gross proceeds from asset sales over the past year of between $2 billion and $2.2 billion, this doesn't sound like much, but it's important to consider a couple of things. First, management's main goal last year was not to reduce debt; it was to extend the maturity of debts that they had coming due soon. As a result of their efforts, paying down debt and refinancing other debt, the firm was able to reduce $2.77 billion of debt maturities that could, in theory, be put to them this year and next down to just $77 million. This provides a great deal of certainty so long as the company does not trip any covenants or mess up in some other way. Second, the firm still believes that over the next few years it will be able to reduce debt by a further $2 billion to $3 billion, largely through asset sales, and has said that they want to do it sooner as opposed to later.
In addition to this, management has continued to show that its cost structure improved compared to 2015. In the image below, for instance, you can see that the company's production costs dropped from $3.62 per boe (barrels of oil equivalent) in the fourth quarter of 2015 to $2.98 per boe in the fourth quarter of last year. To put this in perspective, the change alone, with 199.5 million boe to be produced this year, would convert to a cost decline of $127.68 million for the year. Using this year's guidance of $2.60 per boe, we can expect a further falloff of $75.81 million.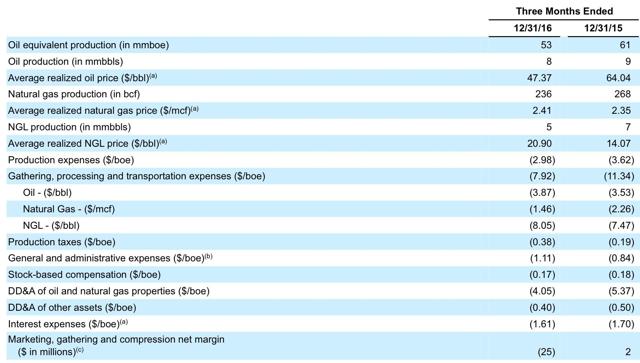 *Taken from Chesapeake
A similar, and even more pronounced, trend can be seen with its gathering, processing, and transportation costs, which fell from $11.34 per boe in the fourth quarter of 2015 to $7.92 per boe a year later. This, represents a falloff of $682.29 million in costs at current production forecasts and a further decrease this year will cut an extra $133.67 million in costs out of the way. Sadly, there will be some increases, such as in general and administrative costs, but cash-based increases will pale in comparison to the decreases.

*Taken from Chesapeake
The last thing I looked at that I believe warrants some attention, besides the in-passing note that management, through divesting itself of a commitment to the Seaway Pipeline that will allow its marketing margin to finally turn positive next year (though by how much, we do not know), is Chesapeake's PV-10. In the image above, you can see the company's PV-10 for 2016 compared to 2015. Based on the data, the number has declined from $4.73 billion to about $4.41 billion over the course of a year but a meaningful contributor to this appears to be the fact that prices in 2016 were calculated at $42.75 per barrel for oil, compared to $50.28 per barrel a year earlier, and at $2.49 per Mcf for natural gas compared to $2.58 per Mcf in 2015. If, however, we assume that prices are higher, that the average the strip prices seen on December 31, 2016 for the future as opposed to historical prices, this number balloons, as you can see below, to $11.23 billion. This adds a nice measure of comfort in my mind.

*Taken from Chesapeake
Takeaway
Based on the data provided, I must say that I rather enjoyed the progress made by management over the past quarter and I like the company's plans for future debt and cost reductions. Not to mention, its PV-10 value, adjusting for the future curve of the energy markets, is quite nice. For now, I still don't own shares because I don't like the idea of the firm not being cash flow neutral until 2018 but it is still on my radar and if prices dip too low (maybe $4.50 to $5 per share) and/or if I see continued improvements to its capital structure and/or continued increases in energy prices, I would certainly consider buying in. Given the opportunities I have in Legacy Reserves (NASDAQ:LGCY), Approach Resources (NASDAQ:AREX), and Whiting Petroleum (NYSE:WLL), at the moment (I own shares in all of these), I prefer to continue holding those shares but could see myself moving more into Chesapeake when the time becomes right. For me, I just don't think it has yet.
Disclosure: I am/we are long LGCY, WLL, AREX.
I wrote this article myself, and it expresses my own opinions. I am not receiving compensation for it (other than from Seeking Alpha). I have no business relationship with any company whose stock is mentioned in this article.
Additional disclosure: I own LGCYO and LGCY