Jobless claims for the latest week came in slightly higher than expected Thursday morning, rising from 238K up to 244K, which was 4K above the consensus estimate of 240K. There's not much new here in the headline number; jobless claims remain exceptionally low by historical standards and have now been below 300K for 103 weeks. That's the longest streak since 1970 - a time when the US population was a lot larger than it is now.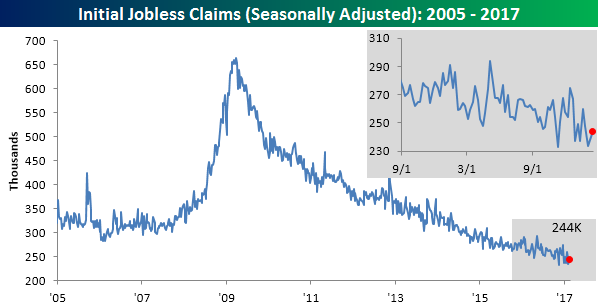 Even with the increase in the weekly print, the four-week moving average dropped by over 3K, falling to 241K. That's a new post-recession low and a level that hasn't been seen since 1973.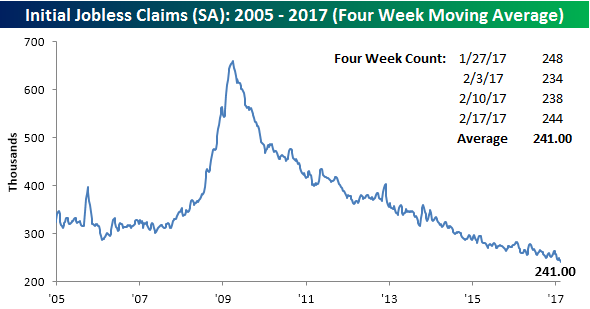 On a non-seasonally adjusted basis, claims were also solid, falling from 245.9K down to 240.5K. For the current week of the year, this is more than 100K below the average level since 2000 and is the lowest level for the current week going back to 1969.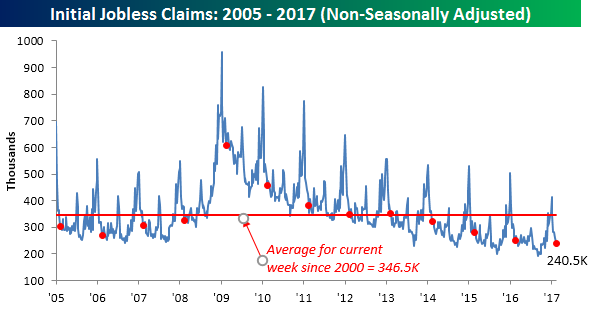 Thanks for reading the article. Follow our account to get our articles as soon as they're posted to Seeking Alpha. To get our full newsletter, sign up for Bespoke Newsletter PRO. Subscribers to that service get access to Bespoke's model stock portfolios, actionable data-driven insights, and in-depth analysis of everything that drives the markets, among other things.