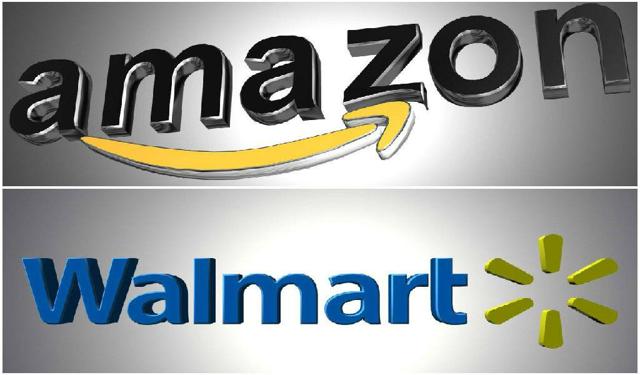 source: Scripps
I recently read that because Wal-Mart's (NYSE:WMT) fourth quarter online sales soared at a faster pace than Amazon's (NASDAQ:AMZN), trying to suggest Warren Buffett's decision to recently sell a huge amount of Berkshire Hathaway's (NYSE:BRK.A) Wal-Mart shares may have been premature. Poor Warren.
The reality is that while it was true that Wal-Mart's online sales outpaced Amazon's in the latest quarter, it was primarily because Wal-Mart bought the accelerated sales; it didn't grow them organically.
Wal-Mart announced the acquisition of Jet.com was completed in early September, with the remainder of the quarter enjoying the added revenue from the deal. Estimated sales for Jet.com in 2016 was about $1 billion. Wal-Mart would have received a significant chunk of that with Christmas sales.
Also interesting, is Jet.com was built with the purpose of catering to consumers looking for low-cost transactions, which while playing into Wal-Mart's overall core business, wouldn't compete directly with Amazon Prime customers, whom are very loyal and spend a lot more than non-Prime members.
Assuming Wal-Mart is using Jet.com for the purpose it was built, it means it's getting the lower end of the consumer disposal income demographic. At this time I see the bulk of Wal-Mart's online growth mostly coming from the acquisition of Jet.com, and much of that is from lower end customers. That means margins there will be lower than those not as moved by product savings alone, but by the overall customer experience, which Amazon excels in.
Wal-Mart's catch-22
The problem Wal-Mart has that Amazon.com doesn't, is all, if not most online sales, can't be assumed to be pure Internet plays, meaning a lot of the sales are ordered online and picked up at Wal-Mart. I believe the majority of those sales are cannibalizing the physical store sales, not adding much value to Wal-Mart's top and bottom lines.
So while it must respond to Amazon and other online retailers in order to provide customers the convenience of online shopping, it will do so at the expense of sales at its physical stores.
It's impressive that Wal-Mart customers used the company's online platform to order and pickup the orders at the stores, but it doesn't mean it has anything to do with the level of overall growth in sales at the company. And considering Amazon's ongoing growth, there is no proof it's taking any meaningful online sales away from the market leader.
Measuring how effective Wal-Mart's online strategy is is different than you would with Amazon. You have to look at the pace of growth or lack of growth at its physical stores, and from there include the online sales figures. Also, how it includes the online orders made and than picked up at the stores in its earnings reports is important. Are they counted as online sales or sales from their stores?
Here it gets tricky because of the intention of the customer is difficult to ascertain. Were they going to go to the store and buy the item anyway, and simply used the Internet platform of the company in order to cut the time down spent at its physical stores? That would mean the company would be in reality making a sale at its physical stores, but could count it toward online sales because of it originating there.
Because of the intention factor, investors will have to take into account the overall revenue and earnings sales at Wal-Mart, not some dubious numbers suggesting its growing online sales at a pace quicker than Amazon is doing. For the reasons mentioned above, it's not able to be proven one way or the other.
That isn't to say the value of more customers ordering online isn't important, only that it can't be assumed it's because consumers are considering Wal-Mart a serious alternative to Amazon.
Amazon going physical
What makes all of this really interesting is Amazon, with a limited but targeted number of products, is looking to invade the retail physical market, led by products it has discovered consumers prefer to handle before buying.
Why that is a better strategy to me is it won't be cannibalizing much of its online sales, but should enjoy a higher growth rate for the products offered in physical settings. In other words, people weren't buying these types of products at meaningful levels from Amazon over the Internet, and its data show this could be an excellent way to enter the physical retail market without cutting into online sales in any meaningful way.
Further, my research suggests these products aren't going to be slow-moving products, but products many consumers need or want.
With one of Amazon's key moats being the data it is able to gather from a huge number of customers, there is no doubt in my mind it's positioning itself for a strong chance at making these physical stores very successful.
Being able to do it without disrupting its existing sales is a major plus as well.
Online sales outlook
Overall online sales are only going to continue to grow in the U.S. and around the world, and domestically, online sales only account for approximately ten percent of all retail sales in the U.S. There is a lot of room to grow there, even when considering there are some things most people won't buy unless they are able to handle them.
With that in mind, and Amazon and Wal-Mart being the top two online retailers - with Amazon easily dominating the e-commerce market - both of them should continue to grow online sales over the long term.
For all of 2015, Amazon generated $107 billion in online sales, with Wal-Mart coming in a distant second at $13.7 billion in online sales.
In its latest earnings report it was also revealed another cost of boosting online sales is at the expense of already tight margins. Revenue grew but earnings fell. Now that's really starting to sound like an Amazon business model.
I think Warren Buffett saw that Wal-Mart would cannibalize its physical stores and what real growth it enjoyed in the e-commerce segment of its business, would weigh heavily on earnings. He didn't miss anything.
The trend of increasing online sales will continue, and it will raise both of these retail giants' ships. At what cost it'll do so is the question.
Conclusion
Investors need to take the Wal-Mart performance as very suspect, when considering cannibalization, margins and earnings. That said, if Wal-Mart is started to be analyzed in the same way Amazon has been, it may be rewarded with a higher share price. It doesn't mean it's taking share away from Amazon or even necessarily improving general sales. What it means is it's transitioning to more online sales.
It'll take a few more quarters to see whether or not there is real online sales growth coming from Wal-Mart, or it's simply acquired growth, which while legitimate, is unlikely to have much, if any, impact on Amazon's results.
From Amazon's point of view, at worst, it may lose some of the low-margin, low-cost sales to Wal-Mart, but that may be a positive thing which may improve its margin and earnings.
With online sales being a monster trend with a long way to run, I don't see either company really suffering from lack of growth in that segment of their businesses.
However the market views Wal-Mart as a result of increasing its e-commerce business, I don't see it doing anything to slow down Amazon, even if it continues to acquire other companies to give it more growth in that market. It would be more impressive and important to me if this was organic growth rather than growth via acquisition for Wal-Mart.
The reason is after the initial bump from acquisition sales, it still has to figure out how to grow organically in the years ahead if the growth is to be consistent and long term.
Not only do I still like Amazon far better than Wal-Mart as a growth company, it also has a real chance at not only growing its e-commerce business for years, but may get another nice revenue stream by selling highly desirable products that consumers prefer to handle in physical stores before making a buying decision.
Disclosure: I/we have no positions in any stocks mentioned, and no plans to initiate any positions within the next 72 hours.
I wrote this article myself, and it expresses my own opinions. I am not receiving compensation for it (other than from Seeking Alpha). I have no business relationship with any company whose stock is mentioned in this article.