In 2015 Minneapolis-based Medtronic merged with Covidien, creating one of the largest global medical products companies. The main rationale for the deal was the ability of the new company to have all its tax accounting headquartered in Dublin, Ireland, instead of America. The company touted Ireland's 12.5% main corporate income tax rate as a huge benefit for shareowners vs. the U.S. 35% tax bracket. While the tax inversion was legal at the time, changes to America's tax structure in 2017, initiated by Republicans in Congress and supported by President Trump could wreak havoc on the company's cost structure and reportable earnings for shareholders. Specifically for Medtronic plc (NYSE:MDT), lower U.S. corporate tax rates will not help the bottom line, and a major 20% border tax or tariff on imported goods could allow U.S. competitors like Johnson & Johnson (NYSE:JNJ) and Abbott Labs (NYSE:ABT) to steal market share, revenues and ultimately profits.
Medtronic has mastered tax avoidance
During the last reported four quarters of operation, Medtronic has expensed $330 million for income taxes globally on revenues of $29,000 million ($29 billion). Income taxes work out to 1.1% of sales. The company is estimating $5,000 to $6,000 million ($5-6 billion) in free cash flow for fiscal 2017 ending in April. So about 6% of that total will be paid in income taxes. Based on Wall Street analyst consensus GAAP accounting earnings of $4,000 million ($4 billion) for this year, Medtronic will expend roughly 8%-10% for income taxes. In the end, it's safe to say whatever tax reduction comes to corporate America with Republican changes, Medtronic is already paying next to nothing.
Below is a copy of the earnings breakdown reported for the first three quarters of the current fiscal year. I am circling the income tax provision line.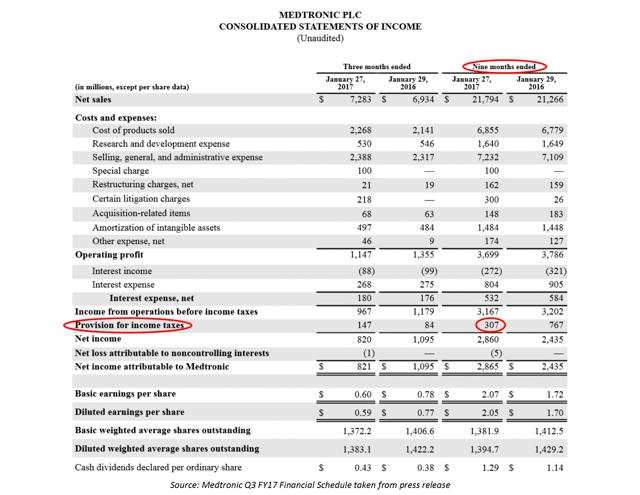 For comparison, other similar companies in medical products pay considerably more in income taxes. Johnson & Johnson has expensed 4.5% of revenues the last four quarters, Abbott Labs 1.8%, Stryker (NYSE:SYK) 2.6%, CR Bard (NYSE:BCR) 3.6%, and Becton Dickinson (NYSE:BDX) 1.5%. Basically, as a percentage of revenues, cash flows and earnings, Medtronic is an industry leader for finding every loophole in the tax code. [I am not including Boston Scientific (NYSE:BSX) as it retains a highly leveraged business structure with regular annual operating losses.]
The IRS has taken notice and is fighting Medtronic's under-reporting of tax liability at its Puerto Rico unit. Another Seeking Alpha article by Long/Short Investments does a nice job of outlining all the tricks management has executed in recent years to prop up the stock quote, helping management stock option values.
Covidien merger has created an overleverage problem
The combination of assets with Covidien jumped long-term debt from $10 billion in 2013 to nearly $30 billion today, with total liabilities standing at $48 billion currently. If Medtronic were funneling all of its $5+ billion in annual free cash flow to debt reduction, the IOUs wouldn't stand out as an issue for investors. However, the company in the last four quarters paid out $2.3 billion in regular dividends and bought back $3.5 billion of previously issued equity. Given any downturn in its business operations from a U.S. border tax on imported goods and/or higher tax rate charged foreign-based enterprises, or a global recession, or new inventions by competitors, or product liability issues, $48 billion in money owed to others will become a huge problem for shareholders.
At this stage of ordinary share support, any reduction in the dividend or stock buyback numbers will surely generate a monster sell-off in Medtronic as investors flee. The company has really backed itself into a corner as revenues stagnate. With no room for error to maintain income numbers and investor confidence, Medtronic has decided to start selling off assets to deleverage. The irony is jettisoning units earning real income only makes future paths forward for the whole organization even harder to achieve. For perspective, if the company slashed its dividend and buyback program in half, it would still take 20 years to pay off its liability total, all else being equal.
Using trailing four quarter operating earnings for apples to apples comparison, Medtronic's liability total is 12x annual profits, Johnson & Johnson is 4x, Abbott is 8x (before the St. Jude acquisition), Stryker is 5x, Bard is 7x and Becton is 12x. Any way you slice it, Medtronic is on the high end of the large capitalization medical product spectrum for leverage.
Stretched equity valuations
For investors, Medtronic's fundamental stock valuation is not cheap. Using the past decade of trading in the old company setup, plus the new Covidien asset mix since 2015, price to revenues, cash flow and book value are on the high end historically. Versus a 10-year average under 3x annual trailing sales, today's price is closer to 4x revenues. Medtronic has averaged 11x trailing cash flow the past decade of trading activity. 17x cash flow is quite high at $80 a share in early 2017, even after considering the larger size and diversification of its product offerings with the addition of Covidien assets.
Price to book value has averaged 2.5x the basic accounting worth of the business at any point in time the last decade. Presently it stands at 2.1x. Nevertheless, tangible book value has cratered from $6 billion in 2014 before Covidien to a record -$18 billion in the last few quarters. Aggressive stock buybacks have financially engineered a wider and wider negative book value of assets you can touch, understand and liquidate in a fire sale. If business sours, mountains of goodwill and intangible assets from the Covidien merger mean Medtronic no longer has any honest underlying book worth.
Weak stock trading momentum
Issues with overleverage and weak top line sales growth the past several years have investors asking if Medtronic is worth the risk to their capital. The stock price has increasingly become a standout underperformer since the early 2015 merger with Covidien. The graphs below highlight weak stock trading momentum the last year, especially against its peer medical products group. I am comparing Medtronic to the S&P 500 Index, the Health Care SPDR ETF (NYSEARCA:XLV), Johnson & Johnson, Abbott Labs, Stryker, CR Bard and Becton Dickinson the last 3, 6 and 12 months, with a 2-year stockcharts illustration at the end.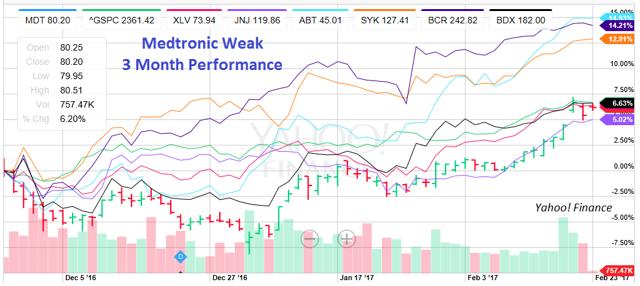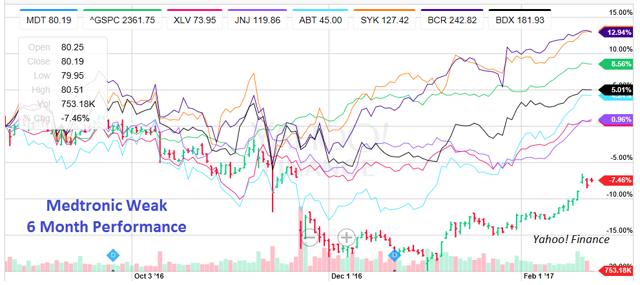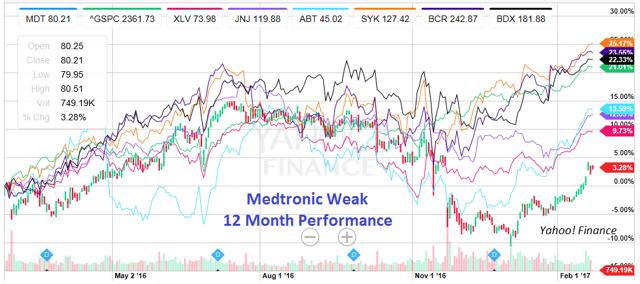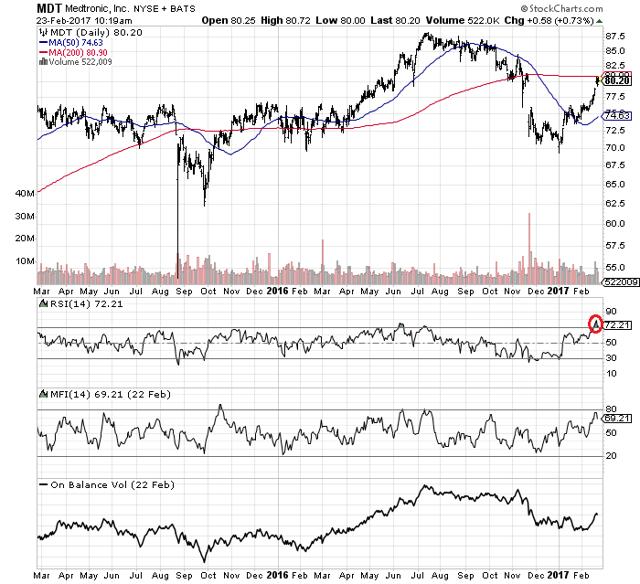 The fact Medtronic is the most overbought in years using a standard Relative Strength Index [RSI] measurement, while still trading below its longer-term moving averages may have opened a smart area to sell shares or go short. I have this situation circled in red above.
Final Thoughts
Public opinion and action in Congress have turned sharply against the tax inversion strategy like the one employed in the Medtronic/Covidien merger. The elimination of the Obamacare tax on medical products and a lower U.S. corporate tax rate would help companies generally in the industry, but with Medtronic's position as a low tax payer to start the year, limited gains may come from these proposals. On the flip side, Trump's campaign promise for American jobs first could really hurt Medtronic's overseas production and import costs to the U.S. given the 20% border tax idea becomes law. The company reported manufacturing and marketing assets in 89 countries in its 2016 10-K filing. Others in the industry could undercut the company on price in many instances if tariffs are introduced, plus Trump may impose special tax rates on companies based outside the U.S. like Medtronic that do a majority of sales in America.
Excluding the possibility of new taxes and duties on Medtronic's wide network of manufacturing globally, its large debt overhang, maxed out profit margins, slow sales growth, and exaggerated use of operating cash flow to prop up the stock price open plenty of downside risk for equity investors. The stock quote has not risen much since optimism peaked in the early days of the Covidien merger. Putting it all together, my Victory Formation momentum system has been signaling Medtronic as a name to sell or even short in large, hedged portfolio designs. Please do your own research and due diligence before making any investment decision. There are plenty of moving parts to contemplate, more so than usual, when entering a position in Medtronic.
Disclosure: I/we have no positions in any stocks mentioned, but may initiate a short position in MDT over the next 72 hours.
I wrote this article myself, and it expresses my own opinions. I am not receiving compensation for it (other than from Seeking Alpha). I have no business relationship with any company whose stock is mentioned in this article.