"Pretty ugly."
That's how Hedgeye Financials analyst Jonathan Casteleyn sums up the current global mergers and acquisitions market. "We think people are being complacent," he says. "This is a counter-trend that's not widely watched." It doesn't bode well for boutique M&A-focused investment banks like Greenhill & Co. (NYSE:GHL) and Lazard (LZD).
Here's why.
Worldwide M&A by deal value amounts to $292.7 billion so far in the first quarter of 2017. That's down -9.9% year-over-year. The problem is exacerbated by North America, where M&A is down -16.9% at $142.4 billion. The picture looks pretty bleak.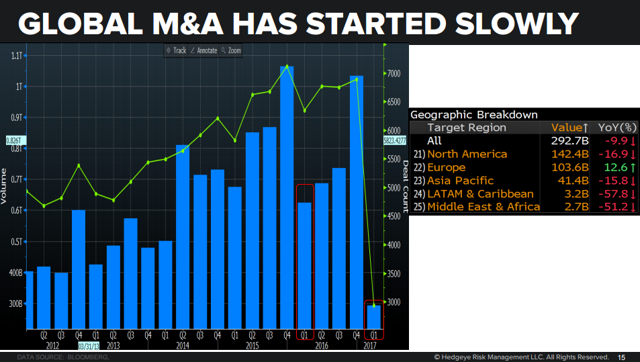 The peak may be in. A look across cycles shows just how "fully valued" M&A is right now, Casteleyn says.
In the past three cycles 1999, 2007, 2015-2016, M&A deal announcements to U.S. GDP spike above the long-term average of 9.9%. Last year, that number crested at 16.4%, which is "a very, very healthy level." Casteleyn says. That should start to drop off as we head into 2017 and 2018.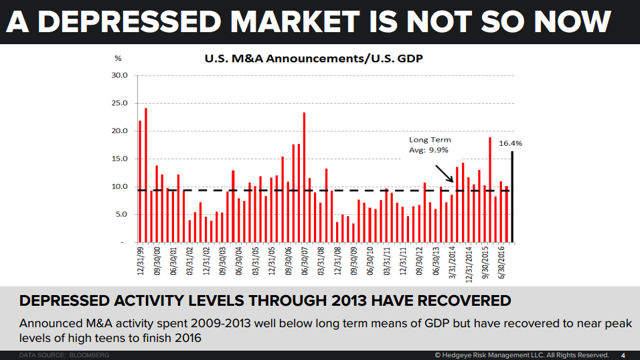 A few looming risks will exacerbate the past-peak trend in M&A. Super low interest rates have fueled the market for some time now. That's obviously beginning to change. "Since mid-2016 and the Trump election borrowing costs are going up," Casteleyn says in the video below. "That means affordability goes down on a go-forward basis."
Moreover, Fed rate hikes will essentially "pull the rug" out from under M&A advisory shops. Going back to 1987, previous Fed tightening cycles have caused corporate credit spreads over Treasuries to rise between 20 and 2,000 basis points. Our research shows that for every 100 basis point increase in credit costs historically, year-over-year M&A activity decreases by -20%.
Meanwhile, private equity buyers are beginning to pull back. That matters because private equity shops are typically the last incremental buyers before the air comes out of the M&A market. As you can see in the chart below, private equity purchasing spiked in 2007, to 30% of all M&A deals, and again in 2015, to 25%.
The average of private equity to total M&A deals over the last 13 years is 18%. "Private equity remains at elevated levels and that is a warning sign that as we move into 2017 and 2018," Casteleyn says. "The incremental buyer is coming out of the market."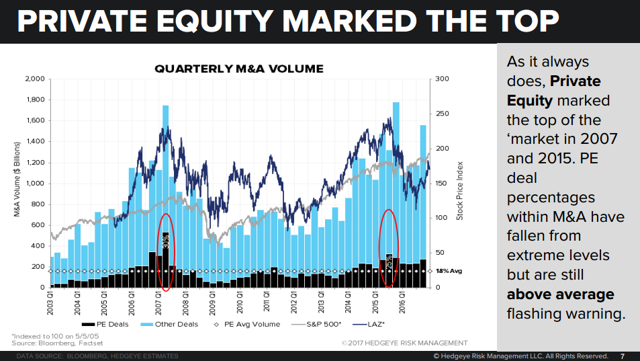 How do you play the coming tumble in M&A?
"You want to look at the boutique, un-diversified names," Casteleyn says, M&A advisory companies like Lazard (NYSE:LAZ) and Greenhill & Co. Mergers and acquisitions make up roughly 80% of Greenhill's top-line revenue and 55% of Lazard's. This compares to 10% for a more diversified bank like Goldman Sachs (NYSE:GS). (Casteleyn recently added Lazard as a short to his Best Ideas list.)
Bottom line? "The big deals have been done," in the M&A space Casteleyn says. As the air comes out of the market, stay away from Lazard and Greenhill.
Watch Casteleyn make his case in the video below.
Disclosure: I/we have no positions in any stocks mentioned, and no plans to initiate any positions within the next 72 hours.
I wrote this article myself, and it expresses my own opinions. I am not receiving compensation for it. I have no business relationship with any company whose stock is mentioned in this article.