Seeking the Seeking Alpha Community's Advice
My goal with this post is to solicit feedback about a strategy I am considering for my IRA. The obvious advantage of trading in the IRA is the avoidance of capital gains taxes.
Here's the gist of the idea: Own only 15-25 wide-moat, high quality stocks.
I am a big believer in the wisdom of crowds and see the Seeking Alpha community as a great sounding board for ideas. Please give me your reaction, pushback, and advice.
The Market Appears Pricey
But before getting into the details, here are three charts that give me angst and move me to want to protect capital.
Chart 1: The S&P 500 is in Record Territory, up 20.62% over the past year.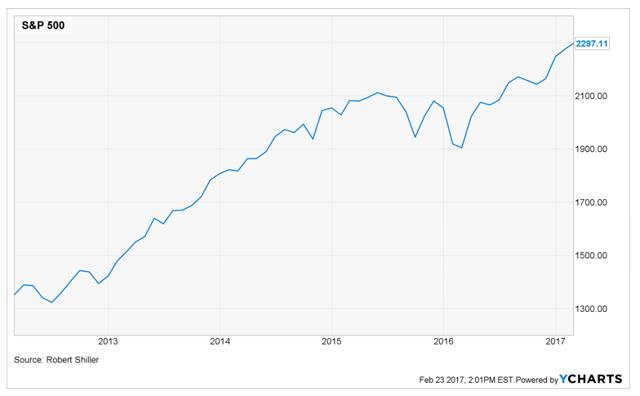 Chart 2 Shiller's S&P 500 Cyclically Adjusted Price-Earnings Ratio is up 19.39% over the past year and 71% compared to the historic average of 16.73: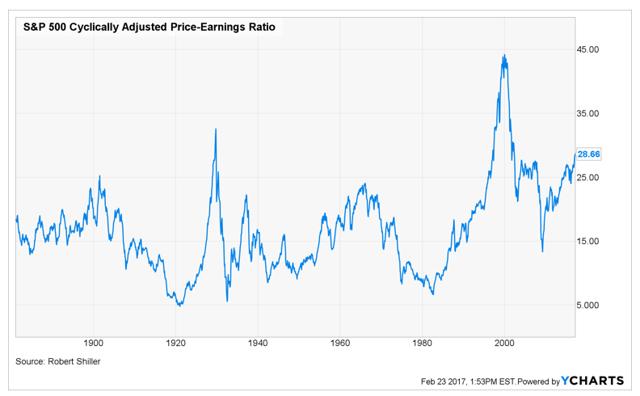 Chart 3: Warren Buffett's Favorite Valuation Metric - US Total Market Cap to GDP; the long term average is 79%, the 2016 average was 108%, and it is currently 130.9%.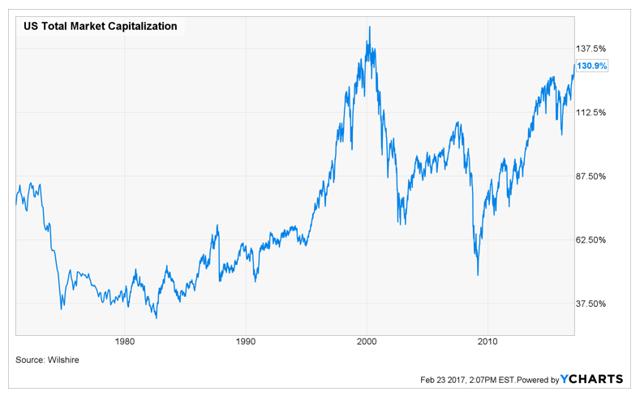 Punchline is that I am concerned the market is so pricey that a decline, possibly a material double-digit drop, seems inevitable. Trees don't grow to the sky. The law of averages - i.e., reversion to the mean - eventually kicks in.
However, the problem with such thinking is two-fold. First, it implies that I am smart enough to time the market: I know that's not true. Second, selling stocks contradicts my belief that Warren Buffett is right when he says the stock market is a bet on America; and over the long-haul, America - and the stock market - are winners. So why sell? Why not accept the ups and downs?
Is It Time for a High-Quality Only Strategy?
If you have read my book about bank investing, you know my research shows that bank investors achieve the best long-term returns by owning banks with the industry's best risk-adjusted returns on equity (RAROE). Among the mega-banks, U.S. Bancorp (NYSE:USB) and Wells Fargo (NYSE:WFC) over the past two decades have been leaders in RAROE, and consequently, also in total return (dividends and stock price appreciation). It is no surprise Warren Buffett owns both through Berkshire Hathaway (BRK.A and BRK.B).
Taking the same approach to the broader market, I am considering an investment strategy that holds only 15-25 companies all of which have wide-moats and financial condition ratings as measured by S&P of "A" or "A+". My bias (of course, it is bad to have bias) is to own High Quality stocks with large market caps and big brand names that I have recognized for a long time.
The companies I am considering are: Blackrock (NYSE:BLK), Colgate Palmolive (NYSE:CL), CSX (NYSE:CSX), CVS (NYSE:CVS), Walt Disney (NYSE:DIS), Emerson (NYSE:EMR), General Dynamics (NYSE:GD), Home Depot (NYSE:HD), Honeywell (NYSE:HON), The Hershey (NYSE:HSY), IBM (NYSE:IBM), Johnson & Johnson (NYSE:JNJ), Coca-Cola (NYSE:KO), McDonald's (NYSE:MCD), 3M (NYSE:MMM), Nike (NYSE:NKE), Pepsi (NYSE:PEP), Proctor & Gamble (NYSE:PG), United Technology (NYSE:UTX), Wal Mart (NYSE:WMT), and Exxon (NYSE:XOM).
It should be noted that Exxon is actually rated by S&P as an "A-". I chose to include it for three reasons: first, historically it has been rated A and A+, and therefore, it would likely have found its way in a High Quality portfolio over the past 20 years; second, I want Energy sector exposure given the sector's long-term responsiveness to inflation, a risk that appears to be on the rise; and third, there are no Energy sector stocks currently rated A or A+.
The charts that follow assume that each year High Quality stocks are bought and sold to ensure an equal percentage of each company in the portfolio on January 1 of the new year. Clearly, using a tax-free IRA makes more sense than a taxable account. Returns for the High Quality 21 are calculated by taking the average return of each stock.
Chart 4 shows annual total returns since 1996 for the High Quality 21 compared to the total returns for the S&P 500. At first glance the difference in performance between the 21 High Quality stocks and the S&P 500 does not appear to be meaningful. Appearances can be deceiving.
Chart 4
Chart 5 gets to the nub of my worry: do High Quality stocks do better in tough times than the overall market? Since 1995 there have been only four years when total market returns were negative. In all four years the High Quality stocks materially outperformed the market.
Chart 5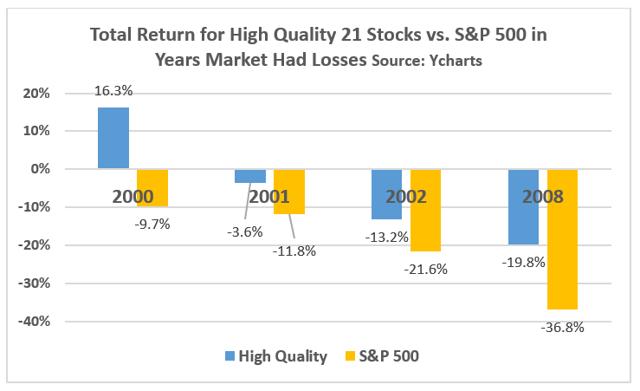 What about the 17 years since 1995 when the S&P 500 showed a gain? Chart 6 shows the absolute difference in total return between the S&P 500 and the High Quality 21. Here is a surprising finding: High Quality actually outperformed the S&P 500 in 12 of the 17 years when the S&P 500 was in positive territory. The best year-to-year outperformance by the S&P 500 was in 1999 when it beat the High Quality group by 315 basis points. As a point of comparison, High Quality had five years when it outperformed by 378 basis points or more.
Chart 6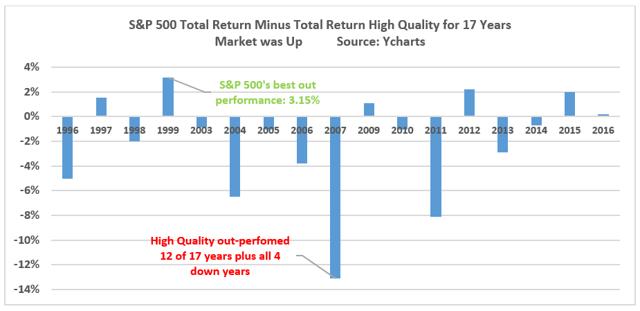 Chart 7 is the money chart. It shows what a $100 investment in High Quality and the S&P 500 produce over four different time increments. Notably, High Quality outperforms over 21, 16, 11, and 5 years.
Chart 7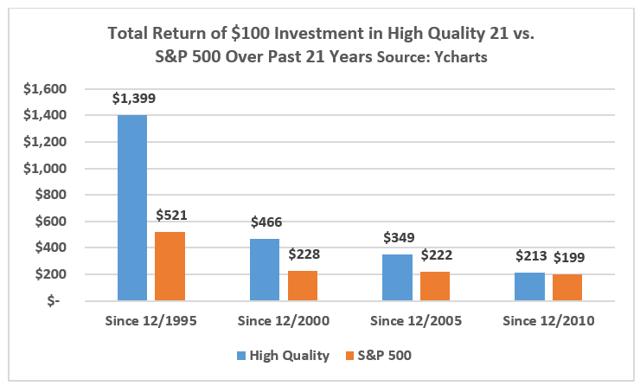 If you are curious about year-to-date (as of February 23, 2017), the High Quality stocks are up 7.26% versus 5.70% for the S&P 500 (source Ycharts).
What Should I Worry About?
Here comes your part of the exercise. What might go wrong if I sell a broad mix of stocks and replace them with the High Quality 21? Here are a few concerns that are top of mind.
First, do I have adequate sector representation? As chart 8 shows, the High Quality is heavily concentrated in three sectors. Missing completely are Materials, Utilities, and Telecommunications.
The problem with Telecommunications is that none of them have the A and A+ ratings, and in addition, do not provide as much lift as Energy if inflation spikes.
There are actually three S&P "A" rated utilities, but I chose to not include them since the plus of lower volatility is offset by the lower prospect for stock price appreciation.
As for Materials, there are actually a number of A/A+ companies to choose from, but of the group, Monsanto (NYSE:MON) is the only one I really know. Perhaps Monsanto should be included.
In addition, the absence of more Healthcare sector representation really concerns me given the opportunities created by the world's aging populations.
As for my favorite sector, Financials, the sad truth is that Blackrock is the only Financial, to the best of my knowledge, to have an A/A+ rating. That said, perhaps in an upcoming post I will offer a list of 10 to 12 smaller banks that in my view may belong in a High Quality portfolio.
Chart 8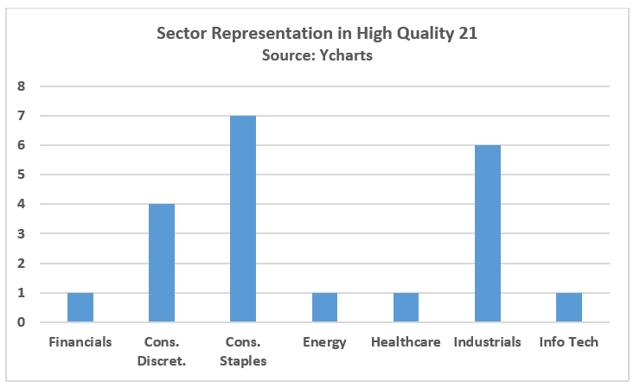 My biggest concern is that my methodology is fundamentally flawed. Just to be clear, I did not cherry-pick the 21 High Quality companies based on historical performance. In fact, when I looked at different mixes of other High Quality companies, it was clear other groups would have produced even better overall performance than the 21 selected for this exercise. But that being said, I worry that the future could look a whole lot different than the past for these 21 mega-companies.
We know Amazon (NASDAQ:AMZN) is eating into Wal Mart's business in a big way. Exxon's decision a few years back to go super-long on natural gas has backfired. As for McDonald's and Coke, younger members of my own family go out of their way to avoid their main products; that is not good news for the future.
Finally, everyone knows picking stocks is a loser's game. Is that not why Vanguard keeps growing? Up to now I have chosen to build my own low cost, diversified portfolios that mirror the S&P 500. Does past performance of High Quality stocks portend future superior performance?
Please let me know what you think. I could use the wisdom as I have an itchy trigger finger every day the S&P marches to a new high.
Disclosure: I am/we are long BLK, CL, CSX, CVS, DIS, EMR, GD, IBM, JNJ, KO, MCD, MMM, PEP, UTX, WMT, XOM.
I wrote this article myself, and it expresses my own opinions. I am not receiving compensation for it (other than from Seeking Alpha). I have no business relationship with any company whose stock is mentioned in this article.