Introduction
Zogenix Inc., (NASDAQ:ZGNX), is a developmental pharmaceutical company that is developing therapies to treat central nervous system disorders. The Company's therapies target specific clinical needs for patients living with orphan diseases and other CNS disorders who need alternative treatments in order to improve their daily quality of life. The company was founded in 2006, and over the last few years, has divested itself of a few products in order to focus on clinical development of promising compounds. Zogenix continues to receive some revenue for manufacturing services and royalties. While this stream of revenue is somewhat valuable, and the company has some promising early-stage compounds in development, the primary driver of value for Zogenix for the foreseeable future will be its lead investigational product ZX008.
Dravet Syndrome
This drug candidate is for the treatment of Dravet Syndrome. This condition, also known as Severe Myoclonic Epilepsy of Infancy, is a rare, catastrophic and life-long form of epilepsy that begins in infancy. The condition is characterized by frequent and/or prolonged seizures, usually beginning in the first year of life. Developmental delays, movement and balance issues, speech-language delays, growth and nutrition issues and chronic infection are just some of the maladies associated with Dravet. What is worse, approximately 15-20 percent of Dravet patience die due to SUDEP or Sudden Unexplained Death in Epilepsy, prolonged seizures, seizure related accidents such as drowning and infections. This affliction occurs in 1 out of every 15,700 infants born in the United States.
Current treatments are very limited. A combination of currently available anticonvulsants is standard-of-care, but outcomes remain poor and there are no effective, long-term treatments. With such a debilitating, childhood condition and few treatment options, it is no wonder that the FDA granted orphan drug designation to ZX008. European regulators have also granted this designation.
ZX008
Zogenix's lead investigational product candidate is a low-dose fenfluramine liquid solution for the treatment of Dravet syndrome. The company owns exclusive license to data and intellectual property on the use of low-dose fenfluramine for the treatment of Dravet. In January of 2017, Zogenix announced it had received a method of treatment patent for the treatment of Dravet with ZX008 that covers claims through 2033. In the same press release, the company announced that it was pursuing additional patents to protect their lead product candidate. In addition, ZX008 also received both orphan drug designation in the U.S. and Europe and fast track designation in the U.S.
Clinical Trials
Zogenix is currently conducting phase three studies to evaluate the safety and efficacy of fenfluramine, with multiple data reads due in 2017. In addition, the company has garnered very promising results in earlier stage studies. The first report released in 2012 highlights results from a long-term, open-label study of fenfluramine in combination with commonly used anticonvulsants. This study included 12 children with Dravet syndrome ranging in age from nine months to 13 years. Sixty-seven percent of patients were seizure free for one year or longer and 9 out of 12 patients had overall seizure reduction of 75% or greater. In a five-year followup in 2016, 90% of these children had an average seizure frequency of less than one per month. Three out of ten patients were seizure free for the entire five year period. Four out of ten patients were seizure free for at least two years. In addition, there were no major safety issues and the treatment was well-tolerated.
In December of 2016 at the Annual American Epilepsy Society Meeting, Zogenix presented results from an open-label observational study. In this study, nine patients with Dravet who were being treated with standard-of-care anticonvulsants were given fenfluramine as an add-on in doses ranging from .2 to .7 mg a day. The results were once again impressive. During a three-month baseline, the median major seizure per month was 15. After three months of treatment, the average number of seizures among these patients had dropped to just over two per month. The study found a 76% median reduction in monthly seizures over the entire study period which averaged 2.7 years in duration. There were no major adverse effects and most importantly, no evidence of cardiac valvulopathy or pulmonary hypertension, conditions associated with high doses of fenfluramine.
With promising results from these two earlier studies, the company has advanced ZX008 into phase three clinical trials. Studies 1501 and 1502 are identical trials taking place in North America and the EU and Australia, respectively. Patients in both of these trials are administered two different dosing levels of the drug and these results will be compared to placebo. These studies will asses the safety and efficacy of this treatment, as well as help researchers determine appropriate dosing. Clinical trial 1504 will evaluate the efficacy and safety of fenfluramine as an add-on to patients who have not responded to the standard-of-care medication stiripentol. Zogenix reported that enrollment during the fourth quarter of 2016 accelerated and anticipates this to continue throughout the first quarter of 2017. One of the studies has completed enrollment and the company should have data to report in the second quarter of this year. The FDA's website indicates that final data collection for 1502 will be completed in June 2017, and data collection for 1501 should be completed this month. Final data collection for 1504 should be completed in August of 2017. The company indicated that they should be able to announce data from this study in the fourth quarter of 2017 and file for approval in both the U.S. and Europe during this same quarter. In short, there are several major catalysts coming up for Zogenix stock over the next ten months. Based on previous studies, I anticipate these data will be positive and Zogenix's stock price will appreciate nicely as a result.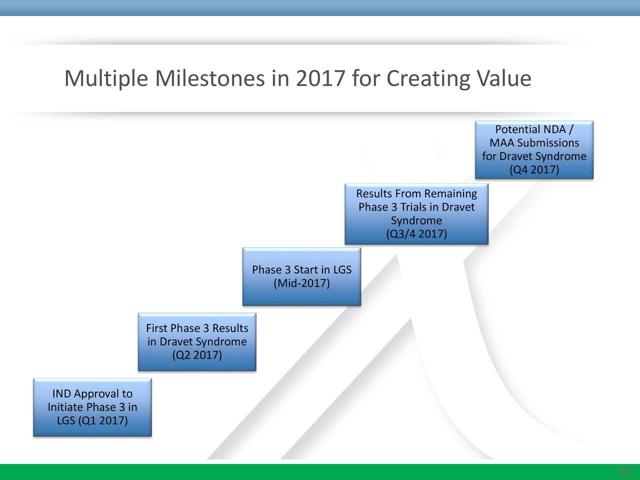 Slide Courtesy of Zogenix, Inc.
Company Guidance, Financials and Competition
Like most developmental biotech companies, Zogenix continues to lose money and generate negative cash flows. The company indicated that it expects to continue to have losses and negative cash flow for at least the next year. More importantly however, Zogenix has roughly one hundred million dollars in cash. Its annual burn rate is around $40 million. In its September 2016 quarterly filing, the company indicated that it has enough cash to fund operations for the next twelve months, but it may need to return to the capital markets for additional funding, either through an equity offering, which would be dilutive, or through a debt offering. This possibility may become a reality as the company moves toward commercialization of ZX008.
Regarding competition, ZX008, if approved, will meet an unmet medical need. Current standard-of-care for Davet, anticonvulsant therapies, are woefully inadequate. No long-term, effective treatment exists for Dravet. The clinical trials using ZX008, to date, offer much promise for patients with this awful condition, as well as to Zogenix shareholders. At the same time, other companies are developing drugs to treat Dravet. Laboratoires Biocodex has received approval and is marketing stiripentol as an adjunctive therapy in the EU, Canada and Japan. This treatment is not FDA approved, but patients can get access to the drug through the FDA's Personal Importation Policy. With that said, this therapy has not proved to be an effective long-term treatment. Epidiolex, a cannabinoid drug being developed by GW Pharmaceuticals also has received orphan drug designation by the EMA for the treatment of Dravet and by the FDA for the treatment of Dravet and Lennox-Gastaut syndrome, as well as fast track designation by the FDA. GW has announced positive phase three data also, so this therapy may be ZX008's biggest threat.
Price Action, Valuation and Analyst Coverage
The company's stock price has been volatile to say the least, having reached a 52 week high of $13.70 and a low of $7.33. As of this writing, the stock sits around the middle of that range at $10.55. Over the last five years the stock has been north of $35 a share and above $20 a share as recently as February of 2015. Zogenix is a very small company with only a $260 million market capitalization. Though the company is not heavily covered by analysts, the five that do are bullish on the stock with an average price target of $19.80, which would represent an 87% gain from current levels. As always, any stock I favor is intended as a long-term investment, not as a short term trade opportunity. These five analyst project the company will grow earnings at 25% annually over the next five years.
Conclusion
I believe the timing is right for an investment in Zogenix. The company has several potential catalyst coming up this year and the possibility of a commercial launch in 2018. This is often a good stage at which to invest in developmental biotech companies; those with promising drug candidates in late-stage clinical trials. ZX008 appears to be highly effective in treating a devastating, childhood disorder with few treatment options. In addition, the drug offers potentially substantial commercial opportunities for the company, and Zogenix has other, earlier stage drug candidates. The company has also announced positive data for ZX008 for the treatment of Lennox-Gastaut syndrome. Zogenix may soon initiate phase three trials for this indication as well. I plan to provide an in depth analysis of the Lennox-Gastaut clinical program in a subsequent article.
Disclosure: I/we have no positions in any stocks mentioned, but may initiate a long position in ZGNX over the next 72 hours.
I wrote this article myself, and it expresses my own opinions. I am not receiving compensation for it (other than from Seeking Alpha). I have no business relationship with any company whose stock is mentioned in this article.
Additional disclosure: Investing in small/midsize biotechnology companies involve substantial risk. Potential investors should use this article as a starting point for their own research and due diligence. Before making any investment, you should do your own proper due diligence on any name directly or indirectly mentioned in this article. Investors should also consider seeking advice from a broker or financial adviser before making any investment decisions. This article is for general information purposes only, and should not be relied upon as a formal investment recommendation.