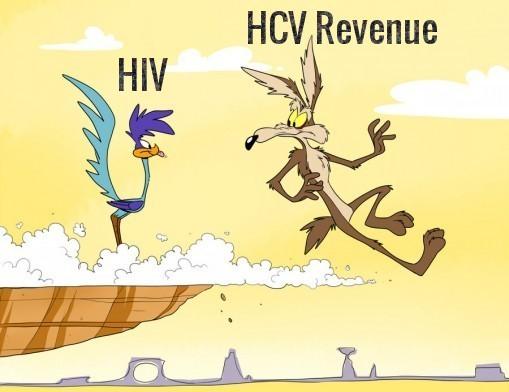 Source: One of the greatest shows of all time
I can hear your sigh of relief, for this week, we'll explore Gilead's (NASDAQ:GILD) thriving HIV business rather than the dreadful HCV business we covered last week. I've actually covered its HIV business prior to this article, but that was more of an overview of the entire field (which I encourage you to read if you don't have a laymen understanding of the HIV market arena). This time we'll stay centered on Gilead, especially now that we have some exciting new data to work with. First, let's begin with a bit of history: How has HIV been doing?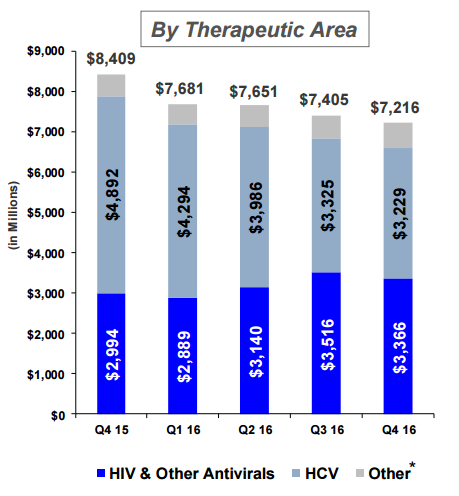 Ignore that ugly light blue bar - let's look at that deep, dark-blue bar instead (isn't it funny that Gilead chose pale colors for HCV and vibrant for HIV). Before you worry about the decline from Q3'16 to Q4'16, there was a one-time favorable adjustment of $332m to the rebate reserve related to TDF. Without the adjustment, there was a sequential 6% increase in sales from Q3'16 to Q4'16. What is driving this growth story?
HIV and TAF based regimens
For 2016, it's been all about TAF - sweet, sweet tenofovir alafenamide fumarate. What's so special about TAF, you ask? TAF (you may know it as Vemlidy) is replacing TDF (Viread) in a variety of HIV treatments because it's safer and less costly to produce. How much less? Here's a quote from the Q3'16 conference call:
John F. Milligan

We're particularly excited about the role that TAF will play. With a small daily dose and improved side effect profile, it is ideal for resource-constrained areas of the world and requires only one-tenth of the manufacturing capacity to supply the same number of patients.
TAF's manufacturing efficiency bodes well for the future profit margins in the HIV business. Now how about safety? TAF is both safer for renal health and bone density. This abstract from CROI illustrates the point clearly. 0 out of 866 patients developed clinically significant renal issues on TAF, whereas 12 out of 867 patients developed renal issues on TDF. This is statistically significant, and the efficacy results are similar. All you need to know is TAF is a safer version of TDF, and that safety is paramount in HIV treatment.
In the HCV market, side effects are important. However, they are even more crucial in HIV because the disease is chronic. In other words, treatment durations are decades rather than a few weeks. Drug-drug interactions, side effects, PK and PD data, and various other factors play a huge role in these lifetime treatment fields. TAF solved long-term concerns related to renal and bone damage seen with TDF treatments, leading to fast uptake.
When Gilead released TAF, it was quickly adopted as a preferred treatment in the US Department of Health & Human Services (DHHS) and International Antiviral Society (IAS) guidelines. It has also been adopted in the guidelines of a variety of other countries such as Germany, the UK, Spain, and Italy. In addition, guidelines are starting to label TDF-backed regimens as alternative treatments. A quote from the Wells Fargo broker conference back in September 2016 illustrates the importance of this:
Norbert Bischofberger

You know Kevin mentioned guidelines. It's amazing six months after approval of TAF, TDF was downgraded as an alternate and TAF based regimens are now the preferred regimens and guidelines historically have always driven the use. The preferred regimens were always used in HIV as opposed to alternate.
Guidelines are king in the HIV world. You may think that it is the payers who are ultimately king, but in this realm, the payers respect the guidelines. Just to illustrate this point, here's a question and answer related to the topic at the Morgan Stanley healthcare broker conference back in September 2016:
Matthew Harrison

Q: How much of a risk either from payers forcing patients to take the cheaper generic alternative or just patients for whatever mean - how much of a risk do you see that as being because that obviously could be one of the risk people might warn out (okay sorry - the transcript butchers it sometimes, but here's the gist of what he's asking: What is the risk associated with payers or patients going with cheaper, generic treatments)?

John Milligan

A: Yes, we see that as a very, very low risk. There have been in some countries the attempts to force either breakup of combinations or forcing certain regimens on patients and that has not gone very well both in terms of the response from the HIV community and the outcome for patients. This happened in Spain a few years ago where they tried to breakup combinations and suddenly found themselves with far more resistance and having to put them on far more expensive medications. So that was abandoned pretty quickly.
This also answers a concern pointed out by many as of late: How will Gilead handle the patent cliff in the EU? Indeed, TDF will be going off patent July 2017 in the EU which will result in the Truvada backbone (Truvada is called a backbone because many other HIV therapies include F/TDF) going off patent. Generic manufacturers will be swift to enter. Here's an accurate depiction of Gilead's answer: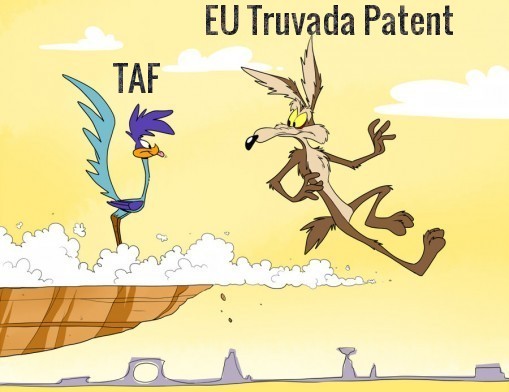 Okay sorry, that picture just works with everything. Here's a more serious take on this concern, discussed in the latest Q4'16 earnings conference call:
James R. Meyers

The generic impact will largely be limited to the compounds coming off patent. So it will be Viread, which is little used, Truvada, which is in the early launch markets decreasingly used, and then ultimately Atripla. It will have less if any impact on Stribild and Complera and hardly any impact on the TAF products once they're listed. So that's the whole key that Kevin said was we're at various stages of rollout, but once we get those products listed, it's a 2017 with dynamics moving in a couple different directions. But once we get beyond that and we have the full TAF launch, we see this as a very sustainable growth driver for the company.
It's all about converting the TDF-based regimen patients over to the TAF-based regimens, and Gilead has done an exceptional job of this so far as can be seen below: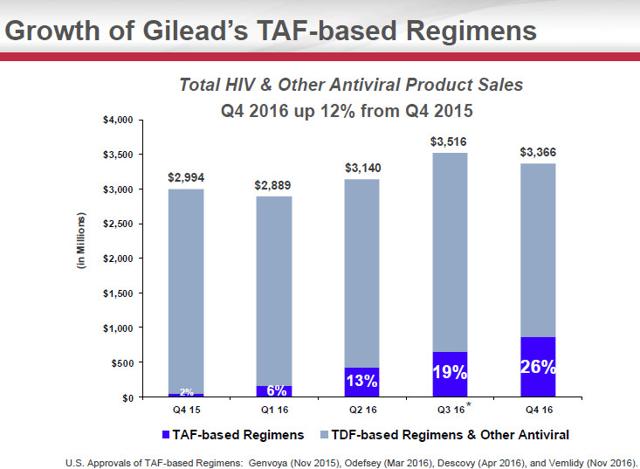 The rate of growth associated with TAF-based regimens is astounding. As you may expect, a majority of TAF sales come from TDF switches. Here's some general information about switches as it relates to the three TAF launches we've seen over the last year and a half:
Genvoya (TAF equivalent of Stribild) - 80% of prescriptions come from switches while the remaining 20% comes from treatment naïve patients. Of those switches, around 90% come from other Gilead regimens. Around half come from Stribild, 18% from Atripla as of the Q2'16 CC (haven't seen it disclose since), and it is unknown on the rest of Gilead switches as far as I'm aware. 10% of switches come from non-Gilead regimens, meaning they add to the bottom line meaningfully.
Odefsey (TAF equivalent of Complera/Eviplera) - Over 90% of prescriptions come from switches (rest from treatment naïve). Of those switches, 6% come from non-Gilead regimens (disclosed in Q2'16 CC).
Descovy (TAF equivalent of Truvada) - Over 90% of prescriptions come from switches (rest from treatment naïve). Of those switches, 11% comes from non-Gilead regimens (disclosed in Q2'16 CC).
While some may criticize the misleading launch numbers (we'll talk about this in the next section), no one can deny the success Gilead is seeing in converting its TDF-based regimen patients over to TAF. This is critical given the patent cliff these TDF-based regimens face in the EU, and will face later in the US. Hence, while it will certainly be a negative impact on sales, I agree with Gilead's analysis shown in its guidance: the impact will not be large. Gilead estimates a sales loss related to the TDF patent expiring in the EU to be around $0.4-0.6b.
The Left and Right Hand of Gilead's HIV Strategy
Kevin Young (COO) made an interesting analogy in the Q4'16 earnings CC. He claimed that Genvoya is the left hand of Gilead's HIV strategy and that bictegravir is the right hand. He also stated the success of bictegravir, at least in part, is dependent on the foundation Genvoya helps build for it prior to launch. So let's begin our discussion with the left hand - Genvoya.
The Left Hand: Genvoya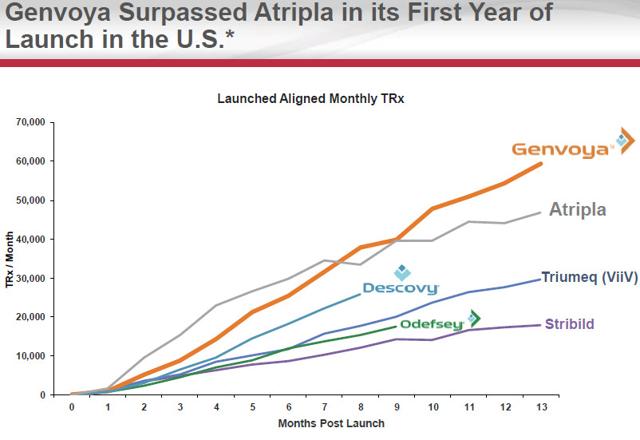 If you've listened to Gilead's management at all recently, you've already heard how wonderful Genvoya is: Genvoya is the greatest launch in the last 30 years; it has incredible prescription numbers; it became a preferred treatment in DHHS guidelines 13 days post approval; the launch is better than Atripla's, the first STR; and so on so forth.
But I showed you earlier that 80% of those prescription numbers come from switches. And of those switches, 90% come from Gilead products. Hence, the reality here is that around 72% of Genvoya's prescription numbers are a result of the foundation built prior to it with Stribild and Atripla. So while the numbers are impressive, don't get caught up in all the excitement as it is mostly the product of Gilead's prior success.
TAF is a great update to an existing line of drugs, however, and the strong uptake illustrates this. Let's talk about the better part of the story: 28% of Genvoya prescriptions are coming from new patients or switches from non-Gilead regimens. Gilead likes to break out both how many prescriptions are coming from new (Tx-Naïve) patients and total patients in both the US and EU in their earnings slides. Let's have a look.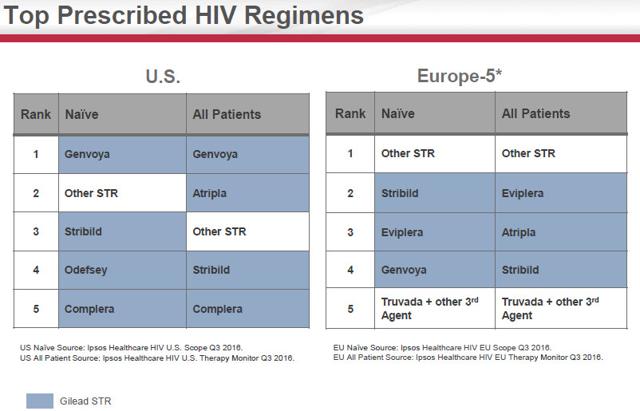 Genvoya is killing it in the US, quickly climbing to the top for both treatment-naïve patients and total patients. But, in Europe, Gilead has lost market share to GSK's (NYSE:GSK) Triumeq, an STR with the coveted dolutegravir component. Otherwise, Gilead is dominating the scoreboard. It's important to note that Gilead is still in the process of rolling out TAF-based regimens in the EU5. Genvoya, for example, only just launched in France (one of the largest HIV markets) and it hasn't launched in Italy yet (expected Q2'17).
Gilead is in what I would consider the "diluted" phase, meaning its total patients are currently dispersed across both TDF- and TAF-based regimens as the launches continue in the EU. Once we see the full launch of TAF-based regimens in the EU, I suspect these tables will look entirely different. This data always trails by one quarter, meaning we should see more meaningful shifts once we get to Q3'17, where we will have access to full Q2'17 prescription data. It took around six months for Genvoya to become the number one prescribed drug in HIV treatment where it originally launched, so I would not be surprised to see similar curves in newer launches.
The Right Hand: Bictegravir STR
Genvoya is great, but it's not where all the excitement is. We recently heard more details on the new, non-boosted integrase inhibitor Gilead is working on at CROI 2017. And it is clear why Gilead rushed into five phase 3 trials: the data is outstanding. Of course, the patient count is low, so no meaningful conclusions can be made at this time other than that the drug works, but there are some encouraging potential trends:

Source: JP Morgan sell-side report
This table summarizes the key information from the phase 2 follow-up results. 97% vs. 94% of patients saw virological suppression of HIV-1 RNA below 50 copies/mL at 24 weeks in the bictegravir arm vs. the dolutegravir arm. Bictegravir was able to retain suppression among those patients through the 48 week follow-up, with the dolutegravir arm losing suppression below 50 copies/mL in one patient. Higher CD4 cell increases and lower GFR reductions for bictegravir are also a nice bonus.
Since this study is not meaningfully powered, one cannot make conclusions about superior efficacy here. If this trend continued into the similar phase 3 trial comparing the bictegravir F/TAF STR to dolutegravir F/TAF, it is possible according to Jefferies that we could see statistically significant results. Don't get your hopes up, however; CSO Bischofberger has made clear on numerous occasions that beating on efficacy is highly unlikely.
However, if bictegravir can match the efficacy of dolutegravir and the Triumeq STR, it'll be a game changer according to doctors interviewed by JP Morgan. JP Morgan analysts suggest a key focus looking forward into phase 3 trials will be neuro-related AEs given reports of increased neuropsychiatric AEs with dolutegravir. In the phase 2 data released recently, one patient discontinued in the bictegravir arm due to a case of urticaria following their 24-week visit. Jefferies reviewed prior phase 1 data and did not see any incidences of rash/hypersensitivity with short-term bictegravir dosing and hence believes the AE is likely not drug related. Jefferies also claims CNS side effects will likely not be observable even with phase 3 data given how infrequent they are. The table below shows post-marketing CNS side effects seen with dolutegravir (GSK's integrase inhibitor) compared to elvitegravir (Gilead's current integrase inhibitor):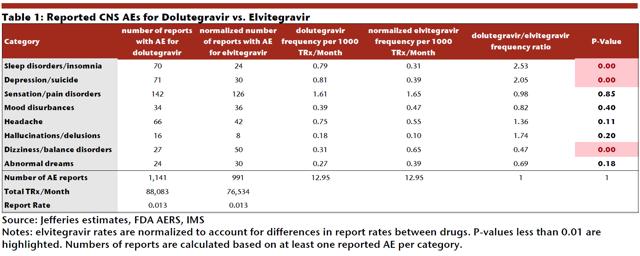 First, let me point out that one of the benefits of dolutegravir over elvitegravir is the fact it isn't boosted with cobicistat (raises circulating levels of drug). However, with CNS side effects, it appears that dolutegravir has statistically significant higher side effects related to insomnia and depression/suicide. This may also become a focus post-marketing for bictegravir (which is also non-boosted), as it may be another advantage over dolutegravir-based regimens.
And of course, there are safety concerns associated with the component abacavir in GSK's Triumeq that would give a bictegravir STR with F/TAF backbone the advantage. Here's what CEO John Milligan has to say related to this topic at the Morgan Stanley Broker Conference in September 2016:
John Milligan

It's an interesting retreat that ViiV's is going through right now. So one of the challenges that ViiV's had over the years is that selling products containing abacavir is hard because there are inherent problems with the products that are well known and even discussed in the literature. But as a result, they've had a hard time getting traction with doctors and patients around the globe.
GSK is attempting to address this in two ways. One way is by simply taking out abacavir altogether (hence trying dolutegravir + lamivudine), which it seems Milligan almost makes fun of in the same conference:
John Milligan

And so currently their response to that is just pull it out and see what happens. And so they are essentially taking a gamble that they can have a result that's reasonably good enough, that by combining dolutegravir, which is an excellent drug, with 3TC which is an expired medicine and one that has the lowest barrier to resistance of nearly any drug and hopefully that will be good enough for a majority of patients.

Their hope is based on a small study out of Argentina and is just typical to Phase 2 very carefully picked out patients. And in the real world, doublets tend not to work as patients aren't as compliant as they should be. You miss and when you start to miss doses you start to get resistance and then it's a downhill spiral. So I think it's a very bold gamble to try to make - to try to simplify regimen by taking away a bad component without replacing it.
This doublet (DTG/3TC) is considered a real threat to Gilead's HIV regimens by many because it could have less drug-drug interactions and lower side effects if successful, but Milligan provides a few interesting points related to resistance and patient compliance. We won't see meaningful data until H1'18, but it will be an interesting development to keep an eye on.
The other doublet that GSK is working on, which combines dolutegravir with rilpivirine, is much less noteworthy as a threat based on comments from various analysts. Piper Jaffray doesn't consider an NNRTI-based doublet (rilpivirine is an NNRTI inhibitor) to win over the market for a few reasons listed below:
More study discontinuations occurred in the switched arm due to side effects (referring to a trial where patients on three or four drug regimens were switched over to DTG + RPV).
NNRTI class is notorious for resistance concerns and rilpivirine has had issues with virology breakthrough with higher viral loads at baseline in pivotal trials. Morgan Stanley also suggested that long-term resistance data will be key.
Rilpivirine must be taken with meals and specific calorie intake.
RBC Capital Markets also backed this up by claiming that it doesn't expect it will cause much switching, but may be an attractive second-line treatment.
Essentially, the path for bictegravir is clear except for potentially DTG + 3TC. Pay close attention to the phase 3 GEMINI trial readouts, as investors and doctors alike will be looking for a high barrier to resistance across viral loads for the DTG + 3TC doublet. For bictegravir, it will be all about providing similar results to what we're seeing in phase 2 data. As long as bictegravir offers a similar efficacy profile to Triumeq, it likely will stand out as the best-in-class integrase inhibitor on the market, especially when supported with the F/TAF backbone.
Truvada and PrEP
I have found Gilead does not stress the importance of Truvada in PrEP as part of its HIV strategy in its earnings slides. Gilead is great at pointing out its strengths (Genvoya and bictegravir), so I find it surprising that there is only one slide dedicated to the topic and it looks underwhelming. Fortunately, Gilead talks about it frequently everywhere else and so do analysts, so let's discuss it briefly.
Truvada is the only drug approved for pre-exposure prophylaxis (PrEP), which is a fancy way of saying that it is approved for HIV prevention. If you are HIV negative and are at risk of contracting HIV for any reason, taking Truvada will significantly reduce your risk of contracting the virus (seriously, we're talking high 90s with good compliance, although there was one well-documented failure recently). Anyway, the majority of Truvada's prescriptions in PrEP come from urban cities like San Francisco. Let's take a look at the growth in US Truvada PrEP patients since last year.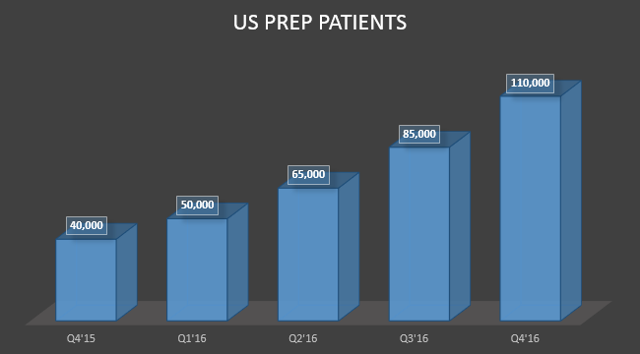 Source: Earnings Conference Calls. Q1'16 is a guess, but the rest of the numbers are accurate and from Gilead. In Q1'16, it disclosed that 20% of Truvada demand is for PrEP.
Are you kidding Gilead? Get on the ball and start advertising this to your investors! This is remarkable, especially given the bulk of these numbers come from four cities. Gilead has sent out a small, 40-person field-based team to start driving sales in other urban US locations where it lacks presence. This quote is long, so feel free to skip it, but it contains some valuable information:
James R. Meyers - Gilead Sciences, Inc.

I would agree, Kevin. And just maybe one, to build on one thing you said around PrEP earlier. As Kevin had said, we already have 110,000 patients on PrEP. Nearly twice that many have ever been exposed, and again that's before what Kevin had mentioned, the deployment of a 40-person prevention specialist team. And some very targeted direct-to-patient and direct-to-provider advertising that we're going to do.

I think as Kevin had mentioned, the vast majority of PrEP prescribing right now is in four or five cities where the awareness is very high. The area where HIV is, people are at highest risk of contracting HIV right now is in underserved, inner city areas. If you're an African-American MSM, your lifetime risk of HIV right now contracting it, is one in two. So we're going to have people in areas like, in epicenters, New Orleans, Baltimore, DC, Newark, Oakland, areas that we haven't been before. But also doing that through targeted advertising, and particularly trying to get at populations that don't engage in healthcare.

So we'll be using social media and dating sites and Tumblr and Snapchat and things like that, that are much better, are much more I would say likely media to reach this type of population. So we are bullish on, particularly in the U.S., the potential upside of PrEP as well.
I recall reading a report back in December by BMO Capital Markets that suggested this field-based team might be able to ultimately drive adoption up to 440k US patients. Just as a reminder, there was 674k patients on Gilead regimens in the US as of Q3'16, so this number is significant. A bulk of Truvada's use in PrEP comes from the US; for comparison's sake, only around 3k patients use Truvada for this indication in France. Hence, I don't believe the loss of the patent in the EU will have a significant impact on Gilead's bottom line.
In the US, Truvada will be protected until 2021. This gives Gilead time to complete enrollment in the phase 3 trial of Descovy in PrEP by Q4'17 and ideally complete the trial with positive results (study should complete by 2020). Gilead has boasted strong results from pre-clinical testing in animals, although a presentation from CROI 2016 brought up by CSYJ potentially suggests these results may not be repeatable in humans. Ideally, Descovy will be approved and launched in PrEP prior to the patent expiration in the US so Gilead won't have to face a significant loss of patients.
Conclusion
HIV is the best weapon Gilead has to combat frustrated investors. It is a chronic market, adding in the ballpark of 40-50k patients each year in the US. As a result of Gilead's strong STRs, the company has accumulated significant market share. However, it has been losing some of this market share to GSK recently, which ideally should be recovered when the company launches its bictegravir STR. Additionally, Truvada in the PrEP indication should continue to see strong growth in the US.
Gilead isn't stopping its HIV development following bictegravir: it still has a three-pronged strategy to tackle the virus moving forward. These prongs are:
Universal salvage therapy to address unmet clinical need of around 30-70k patients.
Long-acting antiviral (injection once every month or two) that works differently from orals ideally so that patients can switch to orals if need be (don't develop resistance).
Cure.
I didn't write about this three-pronged strategy much in this article because we are years from seeing any fruitful results (especially on the cure front). That said, it is a positive to see Gilead will remain active in the field it clearly has a core competency in. Many argue the HIV business alone is worth over $50/share, and I tend to agree with them. The growth in HIV won't entirely offset the deceleration in HCV, but the business will be there and thriving for years to come and should provide support to all investors facing the turbulence of HCV.
Join me next week on Friday, March 3rd, where I'll discuss Gilead's pipeline. If you found this article useful and would like to be notified of my future articles, please click the follow button at the top of the article beside my name or on my profile page. I look forward to your thoughts in the comments. Thank you for reading.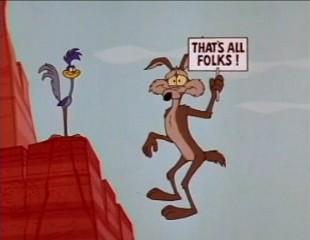 Disclosure: I am/we are long GILD.
I wrote this article myself, and it expresses my own opinions. I am not receiving compensation for it (other than from Seeking Alpha). I have no business relationship with any company whose stock is mentioned in this article.