William Demant (OTC:WILLF) (OTCPK:WILYY) has reported very good 2016 results this morning, resulting in a very strong rally in the share price. Following our previous article suggesting selling the stock, we would like to do an update about the investment case.
First of all, selling William Demant in September would have been a good idea, in the short term. The stock was trading around DKK 138 and dropped below our target price of DKK 116 before rising again beginning December 2016. Following the earning results, the company is now trading around DKK 145; therefore it is time to revisit the investment case.
Industry competition
As stated in our previous article, competition is fierce in the hearing aids sector and will probably remain so for years. According to leading industry players, pricing pressure remains elevated (quotes from their latest annual report).
William Demant:
"We estimate that the global average selling price (ASP) was slightly down in 2016, due - among other factors - to fierce competition, especially in the low-end and mid-priced segments"

"Organic growth was driven by solid unit growth of 6% and favorable ASP development in the second half-year, resulting in a flat full-year ASP after a decrease of 4% in the first half-year."

"We expect a low, single-digit percentage decline in the market's average wholesale price due to competition and possible mix effects"

"Competition is fierce in all segments, so continued focus on distribution and product innovation is necessary"

"However, as several new products are soon to be launched, the competitive environment is likely to intensify and lead to an increased fight for market share."
GN Store Nord (OTCPK:GGNDF) :
"GN Hearing estimates that the market has grown 3-4% in value in 2016, with a slightly negative average selling price (ASP) development."

"In the strategy for 2017-2019, GN Hearing estimates market growth to be around 4-6% in volumes with ASP declines of around 1-2% annually."
It seems obvious that the competition is intense and that manufacturers are facing pricing pressure. Innovation is the only way to maintain pricing power but the relief is short in time.
William Demant has been able to grow its business in this challenging environment thanks to the launch of its new hearing aids Oticon Opn. Indeed, this new product allows the company to gain market share as demonstrated by the jump in market shares in the VA (Veterans Affairs) channel from 7% to 11% between October and November right after its release. Moreover, the company was able to price the product higher, offsetting the decline in the ASP suffered in the first half of the year.
Unfortunately 2017 will be a year where most industry players will launch new products. Sonova and Sivantos will launch similar hearing aids (2.4GHz products) and GN Store should launch a new generation of products, resulting in a fiercer competition and probably further pricing pressure.
Industry consolidation
Industry consolidation is ongoing with independent retailers being acquired by large distributors such as Amplifon or by manufacturers (Sonova and William Demant). This wave of consolidation should not stop anytime soon (a more detailed explanation in our previous article).
William Demant's management confirms our scenario:
"Furthermore, in some markets we are likely to see more aggressive behavior from our competitors, as far as retail acquisitions are concerned."
The logic behind the acquisition of retailers by manufacturers is simple: They will sell directly to the end-user which has a lower bargaining power, thus pricing power for manufacturers will be higher.
William Demant keeps making acquisitions (mainly retailers), although we have to admit that organic growth has been more than decent in 2016 due to the launch of Oticon Opn (market share gain and maintaining pricing power).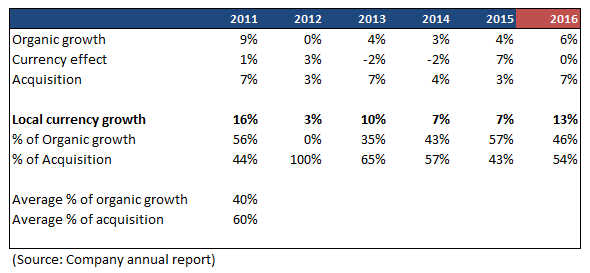 The 7 % growth coming from acquisitions results mainly of the takeover of the French retail chain Audika. This acquisition further increases its retail exposure.
Margins
However, an increasing exposure to retailers comes at a cost, since the cost structure is more heavily skewed towards fixed costs, which results in lower margins. Here is a quote from the William Demant annual report confirming our view about margin pressure.
"The marginally lower EBIT margin for the full year compared to 2015 is mainly the result of the change in the Group's cost structure, with an increasing share of total sales originating from the retail business"
However, consensus still expects EBIT margins to increase considerably despite the growing share of revenues coming from retail.

ROIC
Shifting the business mix towards retailers is not only margin dilutive but requires also higher capital, resulting in downward pressure on return on invested capital (ROIC).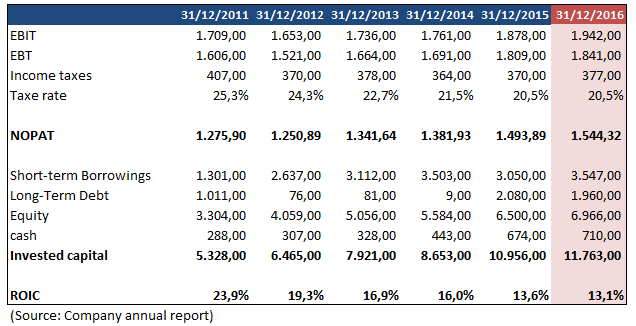 The ROIC has slightly decreased in 2016, continuing its downward trend even though at a slower pace.
Potential revenue loss
William Demant was a large supplier of AudioNova. Following the acquisition of AudioNova by Sonova, the CEO of Sonova made it clear that he plans to increase Sonova's share of AudioNova's sales to roughly 95%. As a consequence, it will mechanically reduce sales of William Demant. We did not see any news on the topic but we see no reasons for them to change their plan.
Valuations
At the time of writing our previous article, the company traded at a P/E 2016e of 23.2X. Following the surge in share price, the company is now trading at a P/E 2016 of 26.1X (based on a share price of DKK 143.70), making the company even more expensive than before.
Looking at historical valuation metrics, they are trading again at the top of their range.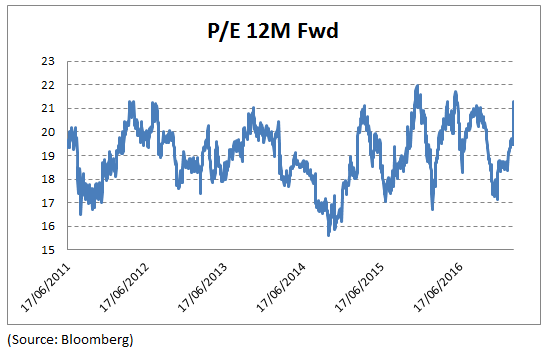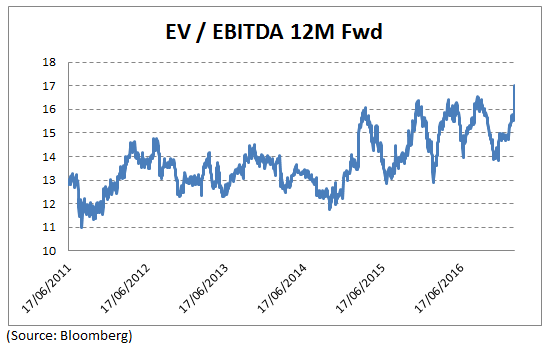 These valuations seem stretched for a company operating in a challenging environment and facing multiples headwinds.
To be fair, multiples look slightly higher that they will be (assuming a constant share price) because consensus will probably adjust its estimates upwards in the coming days. Indeed, the mid-point of the 2017 EBIT guidance is DKK 2.35B which is 3% higher than current consensus estimate.
One more potential risk: regulation in the US
The FDA announced on December 2016 its commitment to consider creating an over-the-counter (OTC) category for hearing aids meaning that these products will not need FDA approvals. It will give access to these products to millions of consumers but the price will be significantly lower. Moreover, it will reduce the barriers of entry giving the opportunity to new players (e.g. Samsung) to enter the market, increasing the competition. Such change will be more painful for retailers (audiologists) as they could lose market shares versus the new OTC distributors.
Conclusion
We were not optimistic about William Demant meeting its EBIT guidance adjusted of restructuring costs of DKK [2B-2.3B] but the company has been able to meet its guidance (Adjusted EBIT of DKK 2.13B). However, the stock price is back to its original price (even higher) whereas all our bearish arguments are materializing or still pending. Indeed, competition will intensify with new product launches, the ongoing consolidation will bring further pricing pressure, the retail strategy will pressure margins and valuations are stretched. Furthermore, consensus expectations are still high as highlighted by the rising forecasted EBIT margins despite the retail-oriented strategy. We think that the risk reward is skewed to the downside and see better investment opportunities elsewhere.
Disclosure: I/we have no positions in any stocks mentioned, and no plans to initiate any positions within the next 72 hours.
I wrote this article myself, and it expresses my own opinions. I am not receiving compensation for it (other than from Seeking Alpha). I have no business relationship with any company whose stock is mentioned in this article.
Editor's Note: This article discusses one or more securities that do not trade on a major U.S. exchange. Please be aware of the risks associated with these stocks.