The Fed has nobody else to blame but themselves. They have succeeded in rallying the stock market beyond all imagination during the post-crisis period, never mind the fact that the wealth generated never really worked its way through to the real economy. But despite their repeated efforts to try and convince the markets that they may raise interest rates as "fairly soon" as their next meeting, the markets are just not buying it.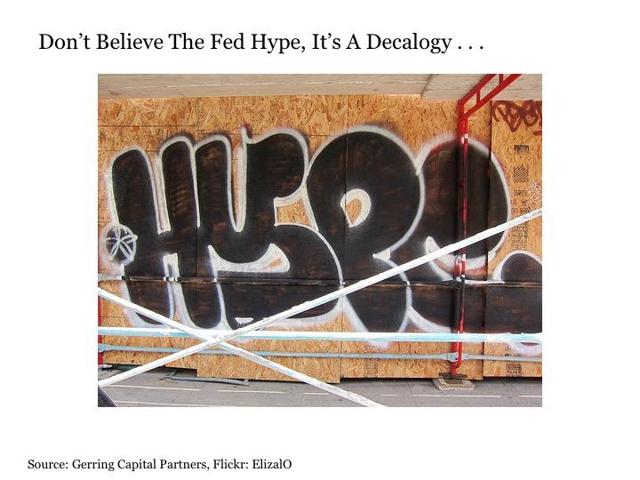 Listen, Please!
The Fed had to do something to keep themselves on the radar screen for investors. Although they came into the year with the market thinking that two to three rate hikes were on the table for 2017, these expectations started to fade in predictable fashion as the weeks passed in the New Year. By early February, what was once expectations for two to three rate hikes had fallen back to just two and maybe as little as one. And this downshift in interest rate expectations occurred despite the fact that the stock market has been moving steadily higher since the start of the year.
So out came the microphones, the podiums and the minutes. Over the past couple of weeks, we have heard a cacophony of speeches from Fed officials with big hints about looming rate cuts inserted between the lines of discussions about the U.S. economy. Unfortunately for the Fed, their words are losing effect and are increasingly getting drowned out. This is because Fedspeak has become so much a familiar part of the mainstream investor experience that pretty much everybody in the market knows what they are trying to do, which is to raise investor expectations that they just might raise interest rates come March.
But here's why the market is just not buying it. Just as we all learned during our preschool years, those that repeatedly cry "wolf" end up getting ignored. And the Fed has been a serial "wolf" crier when it comes to raising interest rates during the post-crisis period. Too many times now they have teed up the market to think that rates are going higher, only to stand down once post FOMC meeting press conference game time begins. And after so many times over so many years, the market is simply just not listening any more.
So where do we stand today with interest rate expectations? Starting with their next meeting on March 14-15 that they are so eagerly trying to carnival bark back into play, the market remains dubious. At the start of the year, the markets as measured by the CME Group 30-Day Fed Funds futures were pricing in a 30% probability for a March rate hike. It subsequently dipped below 10% by early February before the Fed started chatting. And they have managed to talk the market all the way back up to a whopping 22%. Put simply, unless Kevin Warsh dons a Janet Yellen costume and crashes the FOMC meeting next month, a March rate hike is just not going to happen. Why? The Fed does not like to surprise the markets, and unless they come out and explicitly state that they are raising rates in March, the market is going to dismiss the possibility.
OK. How about May? No way. They have enough trouble raising interest rates when they have a press conference to Fedsplain to the markets for a few hours about exactly why they did what they did and to give ample winks and nods that they will coddle and distribute ample pacifiers as needed to investors that might not be able to bear the horror of interest rates being raised by another 25 basis points off of the zero bound.
This leaves only June, September and December in play. For the June 13-14 meeting the market was assigning a 71% chance that the Fed would raise interest rates by at least 25 basis points by early summer. This probability fell back below 65% by early February, and has since been talked back up to just below 70%. My take? Reading between the lines, this is the date that the Fed is trying to tee up for a rate hike as they try to ignore what's perpetually "on the other hand" from a downside risk standpoint. But this June meeting is still nearly four months away, and we could find ourselves with a stalled legislative agenda on the fiscal policy side that might sway some key minds at the FOMC between now and then.
On to September where the odds for at least one 25 basis points rate hike coming into the year was 86%. By early February, it had dipped to below 79%. And thanks to the Fed's prodding, it has crawled its way back to just over 83%. How about two quarter point hikes by September? It was even odds at 50% coming into the year, had fallen to 37% earlier this month and is now back up to 47%. My take once again? While I would not be shocked if the Fed had one rate hike for 2017 in the bank by September, I continue to think that two by then is almost certainly out of the question given that the pace of the legislative agenda on the fiscal policy side will likely still be moving far too slowly for the Fed to justify more than one hike if any by then. Base case view at this point - if the Fed hikes in June, then September is off the table, but if they don't hike in June, then September is on the table and a second hike in December starts to come into doubt.
What about December, anyway? The futures market remained fairly firm on the high probability for at least one quarter point rate hike by then. It started the year at 95%, had edged lower to 93% and has since crept back up to 94%. And assuming the economy or the markets have not taken a dramatic turn lower between now and then - don't rule it out, however - the Fed will very likely take another December quarter point rate hike for a third year in a row if they have not already hiked by then.
What about the last meeting of the year in December? After all, it has been this meeting over the past two calendar years where the Fed has felt emboldened enough to act with a 25 basis point rate hike. This will also be the last press conference meeting before the presumed departure of current Chair Yellen from her post. It is also very possible that two or perhaps even three new appointees to the Board of Governors will have been added by the new administration. In other words, not only do we not know how the economy or the geopolitical landscape will be unfolding at that time, but a measurable degree of uncertainty exists surrounding the policy perspectives and priorities of those that make up the Fed will be at this point.
With all of this in mind, the market is currently pricing in a 92.9% probability of at least one 25 basis point interest rate hike from the Fed by December. This is down slightly from the 95.2% probability coming into the year, but is still very strong. It is, of course, also a long ten months away as well. Two hikes by December? The odds at the start of the year were 75%, which fell to 66% by early February, only to climb their way back to 73% today. Two hikes by December is also not an unreasonable expectation. But if they don't have their first hike coming out of their June meeting, then the probability for two hikes by December goes down dramatically. As for three by December, the market was at 43% coming into the year, had fallen back to 31% earlier in February and is back up to 39%. My take? I would set the probability for three quarter point rate hikes by December as much lower than the market. The only way in my view we see three hikes by December is either if the legislative agenda suddenly picks up pace dramatically or generally latent inflation pressures finally start to bubble to the surface in a meaningful way. And I consider both of these as low probability outcomes over the next ten months.
Bringing It All Together
So what are the key takeaways from this latest take on the Fed? The market came into the year expecting two to three rate hikes from the Fed. And even though the U.S. stock market has surged by nearly +6% over the first two months of the year and visions of economic sugarplums are seemingly dancing in the collective heads of economists and analysts across Wall Street, the market has become marginally less convinced that the Fed will actually deliver on its two to three rate hikes than it was before. And this is despite the fact that the Fed chatterbox brigade has been out in full force lately talking tough about how March is in play and even three rate hikes may not be enough in 2017. It seems I am not alone in being less than convinced by the Fed's words about policy, for the cries of interest rate wolf have been heard far too many times during the post-crisis period.
Of course, this complacency does set the Fed up for opportunity. If they really wanted to regain the market's respect they would follow through with a rate hike in March, despite the fact that the market is not buying that they will actually go through with it. I'm almost certain that the Fed doesn't have it in them to pull this kind of stunt, but I would vigorously applaud it if they finally stood up and seized back full control of directing monetary policy despite what the market may or may not be expecting. But with three open seats on the Fed coupled with a new Chair and Vice Chair likely coming in 2018, perhaps the next group in charge will take back the Fed. It will be interesting to watch how this all unfolds over the coming eighteen months.
In the meantime, I remain of the view from a capital markets perspective that the Fed will end up delivering less in the way of interest rate hikes than what the futures market is currently pricing in. As a result, I remain long selected individual stocks with a bias toward defensive yielding names with consistent earnings growth and strong free cash flow generation over time. At the same time, I remain constructive on both bonds (NYSEARCA:BND) and gold (NYSEARCA:GLD), which were sold off late last year due in part to concerns over a Fed moving more aggressively to raise rates. Lastly, it is important to remember that the Fed does not raise rates in a vacuum, as higher rates eventually have a slowing effect on the U.S. and global economy. If such forces were to start taking hold, this would also be constructive for more defensive safe havens such as dividend paying stocks (NYSEARCA:SPY)(NYSEARCA:SDY)(NYSEARCA:DVY), selected preferred stocks (NYSEARCA:PFF), long-term Treasuries (NYSEARCA:TLT) and gold.
Disclosure: This article is for information purposes only. There are risks involved with investing including loss of principal. Gerring Capital Partners makes no explicit or implicit guarantee with respect to performance or the outcome of any investment or projections made. There is no guarantee that the goals of the strategies discussed by Gerring Capital Partners will be met.
Disclosure: I am/we are long TLT,PHYS.
I wrote this article myself, and it expresses my own opinions. I am not receiving compensation for it (other than from Seeking Alpha). I have no business relationship with any company whose stock is mentioned in this article.
Additional disclosure: I am long selected individual stocks as part of a broadly diversified asset allocation strategy.