For the last 3 years, investors with large risk-appetite and a bullish sentiment on marijuana have looked to the Canadian stock exchanges for undervalued pharmaceutical companies. One of the companies that often gets overlooked by investors is Aphria Inc. (OTCQB:APHQF) which we believe might be a better long-term play than large companies such as Canopy Growth Corporation (OTCPK:TWMJF).
Aphria Inc. is a cannabis producer based in Leamington, Ontario. Aphria is one of a handful of greenhouse-only LPs and is one of the lowest cost producers in the MMPR. Aphria is Canada's 2nd largest biotechnology company by market cap. Over the last 12 months, the stock has soared upwards of 500% closing yesterday at $6.48. This stock has outperformed 94% of Canada-listed stocks in the same period.
(Source: Yahoo Finance)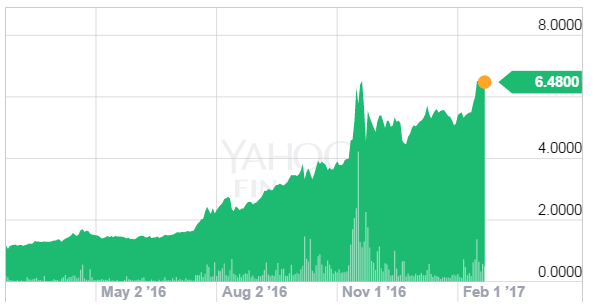 Aphria recently announced their expansion project which will increase growing capacity to 1 million square feet and output 70,000 kg. Part IV of the project which will cost $137 million includes 700,000 square feet of automated greenhouses, 230,000 square feet of infrastructure including vaults, processing and warehouse areas and ACMPR-standard security. The project is being financed by an equity offering of 10 million shares to Clarus Securities. However, it is important to note that this is contingent on the conditional approval that was recently received from the Toronto Stock Exchange.
This is an important project for the company as large competitors in the industry have shown poor demand forecasting and have lost out on potential revenue. In the beginning of January, a news website named Lift published an analysis of the number of dried bud varieties on LP websites between October and December of 2016. As can be seen below, Aphria consistently carried one of the largest varieties on the market. This signifies that management has a strong grasp on both forecasting and operations. We believe this will continually play a big role in companies' performances and Aphria is well positioned to succeed.
(Source: Lift News)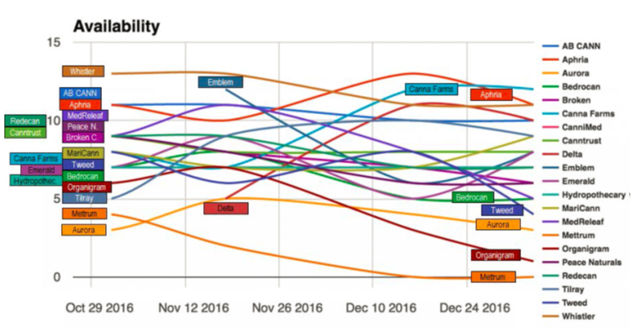 Fundamental Analysis
When looking for long-term investments in volatile sectors such as the cannabis business, it is important to invest in companies which display solid fundamentals. Specifically, free cash flows and margins will be the driving keys to success in this highly competitive market. These numbers signify who can produce the highest quality product and distribute it at the lowest possible cost. This year, Aphria announced that cannabis oil products accounted for over 10% of sales in Q2, versus a minimal contribution in Q1. Cash production cost was $1.31 per gram in Q2, up modestly from $1.23 per gram in Q1 as oils and their small incremental processing cost assumed a larger portion of revenue in the quarter. The company currently enjoys the lowest production costs amongst competitors.
(Source: Company Financial Reports)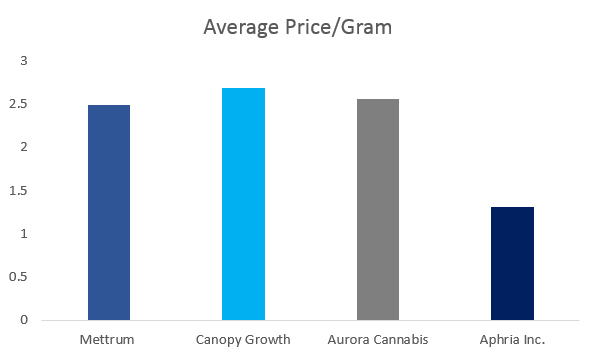 This is essential in this industry quickly moving toward a wholesale model, where the ability for large producers to suppress their expenses and achieve larger margins will provide a sustainable advantage for years to come. Aphria currently operates on $2.2 million free cash flow, which is equivalent to approximately 14% of company revenue. This is extremely impressive as the company's biggest competitor Canopy Growth has negative cash flows and has yet to generate any profits.
Regulatory Risk
It is important to note that this stock has already priced in the expected legalization of marijuana across Canada. However, these policies are not likely to be instituted until 2019, so investors will not receive the full benefits of recreational marijuana market for another 3 years. Additionally, many Canadian companies have growth plans that require the legalization of marijuana in the United States. While over 50% of the population is in favor of legalization, only a few states have taken action in legalizing recreation cannabis. Additionally, pharmaceutical companies connected to the cannabis industry may be at risk of federal and state criminal prosecution under the Controlled Substances Act. There are further barriers in the legalization process that may significantly derail expected growth in the industry.
Consolidation Opportunities
The marijuana industry has been prone to M&A activity as they are gearing up for the shift into the wholesale market. This may result in large competitors merging and creating large economies of scale and inter-departmental synergies that will allow them to cultivate cannabis at the lowest cost on the market. This will take away Aphria's main competitive advantage and would significantly reduce margins and volume on all products sold. Currently, cost of goods sold is the focus for many of the firms, as they are looking to maximize operational efficiencies. We believe more consolidation is to come from large companies such as Canopy Growth as their management has stated that M&A will be a large part of their growth plans.
(Source: IBIS World)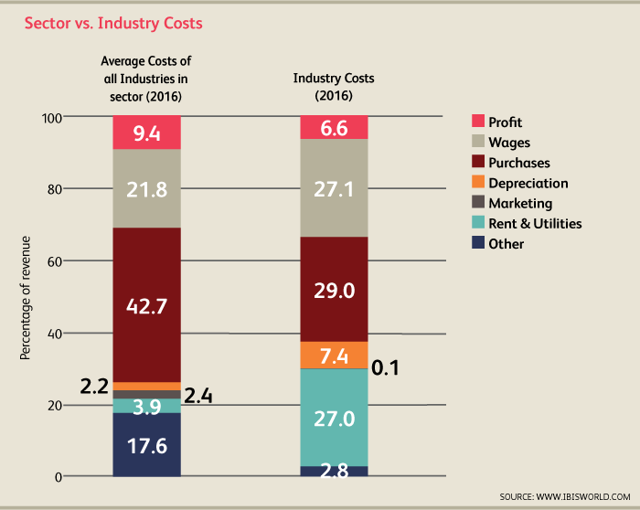 Our Takeaway
We initiate a BUY rating on this stock as it displays strong fundamentals, quality product and strong management. Aphria is the first public-licensed, medical cannabis company to report positive cash flow from operations and the first to report positive earnings in consecutive quarters. In a volatile industry this stock can produce steady returns, while capitalizing on double-digit industry demand.
Additional disclosure: Aphria Inc. pays Seeking Alpha a fee to participate in its Corporate Visibility program. This article was submitted independently by MasterObserver and selected by Seeking Alpha's editors for publication. No fee was paid for its publication.
Disclosure: I/we have no positions in any stocks mentioned, and no plans to initiate any positions within the next 72 hours.
I wrote this article myself, and it expresses my own opinions. I am not receiving compensation for it (other than from Seeking Alpha). I have no business relationship with any company whose stock is mentioned in this article.
Editor's Note: This article discusses one or more securities that do not trade on a major U.S. exchange. Please be aware of the risks associated with these stocks.