Hopefully this article will help you grow your assets.

CyrusOne Inc. (NASDAQ:CONE) is a hot stock in a hot sub-sector --the DataCenter REIT sub-sector. It just reported great results for Q4 2016. It beat on Revenues by $1.12 million at $137.4 million (+21.3% YoY). It beat on Normalized FFOPS by $0.05 at $0.68 (+11% YoY). The table below shows a more complete summary of the Q4 2016 highlights.

Net Income was negative in Q4 2015 (-$1.2 million) and in FY2015. That should explain the lack of comparison percentages above. CONE pays a 3.5% annual dividend after the raise for Q1 2017 to $0.42 per share from a previous $0.38 per share. In sum CONE put in a great quarter with great growth in Revenues (+21%), Adjusted EBITDA (+21%), Normalized FFO (+28%), and Normalized FFOPS (+11%). The year over year results were even better.
The table below shows CONE's FY2017 guidance.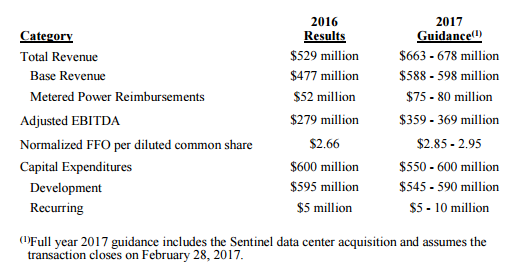 The closing stock price on February 23, 2017 was $47.65. This yields a Price/FFOPS multiple based on the midpoint of the FY2017 guidance of 16.43. If CONE manages to the upper limit of its FFOPS guidance range the multiple shrinks to 16.15. This a relative bargain multiple for a stock with the growth rates of CONE (+10.9% on the upper end of the FY2017 range for FFOPS). CONE's Beta of 0.84 is reassuring too for a relatively young company that was founded in 2012. In fact the above seems to indicate that CONE is an attractive stock.
In Q1 2017 CONE already announced the execution of a definitive agreement to acquire two data centers located in Raleigh-Durham, North Carolina and Somerset, New Jersey from Sentinel. The total purchase price is $490 million. This is a multiple of approximately 14.4 times the pro forma run-rate annualized EBITDA of approximately $34 million. The two properties consist of 160,000+ csf ("colocation square feet") and about 21 MW of power capacity, with nearly 85% of the power capacity leased. This transaction is expected to be immediately accretive to Normalized FFOPS. The expected revenues growth and FFOPS growth are already included in the above FY2017 Guidance figures.
This new purchase provides CONE with several benefits:
Geographic Diversification
Long term leases with a high quality customer base. More specifically the weighted average remaining lease term of the Sentinel portfolio is 8+ years, with only 3% of rent due for renewal through 2019.
Increased Penetration in Healthcare and Financial Services Verticals
Growth Opportunity. Another about 34,000 csf and 8 MW of power capacity are currently available; or they can be developed for less than $15 million. A further 230,000 csf and 37 MW of power can be developed at CONE's current build cost per MW. This further build out capability greatly enhances the value of this deal to CONE.
The chart below shows the various NOI yields as development of the properties of the deal above progress.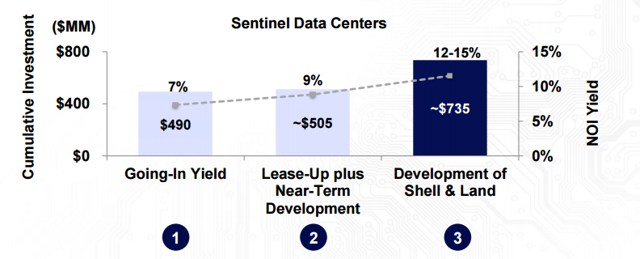 When CONE gets around to the final development expansion, this deal promises to be extremely profitable for CONE. For only an additional $245 million, CONE would have gotten the Mid Term Development and the Longer Term Development of a total of 264,000 csf and 45 MW. Wow! Remember the initial 160,000 csf and 21 MW was essentially for $490 million; and it alone gave the deal a 7% NOI yield, which is good by itself.
A few of the highlights from Q4 2016 and FY2016 previously not mentioned were:
CONE signed nearly 1500 leases in FY2016. These totaled a record 642,000 csf, 92 MW, and $148 million in annualized GAAP revenue. This last represents $1.2B+ in total contract value.
CONE leased 74,000 csf and 9 MW in Q4 2016. These totaled $19 million in annualized GAAP revenue.
CONE added two of the largest cloud companies as new customers. It now has nine of the top ten cloud companies as customers.
As of Q4E 2016, CONE had $59 million of backlog in annualized GAAP revenue.
The Q1 2016 dividend raise to $0.42/share means CONE has raised its dividend 163% since FY2013.
The charts below depict CONE's great growth metrics.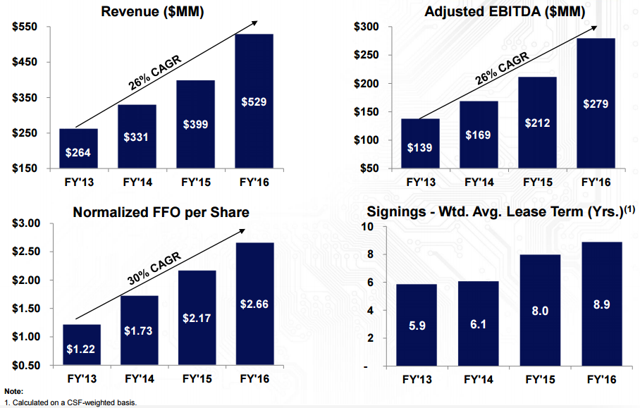 It is hard to beat the above.
The charts below show CONE's strong leasing trends.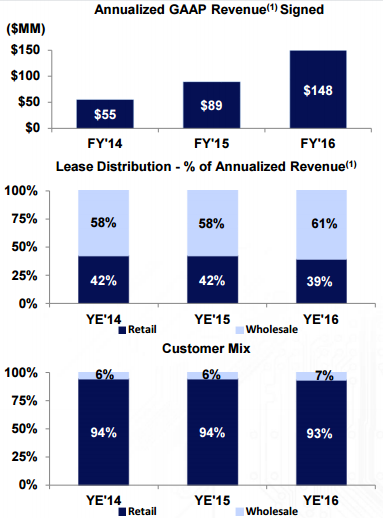 Importantly CONE has been upgrading the quality of the leases signed. In 2016 90% of leases signed (annualized GAAP revenue) included escalators with a weighted average of about +2%. This was up from only 10% of leases signed in 2012. For the Sentinel purchase this metric is even stronger. 95% of leases have escalators averaging about +3%. 83% of CONE's leases signed included Interconnection products, which totaled $8.3 million in annualized GAAP revenue. The above show good management; and they demonstrate the attractiveness of CONE's products.
The metrics for the Chicago-Aurora development are worth mentioning (see chart below).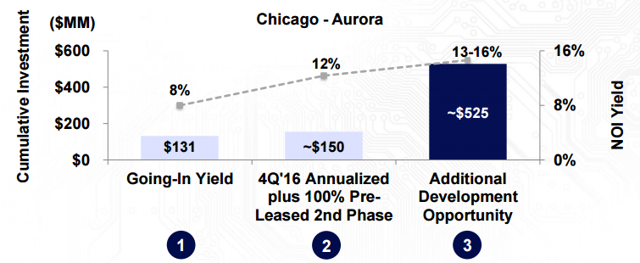 Overall CONE has 494,000 csf and 88 MW of projects under development. For these projects 72% of csf is already contractually committed to customers. CONE estimates about $364-$400 million in costs to complete the projects. A summary is in the table below.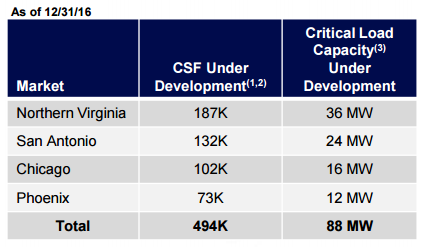 CONE's debt structure looks strong too (see chart and table below).

Net Debt to Adjusted EBITDA was 4.3x at the end of Q4 2016. After the Sentinel deal it rose to 4.7x. CONE may decide to lower this metric again by offering more stock for sale. Available liquidity after the Sentinel acquisition was about $500 million. In November 2016, CONE expanded its unsecured credit facility to $1.55B, extended its maturity dates, and reduced its borrowing rates. These things would all seem to indicate the good management of a quickly growing company.
In addition to all of the above, the datacenter industry is growing quickly as well; and it is expected to continue growing quickly for many years to come (see chart below).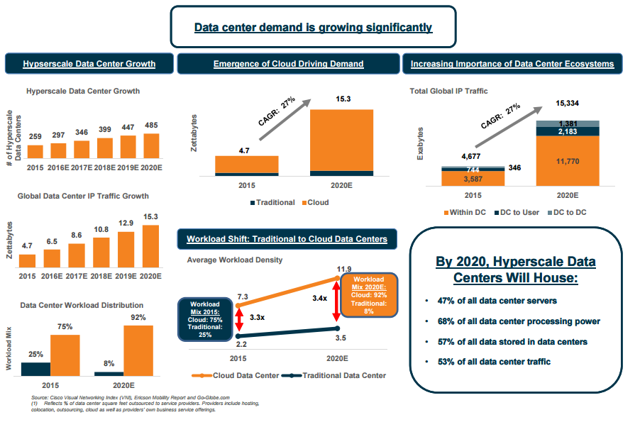 Readers should particularly notice the expected tripling of cloud demand from 2015 to 2020E. This by itself is a great demographic tailwind. It makes CONE with its own great metrics an even more attractive stock. Overall there does not appear to be a near term slow down in CONE's growth. Normalized FFOPS is expected to grow at +10.9% on the high end for FY2017. When you remember that CONE has been beating expectations, this statistic is even more exciting.
The one year chart of CONE provides some technical direction for a trade/investment.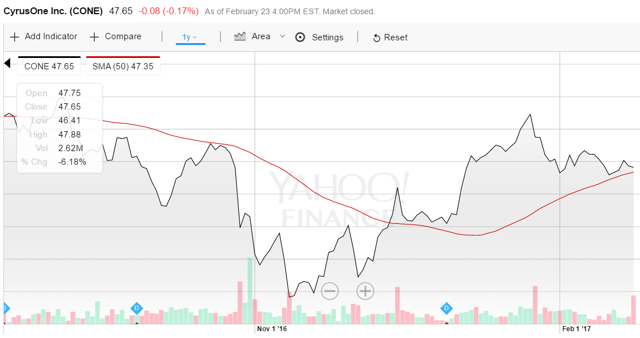 The above chart doesn't indicate a particularly strong trend. However, at least the most recent trend is upward. The Q4 2016 earnings and the recent Sentinel purchase tend to support further stock price appreciation. The 2017 guidance for Normalized FFOPS of $2.95 on the high end of the range gives a Price/FFOPS (2017E) of 16.15x. This is a bargain multiple for a stock that is expecting +10.9% Normalized FFOPS growth on the high end of guidance. When you remember that CONE has been beating guidance, the picture is particularly attractive.
With near +11% FFOPS growth CONE could support a multiple of 18-20. This would translate into 11.4%-23.8% stock price growth. When you add in the annual dividend of 3.5%, you get a total return of about 15%-27.3%. That figure ought to make most income investors happy. CONE is a buy. However, it is a young stock. Many are saying the market is over bought and over priced. CONE could fall with an overall market pullback. Hence I will rate it only a low buy at this time. However, investors will want to plan to get into this very attractive stock. Perhaps averaging in is a good strategy for this time.
Good luck trading/investing.
Source note: Some of the fundamental fiscal information above is from Yahoo Finance.
Disclosure: I/we have no positions in any stocks mentioned, but may initiate a long position in CONE over the next 72 hours.
I wrote this article myself, and it expresses my own opinions. I am not receiving compensation for it (other than from Seeking Alpha). I have no business relationship with any company whose stock is mentioned in this article.