After the market closed on February 22nd, the management team at Legacy Reserves (NASDAQ:LGCY) announced financial results for the firm's fourth quarter of its 2016 fiscal year. Seeing as how Legacy is one of my larger holdings (if you count the preferred units) and is a firm that I follow a great deal, I figured it would be a wise idea to look at its performance. In a prior article, I told investors to look out for four things during the quarter so the focus of this article is whether or not management delivered and what my interpretations are regarding their achievements or misses.
Capital expenditures were... interesting
In my last article on Legacy, I made the case that management's recent announcement of a $55 million capital budget for 2017 would likely be either really good or really bad. The reason behind this is that their spending plan for the year is far higher than 2016's plan of $37 million. This could be phenomenal if the end result will be higher production but, in the event that this uptick in spending is merely to offset existing declines or to even see production fall, the picture would look negative.
A third case I suggested was that (and my readers actually came up with this idea, not me) the firm's low spending, just $18.5 million during the first three quarters of last year, could have resulted in underspending last year so they can spend more this year. I did not think that this would have a high probability of working out but it did. According to management, actual capital expenditures for 2016 came out to just $29.5 million if you exclude $12 million in acquisitions that had not been included in prior guidance. If you take the difference of $7.5 million away from the $55 million for this year, actual unplanned spending would be $47.5 million compared to last year's goal of $37 million.
The end result of management's new spending plan, however, does not necessarily show my fear about lower production being correct. According to the firm, total production, at the mid-point of this year, should come out to 15.56 million boe (barrels of oil equivalent). This represents a modest drop compared to 16.03 million boe seen in 2016. When you factor in the carryover from last year and the fact that production won't be too much lower (just 2.9%), the picture is not bad like I feared but it is not bullish either. I would make the case that it's a slightly bearish outcome for this year but the bullish picture for 2018, which I'll discuss below, more than offsets this in the long run in my view. As a side-note, the $55 million capex plan for this year is the low-end of what they are now expecting. At the mid-point, it rises modestly to $57.5 million.
Reasonable hedging
Even though I see the capital spending plan as being more bearish than bullish for this year, one thing I am pretty happy about regarding Legacy is the fact that, according to management, its hedges look pretty reasonable. My fear leading up to earnings for the company was that management may have done most or all of their required hedging (75% of production through 2018) before the OPEC news, which would have left Legacy struggling to get by given the lower prices then compared to now.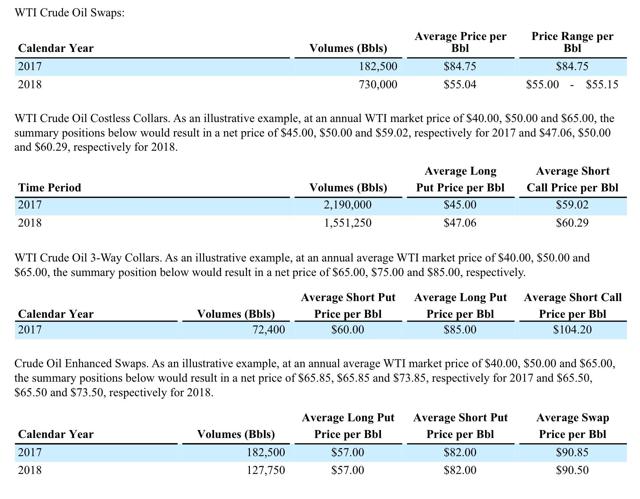 *Taken from Legacy
Fortunately, as you can see in the image above, this is not the case regarding oil. For 2018, the year I'm most focused on since management already had a lot of hedging in place for 2017 compared to where they were required to move up to, Legacy has about 16.8% of their oil production hedged at about $55.04 per barrel. They also have 1.55 million barrels (or 35.6%) of output hedged at a price that comes out to whatever the market price is but that won't move lower than $47.06 per barrel and won't move higher than $60.29. This gives them some flexibility. They also have an extra 2.9% hedged at a price of $65.50 per barrel given current prices. For natural gas, pictured above as well, they have 67.9% hedged as of the end of the quarter at a price of $3.25 per Mcf. For 2019, that number is 41.5% at $3.36 per Mcf.
Costs dipped... but will rise a bit
One of my other predictions for Legacy for the quarter was that we would see costs drop. As you can see in the table below, I was correct about this. During the quarter, production costs averaged $10.70 per boe, down from $11.59 per boe a year earlier. For the full year, the decline was even sharper. Due to higher drilling, however, the picture is changing. At its mid-point, production costs for 2017 should come out to about $11 per boe, a modest decrease compared to last year's full number of $10.59 per boe but still well below 2015's level of $13.03 per boe.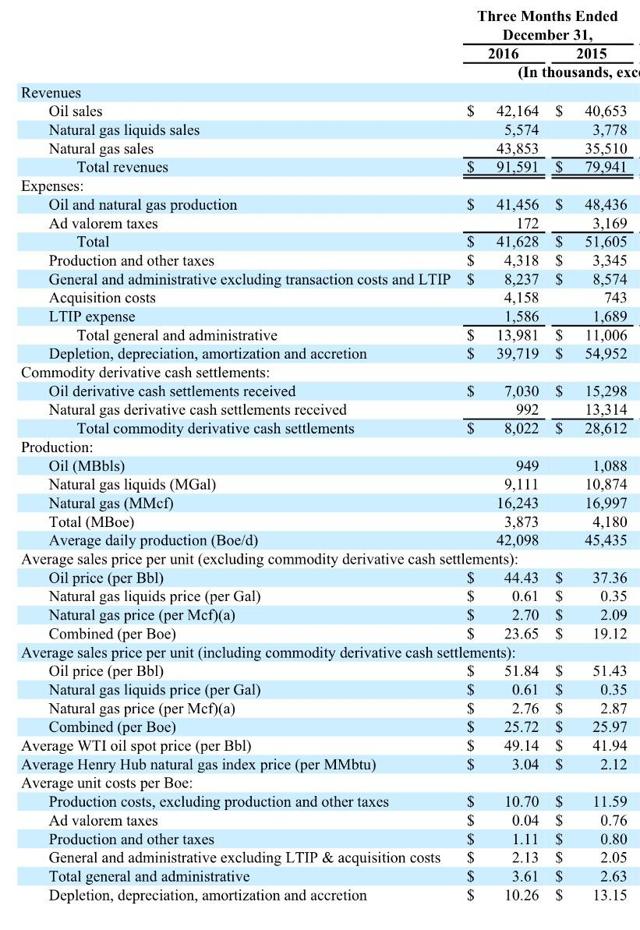 For cash-based general and administrative costs, the picture was a bit different. As you can see in the table, this number actually increased to $2.13 for the quarter, up from $2.05 a year earlier. For the full year, these numbers were $1.95 and $2.20, respectively. If management's forecast are accurate, then costs this year, likely driven by the lower production levels, will rise to $2.15 per boe. this is a bit disappointing as well but since we're still below 2015's levels and since general and administrative costs can't keep going down forever, it shouldn't come as a huge surprise to investors.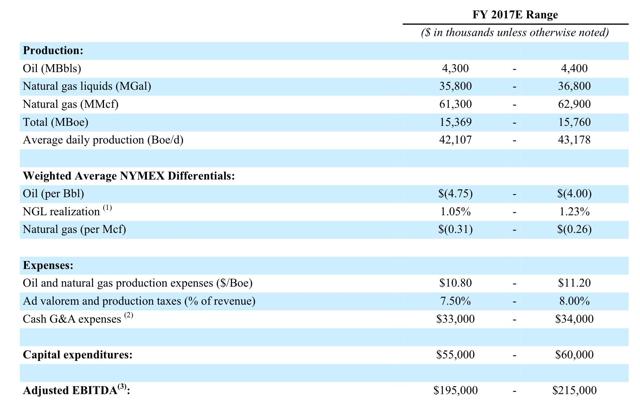 Debt didn't drop... it rose a bit
The last prediction I had for the quarter related to Legacy's debt. I had hoped that, with positive cash flow (and it was if you count the company's hedges), the firm would have allocated capital toward debt reduction, including possibly from asset sales and its Second Lien facility (they have the ability to buy back a very small amount of debt using that). Management did not pull through but the picture wasn't all that bad. For the quarter, long-term debt came out to $1.19 billion, a modest uptick compared to the $1.17 billion last reported following its Second Lien agreement being struck. However, this isn't anything to write home about.
Some other interesting news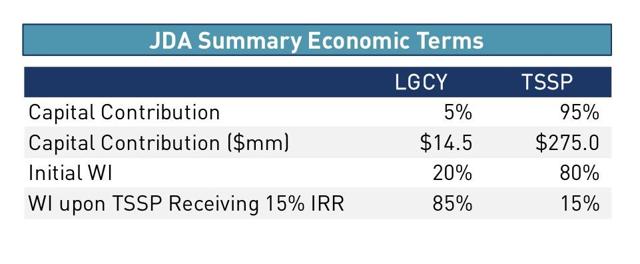 *Taken from Legacy
In addition to these items, I felt it very important to go over some things. According to management, they intend to restart their horizontal Permian drilling activities with TPG Special Situation Partners. According to the existing arrangement, TPG is willing to spend up to $275 million on 48 wells. In the past, Legacy would be forced to pay for 5% of all capital projects but would get an initial payout of 12.5% but, as shown above, this will increase now to 20%. Once TPG achieves a 15% IRR (internal rate of return), Legacy will start to receive 85% interest in the work. As a result of this, combined with its other guidance for the year, the firm anticipates that its leverage will improve, bringing its debt/EBITDA ratio down from 5.8 to 4.6, as can be seen below.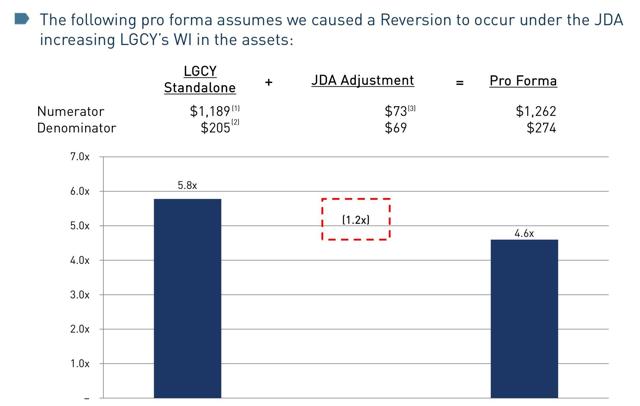 *Taken from Legacy
Despite the significant investment in new properties, which Legacy's management team said should increase production by more than 20% from the fourth quarter of 2016 through the fourth quarter of 2017, the cash flow picture for the firm is looking good. Even after its $55 million budget, the company should generate free cash flow this year, assuming current energy prices, of between $65 million and $80 million. Management did say that if something happens that improves its balance sheet, they may consider adding to their capital project but, barring that, the firm intends to use all of these proceeds toward reducing their revolving credit facility. They also do not expect any material problems this Spring with their semi-annual redetermination.
Takeaway
For the quarter, it's safe to say that there wasn't anything truly mortifying or truly wonderful about Legacy's performance. Their costs did drop but will increase a bit again, and their debt increased but not by much. Yes, we do have the negative of production falling this year but the level isn't by much and, with management's respectable hedge book in place, the company more or less offset the production issue in my mind. If management can keep their 20% increase from the fourth quarter of last year to the fourth quarter of this year flat for 2018, we could see production climb to 18.59 million boe per day then, so that's really impressive in my opinion. Only time will tell how investors will look back at this data as but I see the picture, compared to my expectations, I was neither scared nor happy after reading about its quarterly results but I am enthusiastic about what 2017 has in store for the firm.
Disclosure: I am/we are long LGCY.
I wrote this article myself, and it expresses my own opinions. I am not receiving compensation for it (other than from Seeking Alpha). I have no business relationship with any company whose stock is mentioned in this article.
Additional disclosure: I own LGCYO and LGCY