Home Depot Inc. (NYSE:HD) has demonstrated solid sales improvement figures again, by fetching $22.2 billion in Q4 (a 5.8% rise compared to Q4 2015). Much of the improvement is through an "interconnected retailer" methodology, an attention on client benefit and a disciplined capital allotment.
Macroeconomic trends like home price appreciation has given consumers motivation to invest in their houses and buoyed Home Depot's 2015 sales to $88.5 billion and predictions are that, the 2016 sales figure will touch $94.18 billion. While the main drivers for expanding margins of Home Depot have been product focus and customer service.
Although Home Depot suffered much in terms of customer service in comparison to arch-rival Lowe's (NYSE:LOW) in the past, it has been taking customer-friendly initiatives like providing customers with in-store repair services for power tools & equipment.
Expanding Margins due to enhanced Customer Services
Home Depot might be exceeding its 2018 operating margin estimate of 14.5%. Operating margin widened to 13.3% in 2015, helped by improved customer service, market-share gains and increased merchandise selection and availability. Investments in Omni-Channel Strategy and Supply Chain Infrastructure have already offset the growth in higher ticket products (although giving lower margins) which are the key sales drivers for Home Depot.
Peer Comparison: The Home improvement chain's operating margin of 12.5% is about 300 bps higher than Lowe's 9.3%. This spread may increase as Lowe's integrates the lower-margin Canadian RONA business, widening the gap between EPS of these competitors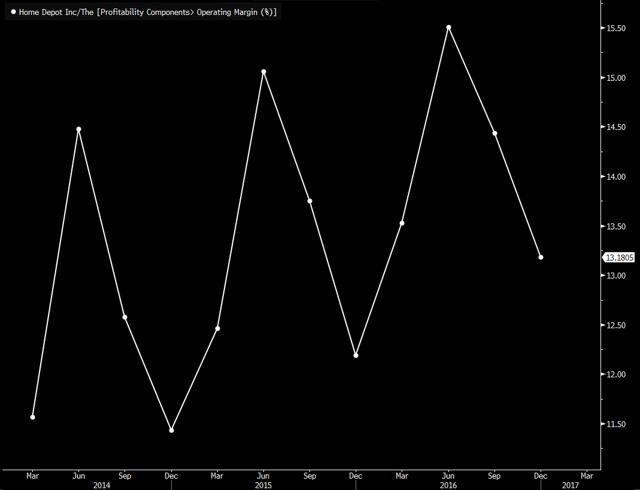 Source: Bloomberg
The growth in number of stores in Mexico is fairly constant and may touch 150 stores by 2018 compared to 115 in 2015. As of now it seems that, increasing productivity rather than increasing square-footage growth is important for the company. The Management has also revealed plans to grow in other parts of Latin America in the past.
Return on Capital Investment on an uptrend
The return on Capital Invested has shot by more than 15% since 2008 to achieve the figure of 28% in 2015. It also returned more than $53 billion to investors since 2002 (by the way of stock buybacks). Also raising quarterly dividends by 28.8%, Home Depot is surely going to win investors' hearts.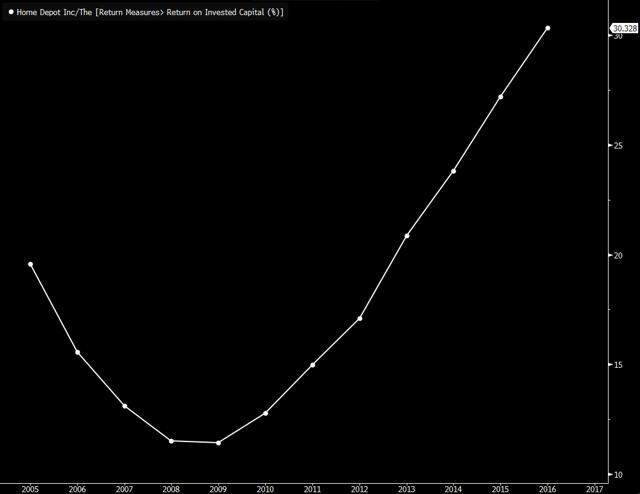 Source : Bloomberg
Home Depot's Gross Margin boosted by Optimization of Supply Chain
By centralizing ordering and distribution through RDC's (Rapid Development Centers) the automatic replenishment of items is now possible and in practice as a subset of Home Depot's supply chain optimization program. With more than 90% of the items being automatically replenished, the company is leveraging on lower distribution charges. This all is aiding the gross margins of Home Depot and may continue to increase in future.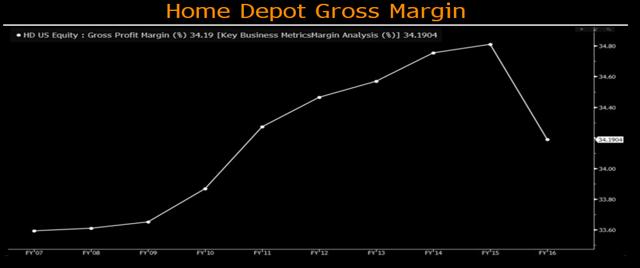 Source: Bloomberg
INDUSTRY
Old is gold for repair and re-modeling industry
Due to an amalgamation of factors like reduction in housing affordability by 22% (since December 2012), baby boomers making 23% and aging at one place, majority of the U.S. housing stock aging and second-home growth remaining under limits, the chances of customers renovating their current homes (instead of moving out) have increased. Thus, home-improvement sales of repair and re-modeling players (like Home Depot and Lowe's) are bound to increase. The figure below shows that, almost every time NAR Housing Affordability has taken a dip, the U.S. Home Improvement spending has spurred.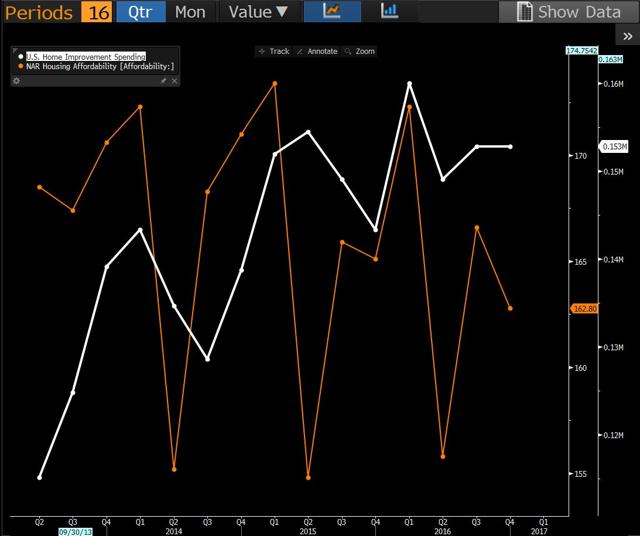 Source: Bloomberg
Support to the industry by high interest rates
Low interest rates of 2013 (during the first 4 months) had incited the refinancing, luring more and more home loan owners to get the benefit. Since then the rates have caught an uptrend, to bring refinancing activities to lower levels. According to a report from Core Logic, over 60% of property holders have a home loan rate underneath 5%, which will only drive them to invest rather than move. The Long term Mortgage rates are hardly in for a decline in future. Along with above, the announcement of housing price index increase by 1.5% (by the Federal Housing Finance Agency in November 2016) will surely give support to home improvement industry.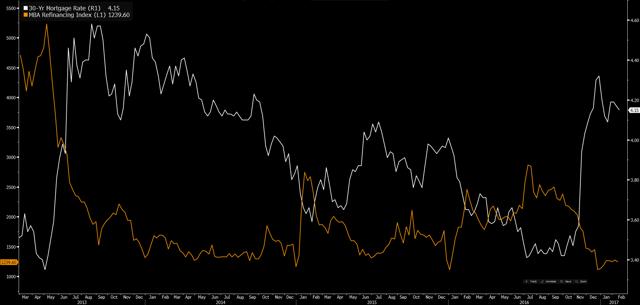 Source: Bloomberg
The Struggle against Amazon:
The hard battle for most of the retailers like Home Depot, Lowe's, Williams-Sonoma (NYSE:WSM), Bed Bath & Beyond (NASDAQ:BBBY) against the giant Amazon (NASDAQ:AMZN) is on.
During the period when Amazon's Prime membership grew up 43% from the year 2015 (and estimated at around 63 million households), other retailers progressed in terms of "stickiness."
With prime members spending 5x more than non-Prime members, Amazon has stickiness of 26.6%.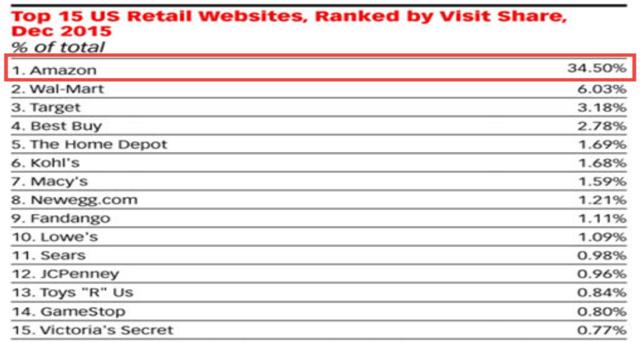 Source: eMarketer
But still, Home Depot on account of its past investments in technology (on account of increasing customer migration to digital platforms) has managed to move ahead of, most of its competitors like Lowe's in terms of customer visits (1.69%).
These levels of stickiness are also evident in the fact that the online business represented 4.5% of Home Depot's annual sales in 2014 (which is $3.7 billion). Many of the new initiatives like Dynamic ETA (delivery status), Sync (for coordination between distribution centers) have been incorporated. Moreover, the outlook for future is, to heavily invest in technological areas. Therefore, an investor must be paying attention to this e-commerce model of Home Depot which is going to be a long-term growth driver for the company.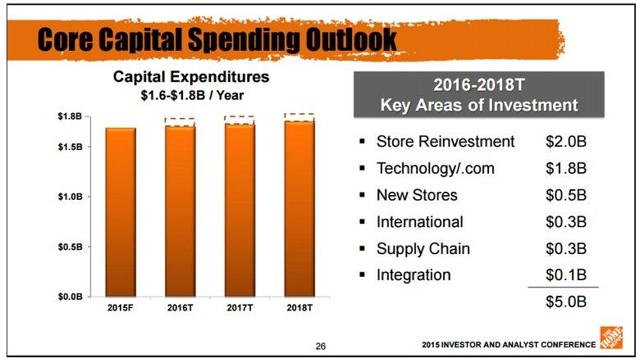 Source: Home Depot
E-Commerce Growth becomes the benefactor of 'Interconnected' Goal
The objective of turning into an "interconnected retailer" has surely been achieved, with online sales growth of more than 40% and around 5.5% in online sales (as a % of total sales) in the year 2016. This feat has been achieved in this channel through, search, and chat functionality for better connection of the customer with the retailer and by better navigation.
Almost 42% of the online sales are being accommodated by dedicated storage at 550 locations. Moreover, the opening up of a third Direct Fulfillment Center (DFC), these 3 DFC's enable Home Depot to reach 90% of their U.S. customers in two business days or less with parcel shipping, providing a balance of cost efficiency and speed.

Source: Bloomberg
Stock Performance Graph
Below is the stock performance graph with $100 invested into each one of the following: The Home Depot, S&P 500 Index and S&P Retail Composite. As evident, throughout the years (2008 to 2016) the stock has outperformed S&P 500 index, and is surely going to increase further.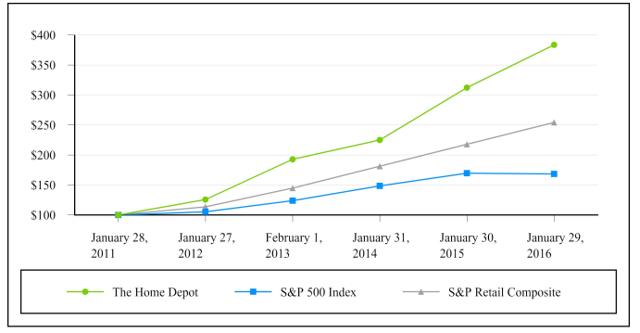 Source: Home Depot Annual Report 2015
Sentiment among Hedge Funds
Many of the long positions can be seen occupied by major fund houses in Q4. Throughout the year Blackrock has steadily increased its holdings. Vanguard group has been on a buying spree. While Capital Group Companies have sold 5.6 million shares (still being the top holder of the stock with almost 8.49% of the shares outstanding).
Bank of America (NYSE:BAC) had played a smart move in December 2015, buying chunks of stock when the price was in for a dip (for almost two months i.e., January to February 2016) after which the stock regained its rhythm.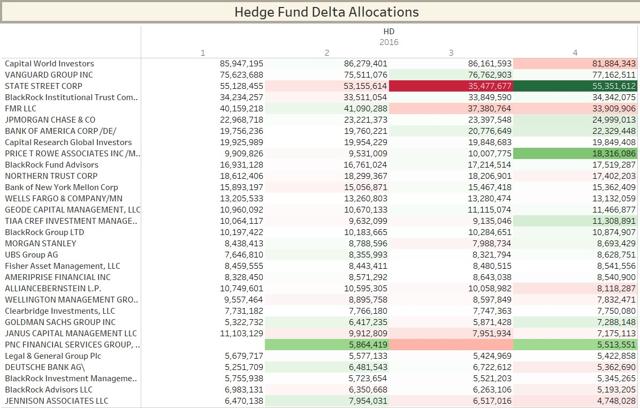 Source: TINO IQ

Source: TINO IQ

Source: Bloomberg

Source: Bloomberg
Discounted Cash Flow Valuation for Home Depot
Taking discounting factor as 10.5%, terminal growth rate as 5.8%, the intrinsic value of The Home Depot stock is calculated as $157.633.
Current price being $144.71, it shows a potential upside of 8.93%. Free cash flows to the firm at present value are obtained using discounting factor as WACC only.
Dividend Discount Model for Home Depot
Taking discounting factor as 12.80%, the terminal growth rate as 11%, the intrinsic value of the stock is calculated as $196.319. Current price of the stock being $144.71, the upside potential is 35.66%.
Short Interest
With public float shares of 1.22 B and short interest of 8.442 M, the short percentage of float stands at 0.69%, which indicates most of the investors want to go long on the stock or at least hold it. The sentiment shows an expected upward movement in the stock price.

Source: Bloomberg
Technical Indicators making the case for BUY strong
According to popular indicators like MACD, BB, RSI etc. the recommendation is to BUY the stock.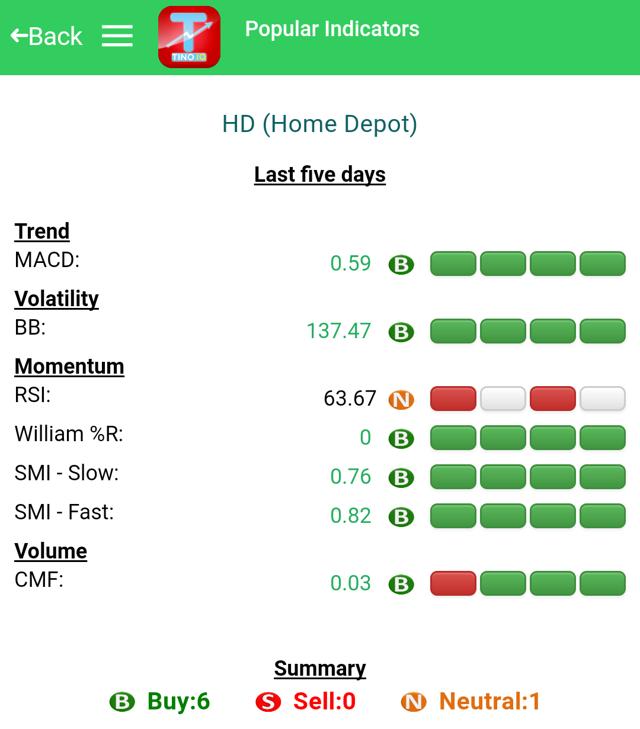 Source: TINO IQ
Dividends and EPS
The Home Depot has been paying dividends for consecutively 120 quarters (seen with a gradual rise each year). With $0.69 of dividend in Q4, company's dividend is going to be $2.76 for the year 2016 (which is a 17% rise from the dividend for 2015), while for the next year the company has announced a lucrative cash dividend of $0.89 per share per quarter (increase of 28.8%).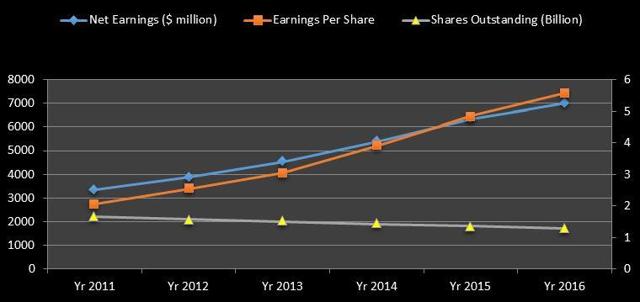 Source: Data sourced from Vuru
In the past, the company has been able to play around with EPS, getting more earnings each year, along with continuously decreasing shares outstanding (by the way of share-buybacks). Achieving this, it has given pronounced EPS each year. The company has also beaten EPS estimates of $1.34 to fetch $1.44 in Q4 of 2016. During the earnings call, Mr. Craig Menear announced a new share repurchase program of $15 billion. This is going to increase the EPS further.
Conclusion
Apart from providing good dividends and EPS, the company's practice of share repurchases is also going to benefit the investors. The execution of company's Supply Chain Synchronization project (Project Sync), is relied upon to enhance the company's in-stock, stock productivity, and logistics costs. Having Home Depot in your portfolio is sure to give you both, capital appreciation and dividend income.
Disclosure: I/we have no positions in any stocks mentioned, and no plans to initiate any positions within the next 72 hours.
I wrote this article myself, and it expresses my own opinions. I am not receiving compensation for it (other than from Seeking Alpha). I have no business relationship with any company whose stock is mentioned in this article.