I have always had China in the back of my mind as an economy that should be on watch. Although China's economy has slowed down significantly over the past several quarters, the worst is yet to come; China's debt/GDP ratio is sitting at 400%. The country's economy is slowing while it is printing up and borrowing money at alarming rates. Simultaneously, its currency reserves are vanishing.
Here is a chart on China's currency versus its reserves: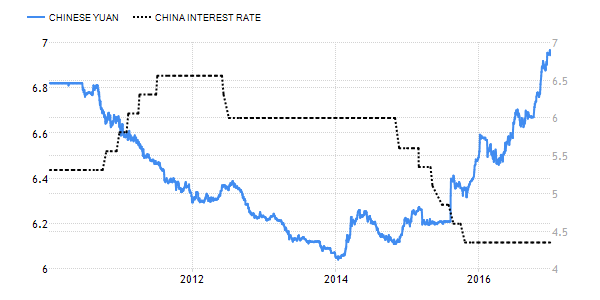 Foreign reserves have fallen from its high of nearly $3.93 trillion in June 2014, to $2.99 trillion in January. The Chinese reserves have fallen off by $1 trillion in about 18 months. At that same pace in three years there will be no more currency reserves. The drawdown assumes that there would be no interest rate changes, no new borrowing and that there are no adjustments to existing loans.
All the while there is a decline in the exchange rate to accommodate this drawdown (Please note with the above chart: you are looking at USD-CNY, the inverted chart), as that cross continues higher, the value of the CNY declines.
However, according to Kynikos Associates, the current reserve levels reported do not reflect the truth. China's massive overseas borrowings have depleted reserves in order to pay for its debt. Kynikos states that China's real reserves are half of what is now stated at $1.7 trillion: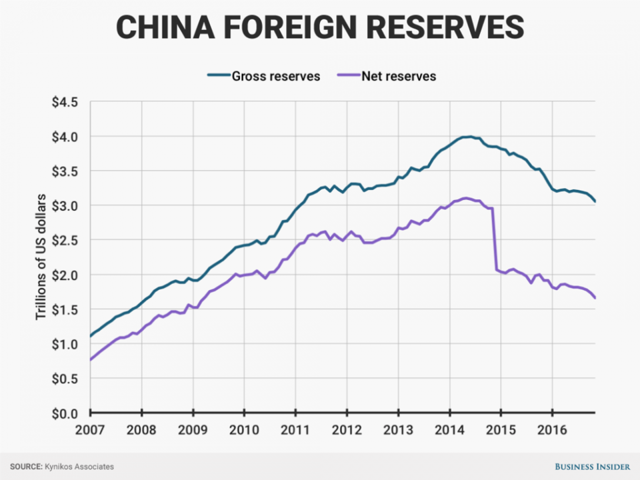 Given its actual level, China would run out of reserves in just about 18 months' time.
There is another factor that is in play, the CNY versus interest rates in China: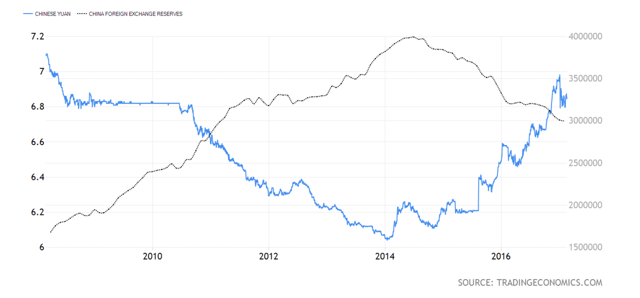 In response to economic slowing, China lowered its interest rates; the currency moved lower coincidentally. China's Debt/GDP is currently 400%; it was 100% in 2000. Here is the loan growth rate to GDP: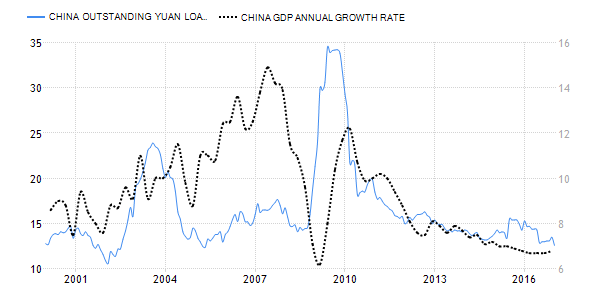 Some believe that China may recover from its economic slowdown, but to put that possibility into perspective, Japan has been mired in a near three-decade slump. its Debt/GDP is just over 200%. China has to pay twice that amount. This will be a massive slump on its ability to advance forward.
One thing to point out is that I have never been a believer of some of the economic data that China produces. The latest GDP data came in at 6.7% year-over-year growth. Many wonder on that number. China never wants to be seen as weak and so its economic data has always been suspect. But, that is the data we have to go on.
In the meantime, looking at the long slow decline in the growth rate as well as the decline in the loan rate I wonder if the two will be able to pick up. China's GDP popped back up modestly from a surge in the loan rate from 15% to 35%. But, that only brought the GDP level back up to 12% from the low of 6%. The economy is back down to nearly the 6% lows of before.
China is in trouble if it does not begin to fix its ratios and pay down its debt; but, I just do not see that happening. The debt level is too high and only highly-elevated borrowing will be able to sustain the current economic activity. But, that just creates more of a mess.
In 1997, several Asian countries went through a massive financial crisis that is similar in some regards to what China is going through. Then, in 1998, Russia defaulted on loans. In both instances, there were massive moves in the financial markets. If you were around back then, like I was, the Japanese yen moved 17 big figures in one day.
I am going to keep a watchful eye on this as it develops. This could be a very serious problem if there is no turnaround. However, and as I have said, I do not see China being able to turn things around.
Money may start moving into safe haven places like the United States Treasury bonds. I will be watching for signs of this.
Disclosure: I/we have no positions in any stocks mentioned, but may initiate a long position in U.S. GOVERNMENT BOND over the next 72 hours.
I wrote this article myself, and it expresses my own opinions. I am not receiving compensation for it (other than from Seeking Alpha). I have no business relationship with any company whose stock is mentioned in this article.