With increasing uncertainty of sustainability of increased production rates for Boeing (NYSE:BA) and Airbus (OTCPK:EADSF), investors are looking at other ways to make sure their portfolio value keeps growing. One way to do this is by investing in other industries, but value can also be found in the supply chain of aerospace products. In the end, however, not all companies in the supply chain make for an attractive investment.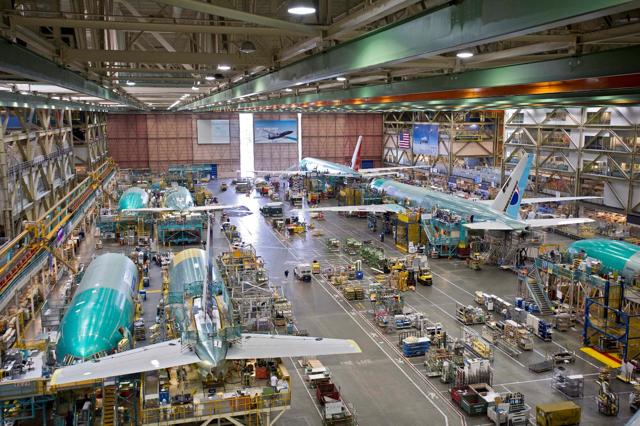 Source: www.ainonline.com
In this article, I want to have a short look at some of the stocks that I have previously analyzed.
Hexcel (NYSE:HXL)

Source: www.hexcel.com
Hexcel is a Tier-1 supplier of light weight composites. The company depends for roughly 70% on production by Boeing and Airbus, so in the case of cutting or stabilizing production the company will likely be impacted. Beneficial to the company's revenue, however, is the ramp up of the Airbus A350 production coupled with service entries of the next generation narrow body aircraft. This is somewhat counteracted by lower Boeing 777 and Airbus A380 production. The Boeing 777X should also drive revenues in 2019. In the coming years, R&D expenses are expected to decrease while cash inflow should increase significantly from the current figure of $73 million in 2016, resulting in solid free cash flow growth. In the years to come, I expect Hexcel to increase its presence on other markets such as the automotive and wind energy market.
Contrary, to jet maker Boeing, Hexcel has a meager dividend yield of just 0.8% and a repurchase program that allows it to repurchase roughly 7-9% of its outstanding shares. In the coming years, Hexcel investors will benefit from organic growth that will likely lead to higher share prices, dividends and repurchases.
Héroux-Devtek (OTCPK:HERXF)

Source: http://wallstreetanalyzer.com
Héroux-Devtek is a small landing gear supplier that has often been subcontracted to produce smaller parts for landing gear systems. The company's biggest win came when Boeing awarded Héroux-Devtek a contract for the production of the landing gear system for the Boeing 777 and Boeing 777X. To meet demand the company has made required investments. My initial thought was that the company's share prices could only go up after this and that is not completely untrue. Since announcing a long-term contract with Boeing, share prices went up roughly 15%. In a detailed report for premium subscribers, I noted that a big part of revenue growth comes from inorganic growth. It is likely that part of the company's 15% increase in share prices is also sparked by this inorganic growth. The company had previously backed off from its 2019 guidance, but a guidance on lower revenues in 2018 combined with production rate cuts in 2017 and 2018 for the Boeing 777 do not bode well for the company's results in the coming years.
Zodiac Aerospace (OTCPK:ZODFF)

Source: https://upload.wikimedia.org
Zodiac Aerospace is a supplier of cabin and flight deck equipment. The company has been troubled quite a bit as it failed to ramp up production to meet demand and its turnaround plan was a slow one. While writing about a possible buyout of this name for premium subscribers, an announcement was made that the company would merge with Safran (OTCPK:SAFRF).
In a previous premium article that was released to regular subscribers as well, I explain why I think value remains in Zodiac Aerospace shares.
Conclusion
Out of the 3 supply chain stocks that I analyzed since January, I can say that only 1 is a true gem. Hexcel is a company with a strong moat that will see its free cash flow grow in the coming years, while Héroux-Devtek is a company so small that even the slightest changes can cripple a bright future. I believe that Héroux-Devtek shares could return value to investors, but not Boeing increases its 777 production rates. Zodiac Aerospace only made sense as investment in the case of a buyout.
If you enjoyed reading this article, please consider signing up to my premium research service, which from time to time covers stocks in the supply chain in the form of detailed reports.
Disclosure: I am/we are long BA.
I wrote this article myself, and it expresses my own opinions. I am not receiving compensation for it (other than from Seeking Alpha). I have no business relationship with any company whose stock is mentioned in this article.
Editor's Note: This article discusses one or more securities that do not trade on a major U.S. exchange. Please be aware of the risks associated with these stocks.