ValueAct Capital CEO Jeffrey Ubben told Reuters ValueAct is taking money out of the market. Cash is racking up and it is almost 20% in cash now. Ubben is most concerned about the large cap space:
"I really feel that the large-cap activist plays are very treacherous with high PEs and not a lot of growth."
ValueAct decreased its stakes in Baker Hughes (BHI), Morgan Stanley (NYSE:MS) and Allison Transmission (NYSE:ALSN). We should take the ValueAct signal seriously as the firm has a stellar track record; ValueAct is an activist which means it can force value creation and ETF inflows could explain a dislocation in the large-cap space.
According to Nathan Vardi at Forbes, ValueAct Capital's main hedge fund has returned 15.5% annualized between 2000 and up until mid 2016. Which means an investment of $100K would have grown into $900K. The S&P 500 returned about 90% over a similar time frame, meaning an investment of $100K would have grown into $190K.
ValueAct is an activist fund that seeks to work constructively with management as a long-term shareholder. It usually takes at least one board seat at its top holdings. This means it can effectively push for value creation and sit at the controls - a luxury most of us don't have when sinking money into the S&P 500.
We are currently in the later innings of the great migration from active management towards passive management, writes Eric Rosenbaum at CNBC:
A lot of money is flowing into Exchange Traded Funds or ETFs which is now an industry in the trillions of dollars. November 2016 was the best month ever for inflows into U.S. equity ETFs with $49 billion pouring in.

In all, three of the top 10 months for ETF flows in the past decade occurred in 2008, including March and December of that train wreck of a year.

The second best month ever for U.S. equity ETF flows was September 2008 - you know, as Lehman was declaring bankruptcy and the world was descending further into economic chaos.
A disproportionate share of ETF inflows tends to flow towards U.S. large caps: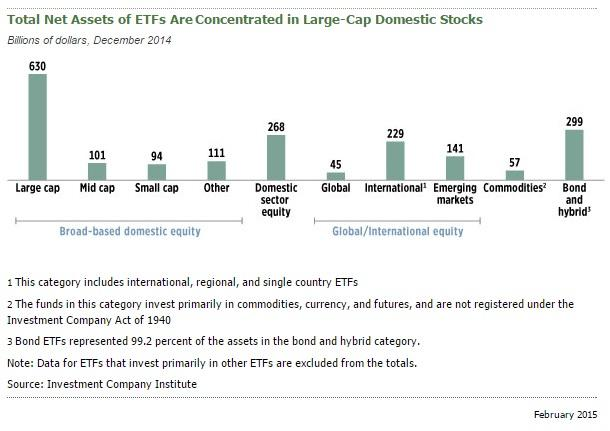 Theoretically ETFs are a superb instrument with tremendous value for society. But it is a new instrument and, without any experience with the flaws, investors are disregarding these. As a side effect of avoiding fees, investors are all piling into the same things. Valuations are getting out of whack versus intrinsic value, forcing even activist investors to the sidelines.
ValueAct isn't just holding nearly 20% in cash it is also investing its portfolio differently as per Reuters:
Ubben said that he was not focusing on any particular sector but instead looking for bets on idiosyncratic, mid-sized companies such as spin-offs and "weird" corporate structures.
We are doing pretty much the same thing at The Black Swan Portfolio, the Seeking Alpha Exclusive Research service I manage.
Except, we go as small as possible where there's still much value to be had and without the problem of having to manage $16 billion.
One example of a weird corporate action we participated in would be WaferGen Bio-systems (NASDAQ:WGBS). Covered first in October 2016 after it received a complicated offer to be acquired by Takara Bio. The transaction involved a lot of uncertainty regarding the upside but there was more clarity about the downside. A classic situation that's described best as a Dhandho investment or "heads I win, tail I don't lose much". As uncertainty regarding the upside dissipated, the stock surged.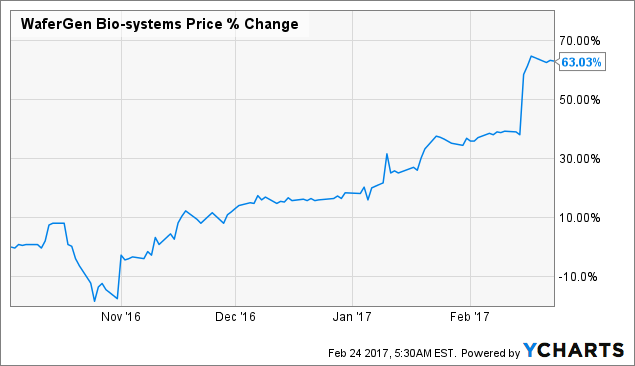 WaferGen still trades below where I believe it will close, and I recently updated my view in: 9.9% Return In 2 Weeks.
As I'm very cautious about the prospects of the S&P 500 (NYSEARCA:SPY) just like Jeffrey Ubben, we dedicate an entire portfolio to defense in The Black Swan Portfolio which should put us in a great position for aggressive buying if the market declines 20% or preferably more.
In case I'm wrong and we are not going to see a market sell-off in the next year or so, we invest aggressively in idiosyncratic investments that can generate high returns with little capital at risk and special situations that generate decent returns but aren't as exposed to market vagaries.
Psychemedics (NASDAQ:PMD) is one example of an idiosyncratic investment which was included in The Black Swan Portfolio July 28, 2015, when it traded at $12. The idea ultimately came to fruition, and we saw 342% year-over-year earnings growth in 2016.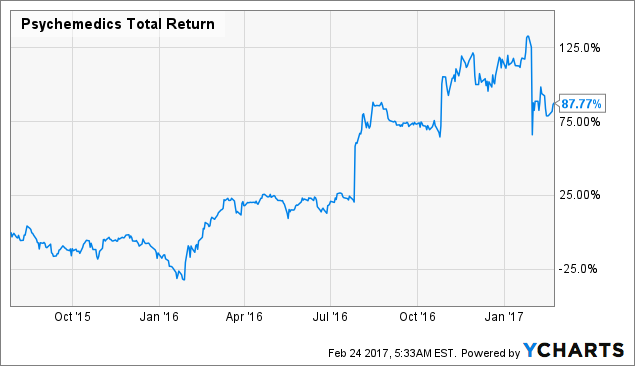 PMD Total Return Price data by YCharts
After a recent pullback because of a misunderstood court case, it is now very attractive once again.
One final example of a recent idea which I expect to do very well involves the acquisition of Actelion (OTCPK:ALIOY) by Johnson & Johnson (NYSE:JNJ) where holders of the acquired company receive a reasonable takeover premium, but also FREE bonus shares in a spin-off. Johnson & Johnson retains a sizable stake in Actelion as well. I guess they think the spin-off could be really something.
ValueAct's risk-off attitude should be taken very seriously. It not only went 20% cash, but also allocates its portfolio differently. An activist can create value regardless of market direction which means a flat market or slightly declining market isn't necessarily a problem for them. It's understandable Ubben has a hard time finding reasonable value in the S&P 500 as the torrent of indiscriminating ETF inflows are directed primarily towards its constituents.
If you believe Ubben and I could be right about the S&P 500's valuation and you aren't afraid to get your hands dirty, join me at The Black Swan Portfolio.
Disclosure: I am/we are long PMD, ALIOY, WGBS.
I wrote this article myself, and it expresses my own opinions. I am not receiving compensation for it (other than from Seeking Alpha). I have no business relationship with any company whose stock is mentioned in this article.
Editor's Note: This article covers one or more stocks trading at less than $1 per share and/or with less than a $100 million market cap. Please be aware of the risks associated with these stocks.