It's only happened a few weeks so far, but imports from Canada and Mexico are higher than total net oil imports. In other words, a sort of North American oil independence is being achieved. America is getting closer to not needing OPEC imports (on a net basis).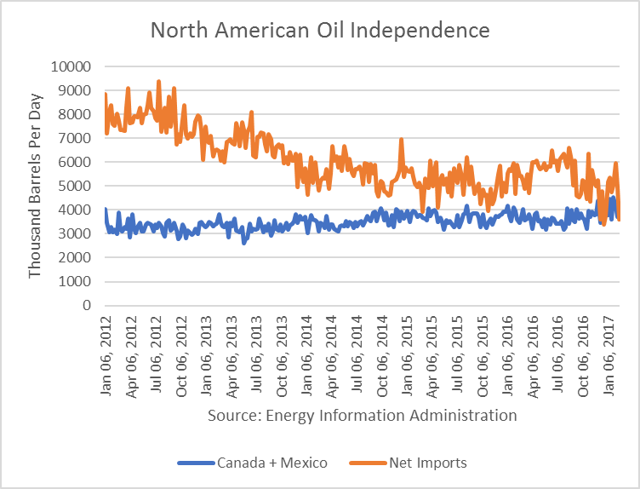 America is still importing a lot of oil, but some of it is to receive the best grades for U.S. refineries, and some is just to process to turn around and export the products. The U.S. is exporting around 2.6 million barrels a day of products on a net basis.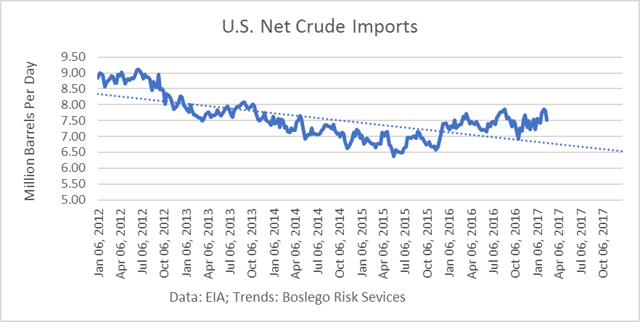 And an unintended result of OPEC's cut has been the opening-up of Asia's market to U.S. crude exports. They reached 1.211 million barrels per day last week, the highest yet. For perspective, OPEC's announced cut is just below 1.2 million, so this is not an insignificant number.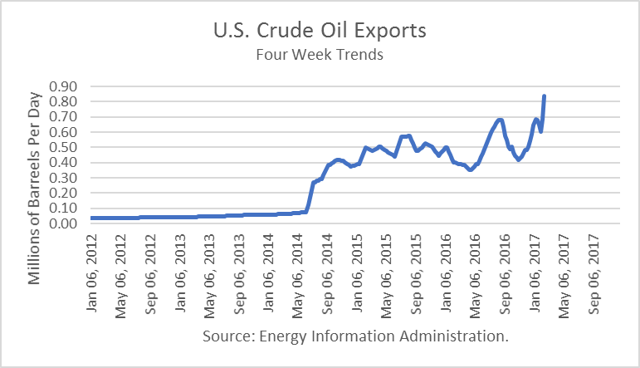 In total, the U.S. exported almost 6 million barrels per day last week of crude and products. The U.S. has become the third largest petroleum exporting country in the world and is not a party to OPEC's cutback.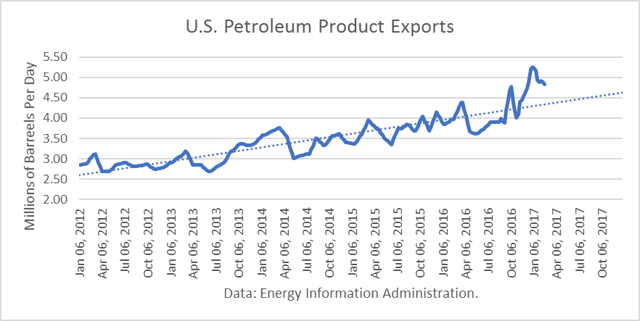 U.S. crude imports from OPEC, in total, and Saudi Arabia, in particular, remain at high levels seven weeks into the cut. Crude imports from OPEC countries averaged 3.248 mmbd over the past 4 weeks, 14% higher than the same weeks last year.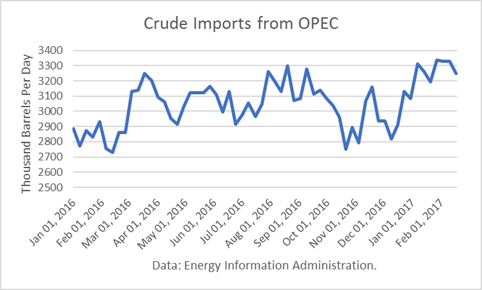 Imports from Saudi Arabia averaged 1.315 mmbd over the past 4 weeks, 45% higher than in the same weeks last year. Given tanker transit times, we should have been seeing a downtrend in imports from OPEC members by now.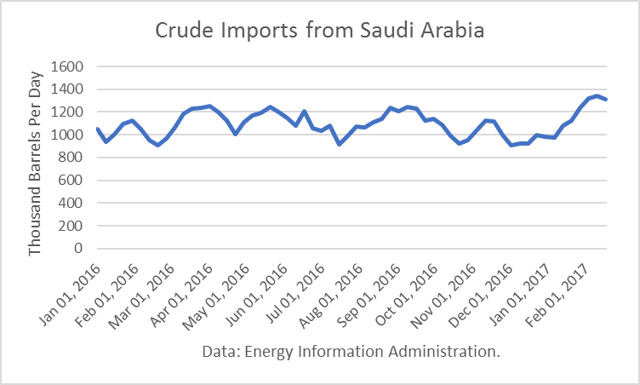 Looking forward, the U.S. will be requiring lower imports in the future, as domestic production rises. Continental Resources (NYSE:CLR) announced its guidance for 2017 and 2018. It expects ending 2017 crude production to be 29% higher than it was at 2016 year-end. Seventy percent of the operated Bakken capital investment in 2017 will be focused on completing wells from the Company's uncompleted well inventory. The Company has five stimulation crews working currently and plans to average seven crews for 2017 as a whole.
Conclusions
If the shale oil industry as a whole can match CLR's increased production, the U.S. will add much more domestic production than is being forecast by the Energy Department. And North American oil independence will be attained.
Disclosure: I/we have no positions in any stocks mentioned, and no plans to initiate any positions within the next 72 hours.
I wrote this article myself, and it expresses my own opinions. I am not receiving compensation for it (other than from Seeking Alpha). I have no business relationship with any company whose stock is mentioned in this article.