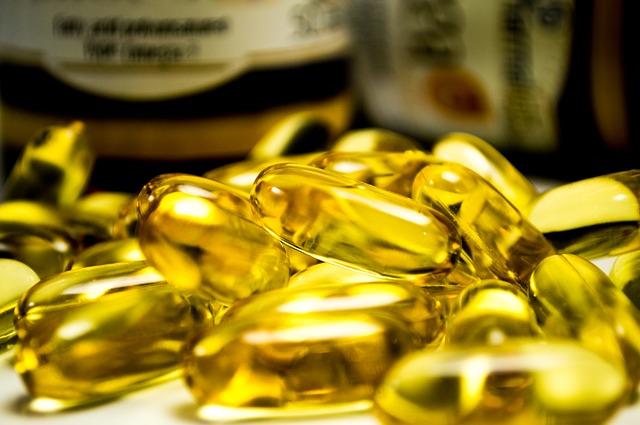 It's never a pretty sight when a holding of yours keeps going down, down, and down. At least, that's how it feels for Gilead Sciences, Inc. (NASDAQ:GILD).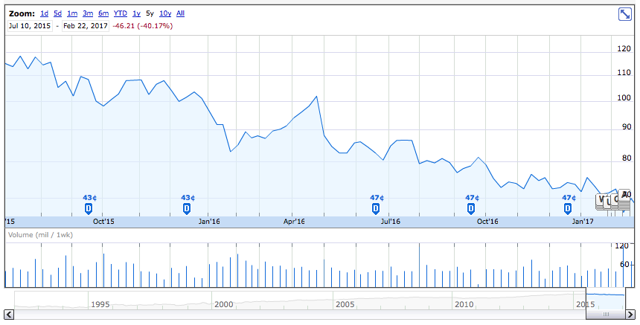 Source: Google Finance; 40% decline from July 2015 to present
It doesn't help that analysts have been lowering the price target on the stock.

Source: Finviz
Interestingly, though, some still rate Gilead as undervalued (as we'll see later in the article), which may imply the share price is falling faster than its earnings decline rate and that the company may be worth investing.
I think Gilead Sciences is an honourable company. It found a cure for hepatitis C instead of developing a drug that treats but doesn't cure patients (and thereby requiring them to continue taking the drug). In a sense, it has been a victim of its own success.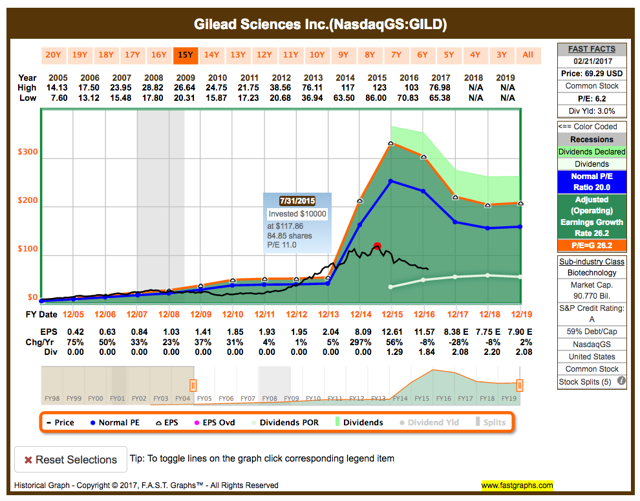 The company experienced tremendous earnings growth in 2014 and 2015. Realistically, high growth can't last forever. Gilead's falling earnings last year are expected to continue its slide for at least a couple more years.
Think of it this way, though, if the 2018 earnings per share forecast of $7.75 materializes, that will still be a CAGR of 30.6% over five years from 2013 to 2018, which will still be an amazing rate of growth that's not easily found in such a big company.
Using that same $7.75 EPS, Gilead would be trading at a 2018 multiple of about 8.9, which would still be an attractive buy for a company that maintains its profitability.
What if Gilead starts showing any hint of growth? It may not be anytime soon, but once it does, the stock will start heading higher.
Dividends and share buybacks
In the meantime, Gilead is returning serious cash to its shareholders.
Gilead initiated a dividend in 2015 and hiked it by 9.3% in 2016. In Q1, it hiked it by 10.6%. The annual payout based on the quarterly dividend is $2.08 per share, which is good for a yield of 3% at the recent share price of about $69 per share.
Even if Gilead hiked its dividend by 10% again next year, its payout ratio in 2018 would be estimated to be less than 30%. In other words, Gilead's dividend is safe and has room to grow.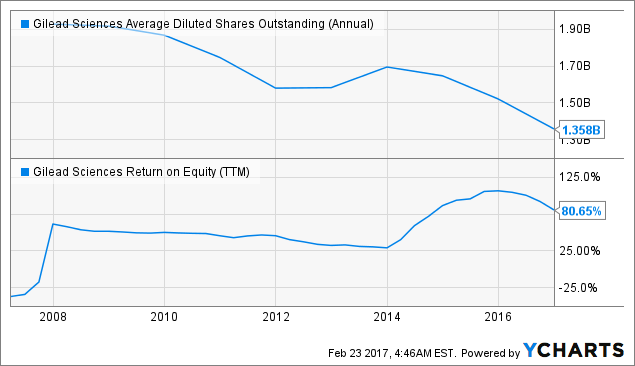 GILD Average Diluted Shares Outstanding (Annual) data by YCharts
Gilead has reduced its share count over time. Since 2012, it has repurchased about 20% of its outstanding shares. Particularly, it has been a good use of capital to repurchase shares in the last year, as shares have been attractive even on a forward-looking basis. These buybacks have helped Gilead to post high returns on equity.
As of the end of 2016, Gilead still had $9 billion (of a $12 billion authorization) from its January 2016 share buyback program.
Valuation and expected returns
The analyst consensus (across 37 analysts) expects Gilead's EPS to decline at a rate of 3-4.8% in the next three to five years.
In Value Line's January 6, 2017, report, it gave Gilead a safety rating of 3 (out of 5) and a financial strength of A. Value Line had a 3-5 year price target range of $115-175 for Gilead, which traded at $73.70 per share and yielded 2.5% and implied annualized returns of 14-26% at the time.
Morningstar rates Gilead as a wide-moat company with a fair-value estimate of $84 and a consider buy price of $58.80. So, Morningstar thinks Gilead is undervalued.
Investor takeaway
As a shareholder, of course, I'd prefer to see growth coming from Gilead Sciences. I notice some investors have given up on Gilead and moved on already.
However, since the shares still look attractive on a forward-looking basis despite declining earnings and an expanding multiple, I've decided to hold on to my shares for now.
It goes to show that having a diversified portfolio helps tremendously in a "Gilead-like" situation. While my position in Gilead has declined north of 18%, my Apple (NASDAQ:AAPL) position has appreciated more than 40%, more than covering for my "losses" in Gilead. Yet, some investors will say that I haven't lost anything because I haven't sold.
If you're looking for growth in the biotech space, check out companies, such as Celgene (NASDAQ:CELG). At below $120 per share, it trades at a multiple of 19.5, while the analyst consensus expects its EPS to grow north of 22% in the next three to five years.
Share your thoughts in the comments below
What are your thoughts on Gilead Sciences?
Are you buying/holding/selling at current levels?
If you don't like Gilead, which other biotech companies are you buying instead?
Which other companies in the Healthcare sector do you think are attractively priced today for income and income growth?
Author's note: If you like what you've just read, consider following me. Simply click on the "Follow" link at the top of the page to receive an email notification when I publish a new article.
This article first appeared in my premium service, from which my subscribers get priority attention and gain access to my real-time buys and sales. Feel free to try the service for free for two weeks.
Disclaimer: This article is not financial advice but consists of my opinions and is for educational purposes only. Additionally, the information provided is believed to be accurate but is not guaranteed to be so. Please do your own research and due diligence and consult a financial advisor and or tax professional if necessary before making any investment decisions.
Disclosure: I am/we are long AAPL, GILD.
I wrote this article myself, and it expresses my own opinions. I am not receiving compensation for it (other than from Seeking Alpha). I have no business relationship with any company whose stock is mentioned in this article.