Chipotle Mexican Grill (NYSE:CMG) has been a short seller's dream for over a year now. Lower lows and lower highs, bad news, earnings misses. When a growth stock stops growing, watch out below.
But 2017 may be a different story. Has CMG turned the corner?
Catalysts For A Recovery
Before we look at why CMG may recover, we have to look at why it has declined so much. This is covering old ground and I'm sure most readers know about the E. coli out break. But this wasn't the only contributing factor to the decline. Earnings and growth had already slowed, and when the top line figure of $1.22bn was reported in October 2015, it was only $20m quarter on quarter growth for a stock with a market cap of around $23bn.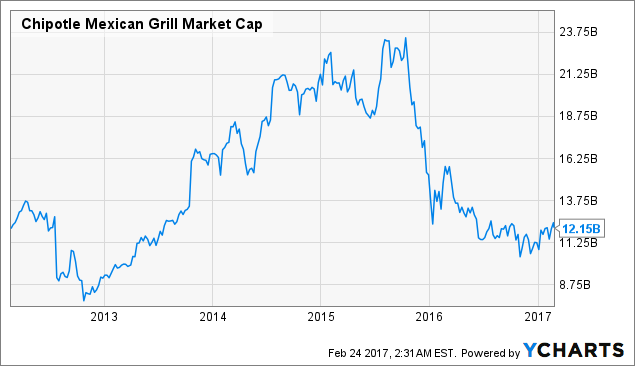 CMG Market Cap data by YCharts
The market clearly did not like the figures and the repricing was already in motion by the time E. coli hit. The combination of these two factors hit CMG for a 53% decline into a November 2016 low of $352.
For CMG to stage any recovery, it has to be show firstly that customers are returning and no longer scared of E. coil, and also that its valuation is back at attractive levels.
A simple graphic addresses the first point, and shows that customers are no longer running for the exits.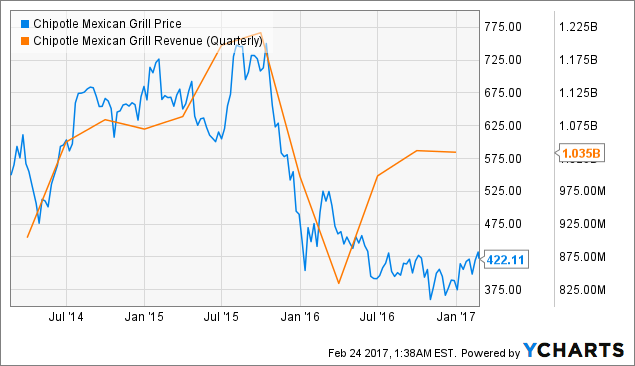 Some of the revenue growth will be down to the 240 locations opened in 2016, but it's important to know CMG isn't on a one way ticket south. Stabilization and recovery are present.
Valuation is harder to analyze. A PE ratio of 527 doesn't tell us much and I view CMG purely as a medium term recovery play instead of a buy and hold growth stock. Instead of looking at a number of valuation metrics, I look at charts to tell me what the institutions are doing how they view the stock.
The first thing to note is the short interest is declining. Throughout 2016 any bounce in price was used to increase short positions, but now the behavior is different.
There are still a lot of shorts left to cover. Where will their stops be?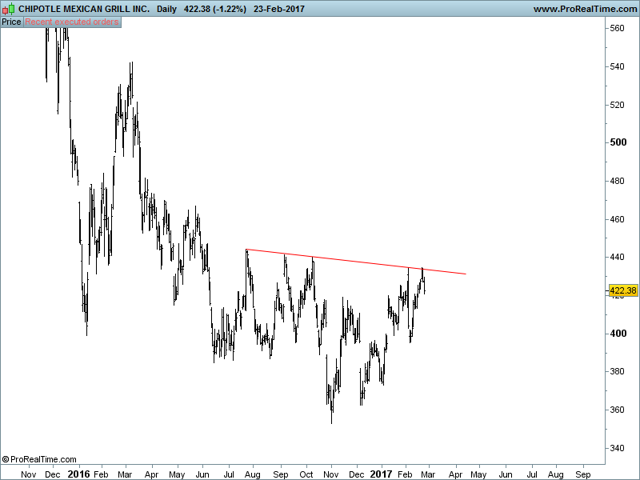 Any move above the red line in the chart above should force a few technical traders to cover. In fact, if they were watching closely, they should have already done so on the break of the 200dma: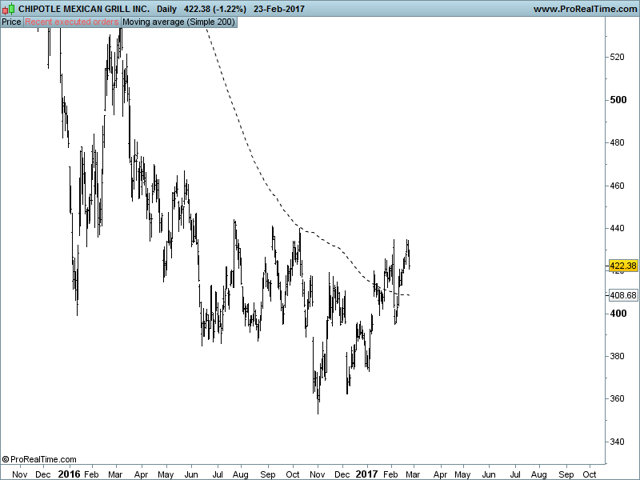 Yes, it's only a wiggly line, but this is what many traders use as a bull / bear inflection point. A break above the 200dma is a signal that the bears have had their fun, and price is likely to recover for a while.
How high could the recovery go? I doubt anyone could say for sure. The 2016 high of $542 seems a reasonable target. This is around 25% higher than current price, and gives a good risk to reward trade if stops are placed below the $395 pivot, risking a little over 7%.
It may go further, but I think the valuation is still too high, and the E. coil issue will probably never be forgotten. I am treating any move up as a bear market rally, which means I must close at a target or risk seeing all my profits disappear again.
Conclusions
I look for all different kinds of trades. Chipotle is a recovery play based on stabilization of revenue, and a change in the behavior of participants. Shorts are overstaying their welcome, and could get squeezed pretty soon.
Disclosure: I/we have no positions in any stocks mentioned, but may initiate a long position in CMG over the next 72 hours.
I wrote this article myself, and it expresses my own opinions. I am not receiving compensation for it (other than from Seeking Alpha). I have no business relationship with any company whose stock is mentioned in this article.