The main question everyone is asking about "Tesla (NASDAQ:TSLA)" nowadays is whether today's price at all-time high is a bubble or should you still buy more shares? We will answer this question following the latest 4Q earnings released on February 22.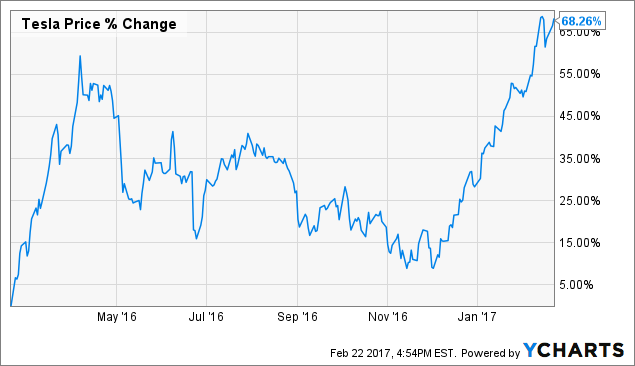 Most of you have heard that Tesla market capitalization has reached "Ford (NYSE:F)" size to make investors realize that a company producing less than 100,000 cars is valued more than a traditional carmaker, which produces a couple million cars per year.
Let's step back for a second, how can you compare a carmaker known for its powerful F150 pickup truck with one that has developed a fully electric model offering record longest range all-electric distances, coupled with technology threshold that is unmatched by any other production car? You basically cannot compare them. Tesla's asset is that it's still thinking like a startup and is valued like any startup that is disrupting its industry but also with the downside of being valued at crazy valuations while recording losses quarter after quarter. Think about Airbnb (Private:AIRB) compared to Hilton (NYSE:HLT), why it would make sense when a company not owning any asset is valued more than a reputable hotelier while a new carmaker producing pioneer products with sustainable energy is not accepted to be valued more than a traditional carmaker. I simply think Tesla should not be compared to Ford to avoid fooling investors.
So should you buy more shares? Well, a potential capital increase is what everyone is afraid of. So let's discuss if that's going to happen and how things are improving in the company to prevent Tesla to dilute its shareholders.
1. Automotive revenues decelerating despite year-end special offers
First, let's discuss about the automotive revenues, which are decelerating during Q4 which can be an issue if you think that current Model S and X have difficulties to attract new customers at the same pace as before. Model S is starting to get old even if the recent facelift tries to make it look fresh (no replacement in the pipeline yet). While the Model X is an SUV, which is highly demanded in the US, the company doesn't provide a breakdown by model but we can figure out that it's still facing challenges with production and is having difficulties to find a lot of drivers who are ready to spend at least a $100,000 price-point. Above all, what could be a real concern is that Tesla launched during the Q4 the Model S and X with the new Nvidia (NASDAQ:NVDA) technology (instead of Mobileye), which are supposed to carry much more cameras with the capacity to reach full self-driving functionality, but that wasn't enough to attract new customers. In addition, the company announced to offer the free supercharger functionality for the lifetime of the car, this special offer was valid until December 2016 but apparently, it didn't attract enough customers (this period was later on extended to January 15, 2017). Moreover, gross margins have decreased compared to the last quarter, known for being one of the few only quarter for the company thanks to ZEV credit sales and almost no R&D expenses related to Model 3. Automotive revenues are down. While SG&A is increasing, net income margins are negatively impacted due to the Model 3 incurred costs.
2. Model 3 deliveries further pushed towards the end of 2017 or should we say 2018
TSLA has managed to build previous models with a luxury image, which helps it better market the Model 3 as an affordable car offered by a luxury carmaker. Hence, margins should be higher than GM or other competitors which don't have the same Masstige strategy (building mass vehicles with prestige image). The company announced a "limited" production of Model 3 in July, and exceeding 5,000 per week at some point in the fourth quarter, which means maximum 60,000 units in 2017. That's still far from reaching the target number of 400,000 pre-orders. By reaching 10,000 vehicles per week at some point in 2018 means it will take at least another nine months to reach the order book, so if you order a Model 3 today, you still have to wait about two years for a delivery. It makes sense for us that Tesla is still reluctant to provide guidance for the second half of 2017. Nevertheless, the production of 10,000 cars per week at some point in 2018 is still an incredible number for Tesla's milestone when you think that it delivered less than 100,000 cars in the whole year of 2016.
3. Cash burn raising concerns on potential capital increase
Ahead of Model 3 launch, Tesla is preparing itself by accelerating the expansion of the supercharger network this year (doubling number of North American locations in 2017) which comes at a certain price. Indeed, additional capital expenditure, research & development, could explain the cash burning of the company even if that's not really apparent thanks to cash proceeds of $1 billion from debt activities. Cash from operating activities is back in the red. The company is burning cash for its daily operations. To support another $2 billion or $2.5 billion capital expenditure ahead of the start of Model 3 production, in our opinion, it's highly likely that a capital increase will be needed. We would rather prefer a capital increase that will be well prepared by management when shares are trading near all-time highs than seeing TSLA suddenly running out of cash, scaring investors and shareholders away. We trust the company's management to efficiently raise capital after its successful track record in building Model S and X, which made it gain a lot of credibility as a new carmaker among historical leaders. In conclusion, as long as the capital increase needs are clear, we think it can be successful to help the company raise money for free instead of increasing its debt burden.

Source: Company investor relations website
In conclusion, the latest results are a bit disappointing for the last quarter of 2016 but Model 3 launch schedule gives room for further share appreciation. Investing in Tesla is still a volatile play. There will be enough news feed for you to buy low and sell high until the full production capacity of Model 3, which will bring more stability to the company's earnings and outlook. But when the future is clear, the present bargain will have vanished. As a long-term investor, it's worth stepping in this pioneer carmaker (fully electric, fully autonomous, over-the-air updates) which is also becoming an energy company, even at valuations close to 140 times 2019 PE.
If you have enjoyed this article, feel free to hit the "Follow" button for more articles with a long-term investment horizon.
Disclosure: I am/we are long TSLA.
I wrote this article myself, and it expresses my own opinions. I am not receiving compensation for it (other than from Seeking Alpha). I have no business relationship with any company whose stock is mentioned in this article.