On Friday, J.C. Penney (NYSE:JCP) closed the biggest earnings week for retailers delivering top- and bottom-line results that did not disappoint. Revenues of $4.0 billion in 4Q16 pointed to a -1% YOY drop, while a solid -25% reduction in GAAP opex helped the company to deliver $0.64 in adjusted EPS that beat consensus $0.61.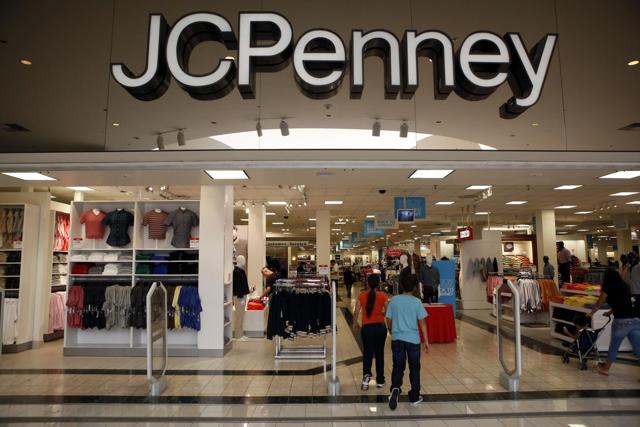 Credit: Huff Post
On the outlook for FY17, J.C. Penney is betting on flat same-store sales at the midpoint of the range, just like FY16. Unexciting to put it nicely, but probably not too far off from expectations. EPS range of $0.40 to $0.65 is wide but accommodated current consensus estimate of $0.56.
Good news, bad news
The J.C. Penney story is one filled with good news and bad news.
On the plus side, the company seems to have left its worst days behind, at least for now. Even though JC Penney is still struggling to generate top-line traction, with FY16 revenues down -0.6% YOY, it was still one of the best-performing brick-and-mortar retailers last year. During 4Q16, a.k.a. the shopping season, J.C. Penney's same-store sales dipped only -0.7%. That figure compares favorably to Macy's (NYSE:M) and Kohl's (NYSE:KSS) -2.1% and -2.2%, respectively. For the full year, comparable sales were flat.
In addition, I'm very pleased to see J.C. Penney manage its operating costs aggressively. Considering the challenges that any traditional retailer will face when trying to increase sales and improve gross margins, I believe a return to sustainable profitability will depend highly on keeping below-the-line expenses under control. In that sense, I welcome the company's decision to shut down up to 140 stores in the next few months, nearly 15% of its current store count. The move will likely hurt top-line growth but help the company to re-focus on bottom line improvement.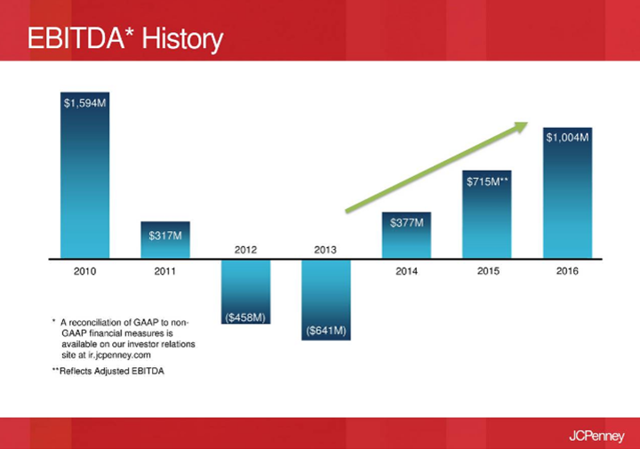 Source: 4Q16 earnings slides
Lastly, following a 9% intra-day drop in share prices, JCP seems properly if not even too aggressively priced for the challenges ahead. Assuming the company will succeed at delivering $0.525 in FY17 EPS at the midpoint of the guidance range, the stock is currently trading at only 11.9x forward earnings with sizable earnings growth expectations. Taking a step further and assuming J.C. Penney will be able to produce $1.6 billion in EBITDA by 2019, as presented last quarter, the $1.20 in EPS that I estimate the achievement would represent points to a rock-bottom 2019 forward P/E of 5.2x.
But all the potential upside does not come without significant risks. First, it is undeniable that brick-and-mortar retailers have been facing headwinds that might be secular, and not only cyclical. E-commerce has changed the retailing landscape profoundly, and it is not far fetched to imagine an All-American brand name like J.C. Penney shrinking to irrelevance over time - the Sears (NASDAQ:SHLD) story comes to mind.
I also feel uneasy about J.C. Penney's balance sheet, and hence its ability to fight strong headwinds if they persist for long. The company has $3.7 billion in net debt, representing 192% of market cap - that is not much better than last year's $3.9 billion. The $300-$400 million in FCF (free cash flow) that the company expects to generate in 2017 should help to cover the interest expenses for the period, but not the $220 million in debt maturities. And even these cash generation estimates are contingent upon J.C. Penney successfully executing on its turnaround plans in the next 12 months.
Takeaway
So, following a -35% drop in share price over the past year, is JCP currently a buy? The answer depends on each investor's level of confidence in the turnaround story.
If management is able to deliver not even all, but most of what it expects to accomplish in terms of bottom-line results over the next 1-3 years, the stock is very likely to rise from the current $6/share levels, maybe substantially. If not, the stock may continue to dig deeper in search of new lows.
I am curious to see what the future holds for J.C. Penney, but not willing to put my money behind either possible outcome.
Note from the author: Follow me as I build a risk-diversified portfolio designed and back-tested to generate market-like returns with lower risk. I call it the Storm-Resistant Growth portfolio. The very early results have already exceeded my expectations. Take advantage of the 14-day free trial, and get immediate access to the content and the community.
Disclosure: I/we have no positions in any stocks mentioned, and no plans to initiate any positions within the next 72 hours.
I wrote this article myself, and it expresses my own opinions. I am not receiving compensation for it (other than from Seeking Alpha). I have no business relationship with any company whose stock is mentioned in this article.