GW Pharmaceuticals (NASDAQ:GWPH) has provided further details of its cancer initiatives. The potential of these may have been under-rated by the market. Short-term the emphasis has quite rightly been on their getting close to FDA approval for various epilepsy conditions with their drug Epidiolex. This should move the company into a profitable position in the short to medium term.
Long-term, possibilities for drugs they are developing in the field of oncology represent a whole new ball game. Of course these are still a long-shot, but if promise turns into reality then GW Pharma is decidedly under-valued.
THC:CBD for Glioma.
My recent article touched upon the potential for this.
I mentioned then the promising Phase 2 study the company has undertaken. Since then the company has released further details of the test results so far. A slide on this from the company is reproduced below: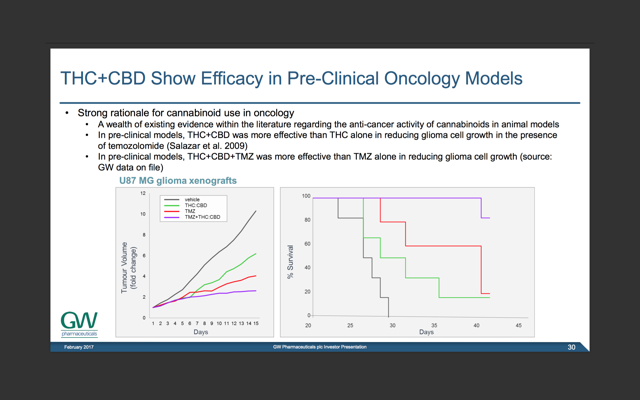 The proprietary combination of THC (tetrahydrocannabinol) and CBD (cannabidiol) is one of several patented medicines GW Pharma has developed for a range of potential conditions. The company has been studying applications of its patented drugs for cancer applications since 2007. It may finally have made some real progress.
In this instance the testing was done specifically on one particularly aggressive form of glioma, recurrent glioblastoma multiforme. This type of brain cancer is very hard to treat surgically and has a 40% annual fatality rate.
My previous article gave some details I will not reproduce here. Further pivotal details though were provided at the Q1 2017 Results Briefing.
Dr Stephen Wright, GW Pharma's Chief Medical Officer, stated:
GW has concluded that glioma represents a highly promising pipeline opportunity. So over the coming months, we will work to finalize these results, consult with external experts and regulatory agencies with the aim proceeding into a pivotal clinical development program.
Glioma is an "orphan" condition for which the company has been given orphan designation by the FDA. This allows for potentially speedier approval and for greater protection for the company producing the drug. GW Pharma are now mapping out a program for further clinical trials and for further meetings with the FDA.
At present the one-year survival rates showed great promise, but of course it was too early to make any determination about long-term survival rates. Only 21 patients were in the first group of testing, so those numbers are small.
Cannabis and Cancer
GW Pharma has been studying also the application of various of their cannabinoid drugs in relation to cancers of the brain, the lung and breast. According to Dr Stephen Wright:
These studies resulted in approximately 15 peer-reviewed publications which showed a multi-model effects of cannabinoids on a number of the key pathways associated with tumor growth and progression. Cannabinoids have been shown to promote autophagy via several distinct mechanisms including acting on the AKTM pathway and on intra-cellular stress mechanisms.
Following the promising early test results on glioma, Dr Wright stated:
In parallel we anticipate that we will expand our research interests in other cancers.
These include ovarian cancer and pancreatic, both common and with very high mortality rates.
In Europe cannabis in its pure form is being approved for medical usage in an unstructured way for a variety of conditions. This is nothing new: tincture of cannabis was prescribed to Queen Victoria in the nineteenth century for period pains.
Its use includes for helping with the adverse effects of chemotherapy and for cancer pain. This is a field of study, peripheral to that of cancer, in which GW Pharma is involved, as are others. I wrote about one of these others back in 2015, namely Nemus Bioscience (OTCQB:NMUS).
This is a reputable company with a serious long-term plan for its patented cannabinoids, unlike many in the cannabis space. It is especially targeting Nausea & Vomiting, and Peripheral Neuropathy, as caused by chemotherapy-induced treatments. It is very much an early stage drug development company with no certainty of having the financing long-term to bring drugs to market.
This is a field for medical marijuana receiving recent encouragement from the Australian Government amongst others. They have just instituted new legislation which includes growing cannabis for this specific application.
Findings from Cancer Research U.K. show how cannabinoids lock onto the CB1 and CB2 receptors in the body and have certain effects on cancer cells. These effects include:
Stopping cells from dividing.
Preventing new blood cells from growing into tumors.
Stopping cancerous cells from invading nearby tissue.
The process of autophagy, whereby what might be termed a cell's "waste disposal machine" is speeded up (as mentioned by Dr. Wright).
Cancer Research U.K. specifically refers to promising but unproven effects of cannabis on bowel cancer. However they caution that researchers have been looking at this since the 1970's. They point out that because cannabinoids can have some positive effects on cancerous cells, this does not mean that suitable anti-cancer drugs can be developed. They consider that cannabinoids used in conjunction with other chemotherapy drugs is the most likely line of future development.
The latter is in fact what GW Pharma have done in their glioma test. Their THC:CBD drug was used in conjunction with an oral chemotherapy drug called temozolomide.
The key to future development will lie, though, in drugs developed by companies such as GW Pharma, rather than taking natural cannabis. Indeed the only prescribed cannabis drug in the U.K. is the "Sativex" product from GW Pharma for multiple sclerosis sufferers. There are many different active substances in cannabis just as there are many different types of cancer.
Conclusion
Apart from epilepsy and cancer, there is a wide range of other conditions for which GW Pharma's expanding drug range is being tested. Some of these were mentioned in my article here.
The illustration below shows some of the more advanced ones: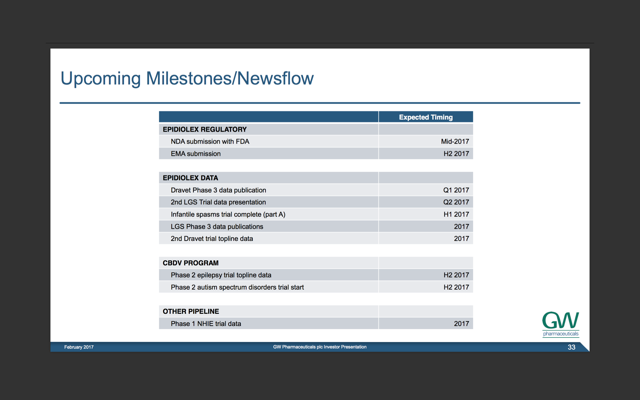 There are over 1200 patients currently being tested on various of the company's drugs for a range of conditions.
CEO Justin Gover stated at the results briefing:
These breakthroughs offer significant potential for the development of pipeline assets that deliver value to GW's investors well into the future.
He stressed that the company had the financial and research capability to pursue these multiple avenues of research. It could also be pointed out that commercial co-operation with Big Pharma companies is quite likely. GW Pharma could well be a take-over target from Big Pharma companies with failing drug pipelines and looking to get into the oncology space. In this regard their Enterprise Value of US$2.4 billion as against the market cap of US$3.3 billion is favorable.
A potential negative for the company in the USA is political. In particular the extreme anti-cannabis stance of the new Attorney-General, which I have detailed previously. This could in fact turn out to be a positive for the company, however.
They are currently actively lobbying State legislatures to cover their proprietary cannabidiol products. The idea is that FDA approved cannabidiol drugs would be moved from Schedule 1 status to Schedule 4 status. So GW Pharma's "Epidiolex", in the first instance, would be a Schedule 4 drug as opposed to natural cannabis which is likely to stay at Schedule 1 under the hard-line Trump Administration.
The oncology studies can be seen as a long-term huge potential for the company to add to the upcoming epilepsy products. "Epidiolex" now has a good chance of producing commercial revenues next year. The question of whether cannabinoids can really have curative effects on cancers will not be answered for a few years. In the manner of drug development, they are more likely to be unsuccessful than successful. Their potential though remains another reason to be bullish about the prospects of GW Pharma.
Disclosure: I am/we are long GWPH.
I wrote this article myself, and it expresses my own opinions. I am not receiving compensation for it (other than from Seeking Alpha). I have no business relationship with any company whose stock is mentioned in this article.
Editor's Note: This article covers one or more stocks trading at less than $1 per share and/or with less than a $100 million market cap. Please be aware of the risks associated with these stocks.