"This Makes Absolutely No Sense" was part one.
"I Told You This Made No Sense" was part two.
Welcome to part three.
If you haven't been asleep at the wheel, you probably know that credit has been ... wait for it ... asleep at the wheel.
This is becoming so ubiquitous that it borders on comical. Spreads aren't moving, and if they are, they're tightening even further as the year-long rally takes its last few gasps of compression, helping fund managers (who are scared to death of foregoing a few extra basis points of carry) squeeze everything they can out of an absurdly tight market.
Now it's one thing for an asset to exhibit an undue degree of complacency. It's entirely another for that same asset to demonstrate that it knows there's a problem, but refuses to price it in.
That, in a nutshell, is what's going on with € credit. If iTraxx Main (synthetic € IG credit) has become highly correlated with OAT-bund spreads (a proxy for French election risk), then it stands to reason that € IG spreads should widen. But they haven't. It's entirely ridiculous. You can read the entire back story in the two posts linked above, but this is really all you need to know: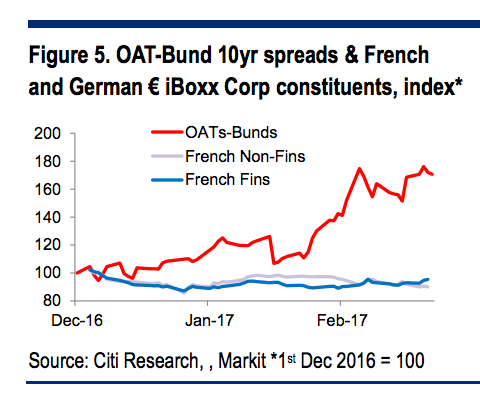 On Friday, Citi is out with a new piece explaining just how ridiculous this has become. Just read the following (and don't forget to laugh):
As far as milestones go, this week has hardly attracted much fanfare. But, for the first time since 2008, 2yr swap spreads have moved wider than iTraxx Main (Figure 1 and Figure 2 ). Of course, the two aren't directly comparable. One measures the gap between a 2yr swap and an equivalent maturity Schatz yield while the other isolates 5yr credit risk on a basket of European corporates. And whereas in 2008, the massive safe haven bid came as asset prices everywhere were plunging, this time around the squeeze in short-dated govies has been driven, at least until recently, by PSPP purchases, exacerbated by the recent decision to buy bonds with yields below the deposit rate.

Yet, as Figure 3 shows, and as our colleagues in rates have noted, it would be mistaken to attribute the latest leg of the Schatz rally, and consequent rise in swap spreads, entirely to QE. Instead, we'd argue that the surge in safe haven demand is very much associated with rising perceptions of political, and particularly France, risk, especially given that it's come against a backdrop of strong economic data. And, indeed, it's hardly surprising that swap and credit spreads have tended to track each other over time. Put simply, the heightened risk aversion that has historically driven the haven bid for Schatz has also tended to drive credit spreads wider. But this time around, despite the evident rise in safe haven demand in rates space, credit has barely budged. And it's not just CDS where this relationship holds: if anything the lack of reaction in cash credit spreads is even more striking (Figure 4).
Note the very first sentence there: "As far as milestones go, this week has hardly attracted much fanfare. But..."
That is precisely why I flagged plunging Schatz yields as "Friday's Biggest Story." What Citi is basically saying is this: "you might not know it, but this is a big deal."
In that post (the "Friday's biggest story" piece), I showed you the decomposition of the month-to-date richening in German spreads. You'll note there were multiple factors at play. Two of which are QE and flight to safety. What Citi is saying above is that credit doesn't seem to be taking the flight to safety part very seriously.
That is, plunging German two-year yields and the concurrent widening of two-year swap spreads can't be attributed solely to PSPP. You've got to be conscious of the clear flight to safety element. Indeed, it should (and I emphasize "should") be self-evident that when Schatz are heavily bid, credit spreads blow out. The fact that they haven't is indicative of rampant complacency in € corporate credit.
Here's Citi again (my highlights):
Credit has been almost remarkably sanguine: though this week has seen signs of switches out of France and the periphery into German and Scandi credits, IG spreads on the whole are at their tightest since April 2015. It's understandable that credit has been able to ignore a measured rise in sovereign risk premia. Yet we question how long this disparity can be sustained, and we see little value in spreads at these levels.
So if you're looking for a discrepancy and/or a reason to believe me when I tell you that rapid richening in the German front-end is the biggest story of the week, then there you go. And for those who long for a Cliffs Notes version, this is one time when I'm happy to oblige:
iTraxx Main trades inside of 2-yr swap spreads for the first time since 2008
Schatz yields are at record lows
IG spreads on the whole are at their tightest since April 2015
Disclosure: I/we have no positions in any stocks mentioned, and no plans to initiate any positions within the next 72 hours. I wrote this article myself, and it expresses my own opinions. I am not receiving compensation for it (other than from Seeking Alpha). I have no business relationship with any company whose stock is mentioned in this article.