Background For This Article
About a year ago, I wrote an article explaining how Neff Corporation (NYSE:NEFF) was leveraged up to enable the payout of over $560mm to Wayzata Investment Partners, leaving the company with a weak balance sheet. I also described how the complex corporate structure obfuscates the real control of Neff Corp held by Wayzata through dual classes of common stock as well as Wayzata's majority ownership of Neff Holdings LLC, the partnership which in turn owns the operating subsidiaries of the company. Publicly traded Class A Common shares in aggregate have only a minority of voting rights and are not expected to receive dividends. However, Wayzata's stake is termed a "non-controlling interest" in the company's financials.
Despite these governance issues, NEFF has participated in the rally that other stocks in the equipment rental space have enjoyed, propelling it above the 2014 IPO price for the first time: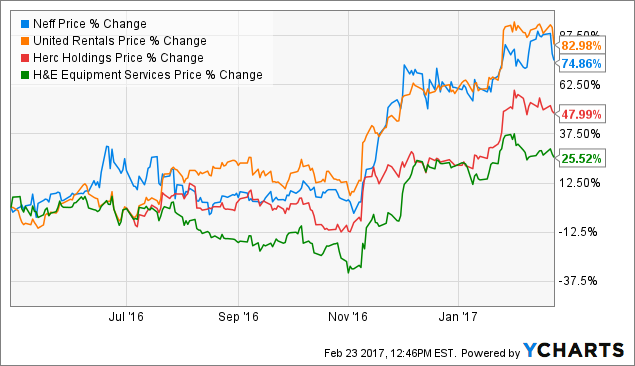 Note the timing of when these stocks as a group started to really take off - after the US presidential election. These are clearly "Trump stocks" which investors are assuming will benefit from increased infrastructure spending in the years to come.
With NEFF now trading at nearly 3x the share price as when I wrote the last article, I decided to look into it again.
Massive Overhang of Stock May Be Sold
The first thing I realized is that many investors and data sources, including Seeking Alpha, are reporting the market equity capitalization based only on the Class A shares, of which 8,911,965 were outstanding as of the latest reported 3Q'16. At the current price, these shares by themselves are worth about $139mm as shown here: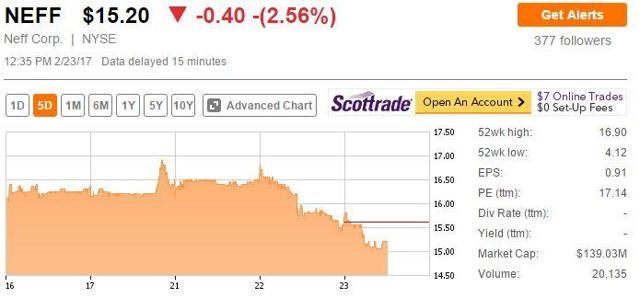 However, this fails to account for the ownership by Wayzata of nearly 15mm of Class B voting shares of Neff Corp. and the corresponding number of Common Units of Neff Holdings, LLC which represent an economic interest.
The following is an updated version of the capital structure diagram I created to help visualize the company's capital structure and ownership as of 3Q'16: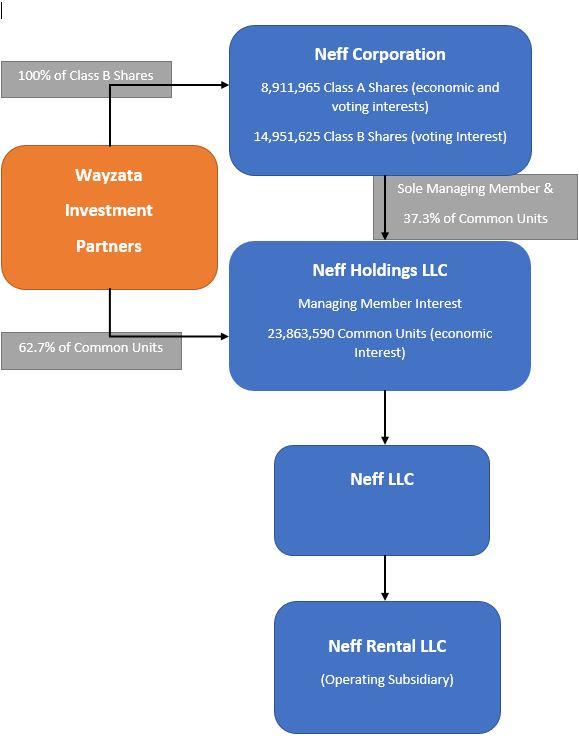 Understand that the combination of Class B shares of Neff Corporation and Common Units of Neff Holdings, LLC creates the same voting and economic interest in the company as a Class A share. In fact,
On August 15, 2016, the Company filed a shelf registration statement on Form S-3 with the SEC, which was declared effective on September 9, 2016. Under this shelf registration statement, Wayzata Opportunities Fund II, L.P. and Wayzata Opportunities Fund Offshore II, L.P. may sell in the aggregate up to 14,951,625 shares of the Company's Class A Common Stock that may be issued to them pursuant to the redemption or exchange for the common units of Neff Holdings that they currently own.

Source: Neff Corporation Form 10-Q September 30, 2016
What this registration allows is for Wayzata to convert its Common Units into Class A Common Stock and sell it, or at Neff's discretion, be paid cash based on the weighted market price. In other words, Wayzata is now free to sell it's entire 62.7% stake in the company.
Tax Receivable Agreement
As part of the 2014 IPO and related transactions in which Neff Corp acquired it's stake in Neff Holdings LLC, the company entered into a tax receivable agreement with Wayzata and management. Under this agreement, Neff Corp will pay Wayzata 85% of the amount of tax benefits which it might realize from increases in the share of the tax basis of assets owned by Neff Holdings. Among other things, such increases may result from Wayzata exchanging the Common Units it holds for Class A Common Stock of Neff Corp as allowed by the shelf registration of Wayzata's shares discussed above. Furthermore,
The Tax Receivable Agreement provides that if certain mergers, asset sales, other forms of business combination, or other changes of control were to occur, or that if, at any time, we elect an early termination of the Tax Receivable Agreement, then the Tax Receivable Agreement will terminate and our obligations, or our successor's obligations, under the Tax Receivable Agreement would accelerate and become due and payable, based on certain assumptions, including an assumption that we would have sufficient taxable income to fully utilize all potential future tax benefits that are subject to the Tax Receivable Agreement.

Source: Neff Corporation Form S-3/A Registration Statement September 1, 2016
In other words, if someone wanted to acquire Neff Corp., Wayzata would receive the payments for the assumed future tax benefits immediately. Furthermore, the factors which affect the amount of the payments is partially determined by the price of Neff's stock. In other words, a take out premium would further increase this liability.
Quantifying this liability is extremely difficult as it relies on a number of assumptions regarding tax laws, the amount and timing of Neff being able to use the tax benefits, and events such as conversions of Common Units to Class A stock and the price of the stock, among others. However, Neff does disclose:
We expect that the payments we will be required to make under the Tax Receivable Agreement will be substantial.... we expect that the payments under the Tax Receivable Agreement... could aggregate approximately $310.0 million and range from approximately $2.0 million to $42.0 million per year, over a fifteen (15) year period.

Source: Neff Corporation Form S-3/A Registration Statement September 1, 2016
This liability is shown on Neff's 3Q'16 balance sheet at $31mm, which is based on the company's estimated payments due to Wayzata and management. However, this is not the liability that would be due if, in fact, Wayzata's stake were to be acquired. As noted above, the payments would be accelerated based on the assumption that Neff would have been able to fully utilize the tax benefits in the future.
Based on this, I feel that the liability should be included when analyzing the company's enterprise value. The company's estimate of $310mm in aggregate payments is the best number available for outsiders to use.
Conclusion
The actual share count that should be used in determining market capitalization is 23,863,590. At current prices, this means the equity is worth about $372mm. Adding the total debt outstanding and the liability for the Tax Receivable Agreement as of 3Q'16 yields a total enterprise value of about $1.417B, or 7.4x the midpoint of management's projected full year 2016 Adjusted EBITDA. By comparison, industry leader United Rentals (NYSE:URI) is trading at about 6.7x.
Having already taken over $560mm out of the company on an initial investment of $181.6mm in 2010, Wayzata already has made a great return before selling a single share. However, since the IPO, the company has not paid any dividends and the stock has now had a strong move to the upside. Wayzata is likely looking for ways to monetize a significant, if not all, of it's stake. However, due to the complex corporate structure and the added liability of the Tax Receivable Agreement, it will be extremely difficult for Wayzata to exit this investment.
The resulting overhang of Wayzata's 62.7% stake on the already stretched valuation of NEFF stock is likely to result in significant downside for the publicly traded Class A shares.
Disclosure: I am/we are short NEFF.
I wrote this article myself, and it expresses my own opinions. I am not receiving compensation for it (other than from Seeking Alpha). I have no business relationship with any company whose stock is mentioned in this article.