Welcome to the last push edition of natural gas daily!
For next week's storage forecast, you can read our forecast here along with natural gas fundamentals of the week.
Something strange happened over the last two days. Overnight model updates trended colder for two consecutive days in a row. The last time this happened was in the third week of January.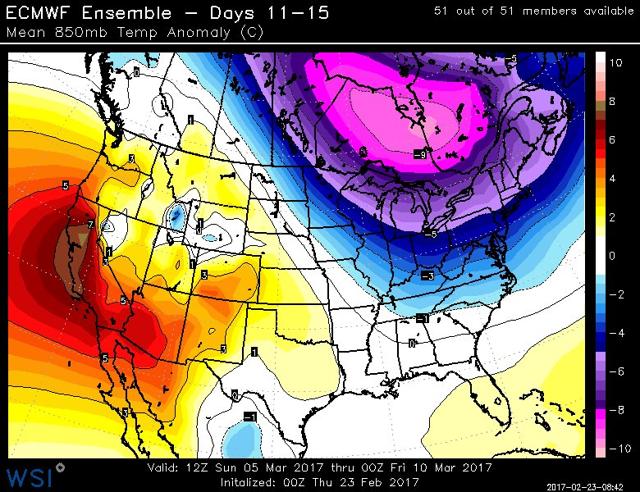 Source: Michael Ventrice
The colder revisions came on the heel of a very bearish finish to this week's heating demand. For the week of February 24, we are only expecting a -1 Bcf storage draw estimate. The market, as a result, had projected the bearish storage draws to continue well into the middle of March.

Source: ICE
From what we can tell you right now, the market's expectation for the week ending March 10 storage forecast of -11 Bcf is far too bearish. The latest weather model revisions show a storage draw like the five-year average, and the likelihood of -11 Bcf is extremely low at the moment.
We believe as the market revisits the forecast for the week ending March 10, we could see some follow through buying in natural gas (NYSEARCA:UNG) futures.
According to the current forecast, weather will become more supportive in the 11-15 day range with the cold air mass from Western Canada to migrate towards the Northeast. GWHDD are projected to still be below the 10-year average, but the current long-range outlook shows supportive signs developing. The dismal winter this year has reduced heating demand so far this year from 2016 levels by 6 Bcf/d and the 10-year average by 7.5 Bcf/d. As a result of the decrease in heating demand, our EOS April revisions have been changed from 1.4 Tcf to start the year to 2.1 Tcf.
With one final push for winter conditions in the second week of March, the focus will shift from weather forecasts to following daily natural gas fundamentals. We have recently revamped our premium service to include a table of the daily demand and supply fundamentals, so subscribers can gauge for themselves the trend in the structural imbalance. If you are interested, you can sign up here. For more info on premium, please read this.
8-14 Day Outlook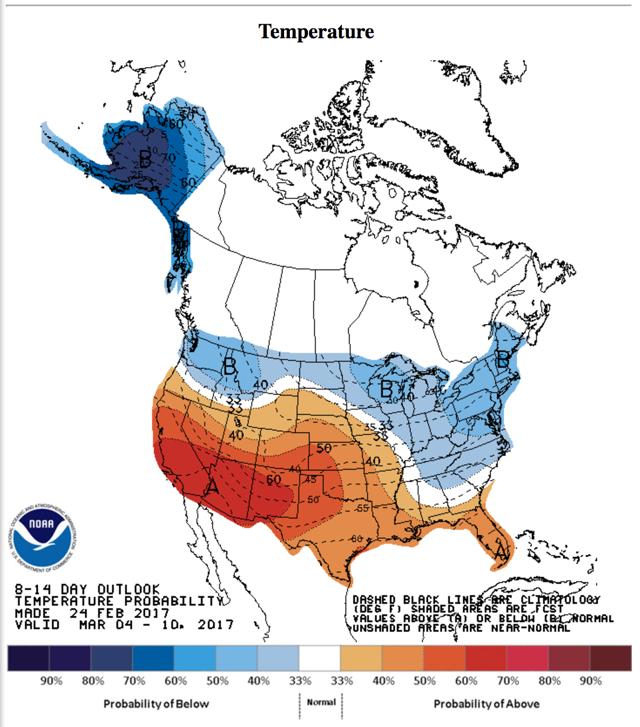 Disclosure: I/we have no positions in any stocks mentioned, and no plans to initiate any positions within the next 72 hours.
I wrote this article myself, and it expresses my own opinions. I am not receiving compensation for it (other than from Seeking Alpha). I have no business relationship with any company whose stock is mentioned in this article.