After the close on Thursday, Internet search giant in China reported Q4 results. The key number is that Baidu (NASDAQ:BIDU) forecast a return to growth in Q1.
During Q4, the company mostly finished implementing the new stringent search requirements limiting a focus on growth by cutting online marketing accounts. Is now the time to use this initial 5% dip to load up on Baidu?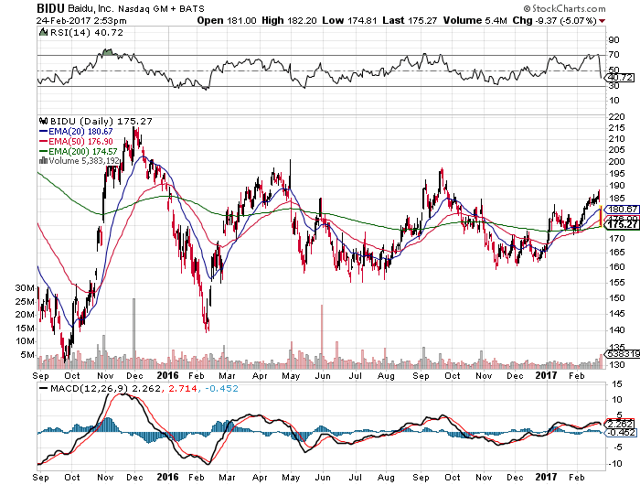 The key to my investment thesis is that the search giant spent the last couple of years investing in the exploding online growth opportunities in China. Originally, 2016 was seen as a year that somewhat constrained expense growth would produce earnings growth. Instead, the sector ran into regulator requirements for strict marketing rules and account verifications due to the original issues that popped up in the health and medical category.
The end result was one where growth stalled as Baidu focused on the verification process for existing customers over growing relationships with existing and new customers. For the last couple of quarters, revenues actually declined at the Chinese search giant that was growing at a 30%-plus clip before this issue.
The guidance for 2017 is the key. Baidu guided to revenue growing up to 7.6% during Q1. This is huge news considering the 4% drop in Q4. The market initially focused on the U.S. dollar figures, but in the local currency the revenue target is up sharply from the RMB15.821 reported last Q1. Baidu forecasts revenues reaching as high as RMB17.03.
The following revenue quarterly growth rates over the last year based on local currency numbers show the downward trend is now reversing.
Q117: +7.6% (high end guidance)
Q416: -2.6%
Q316: -0.7%
Q216: +16.3%
Q116: +31.2%
Q415: +33.1%
As my previous articles have highlighted, Baidu is an extreme bargain in comparison to Alphabet (NASDAQ:GOOG)(NASDAQ:GOOGL) as the Chinese leader reclaims significant growth.
What typically isn't noticed with the focus on new Internet advertising regulations and the large costs are the huge cash flows. Despite transaction services and iQiyi eating up operating margins to the tune of 32.9 percentage points during Q4, Baidu still generated operating cash flows of $1.15 billion while only spending $173 million on capital expenditures. The company ended the year with $12.9 billion in cash on the balance sheet.
The enterprise value sits at a rather meek $50 billion. Alphabet is above $500 billion now. Using the simpler forward P/S multiple, Baidu is far cheaper than Alphabet.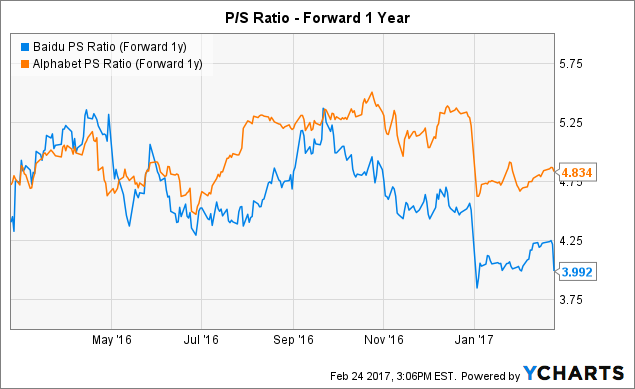 BIDU PS Ratio (Forward 1y) data by YCharts
The key investor takeaway is that analysts forecast rather small annual growth rates that get Baidu to 2018 revenues of $15 billion. The stock is exceptionally cheap as the Chinese search and artificial intelligence giant returns to growth mode.
The stock has an easy 25% upside to just return to a similar multiple as Alphabet where Baidu traded prior to the implementation of the stricter online marketing laws. As well, the stock has plenty more upside from expanded growth and margin expansion.
Disclosure: I am/we are long BIDU.
I wrote this article myself, and it expresses my own opinions. I am not receiving compensation for it (other than from Seeking Alpha). I have no business relationship with any company whose stock is mentioned in this article.
Additional disclosure: The information contained herein is for informational purposes only. Nothing in this article should be taken as a solicitation to purchase or sell securities. Before buying or selling any stock you should do your own research and reach your own conclusion or consult a financial advisor. Investing includes risks, including loss of principal.