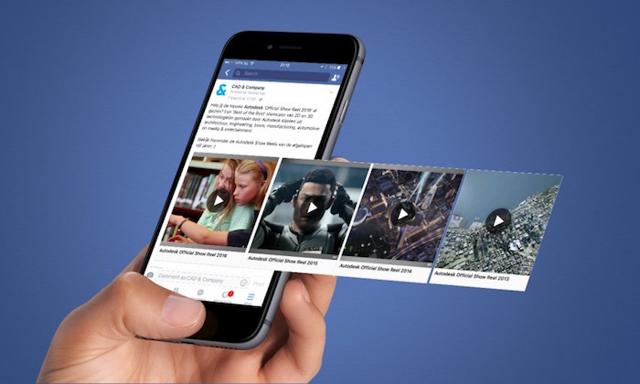 Facebook's (NASDAQ:FB) next big frontier won't be in payments, virtual reality or artificial intelligence going by what the company's recent quarterly earnings release revealed. At least not in the near term. According to CEO Mark Zuckerberg, video will be the next big thing for the social media giant much like how mobile played a pivotal role in growing the company.
With that being said, it seems that some investors may not be fully appreciating the massive opportunity that video presents to Facebook in terms of the potential impact that it could make on the income statement. In fact, some analysts have even suggested that video will be Facebook's biggest risk because as users increasingly watch more videos, they spend less time looking at ads.
The scenario above, coupled with the expectation of higher expenses and lower mobile revenue, has seen some analysts suggest that it would be a good time to take profits, especially now that Facebook's shares are at an all-time high. In my opinion, all these analysts have vastly underestimated the potential of video and have focused too much on the negatives.
In order to illustrate just how important video is for the company going forward, consider this. During the earnings call, CFO David Wehner said that video was one of the big drivers of engagement growth in Facebook as time spent on the social networking site increased to 50 minutes per day. According to a survey by the Bureau of Labor, that's more time spent on the social media site than any other leisure activity with the exception of watching TV and movies.
"We're looking for ways to grow the ecosystem of video content on Facebook. We want people to think of Facebook as a place for interesting and relevant content from professional creators as well as their friends. Last year we started to invest in more original video content to help speed up the ecosystem, and we're planning to do more in 2017" said Zuckerberg.
Therefore, gradually increasing amount of video content on the news feed has given Facebook the opportunity to seriously pursue video ads as a way of monetizing the feature taking into account that this ad format fits well with what the users are doing. Before looking at how video will improve future revenue, I believe that a brief overview of Facebook's video plans would serve as a great starting point.
Facebook's video strategy
While the company recently introduced a couple subtle changes to the platform such as minor tweaks to the video experience in the news feed and the ability to let users minimize a video while it's playing so that it occupies a smaller portion of the screen enabling them to scroll, some changes weren't as subtle.
Among the major updates introduced by Facebook with regards to how it was going to monetize video was the revelation that it would be rolling out a dedicated video app for TV that would initially be available on Apple TV (NASDAQ:AAPL), Amazon Fire TV (NASDAQ:AMZN) and Samsung TV (OTC:SSNLF). Furthermore, it would be testing a new mid-roll ad format, which would give publishers the chance to insert ads into the clips after users engage (right now after they watch for at least 20 seconds).
It is important to appreciate how Facebook plans to reel in marketers with this video strategy and lock them in the company's services. According to the company, marketers need to optimize their video ads in order for them to fully exploit the opportunity presented by this ad format. 30 seconds ads that work really well on other platforms can also work well on Facebook, but ones that have been optimized and use its targeting have been shown to perform exceptionally better.
Zuckerberg told a nice story of what happened during the launch of Motorola's Moto Z phone. The company boosted awareness before the launch, which targeted Android users and Verizon (NYSE:VZ) subscribers. Motorola optimized its video for Facebook and Instagram mobile feeds. After the launch, it purchased ads and re-targeted the people who had viewed ads initially. It measured that it had over a 3.5 percent increase in sales driven by Facebook and Instagram video ads, which indicates the effectiveness of uniquely targeting its audience. Luckily, big brand names won't be the only beneficiaries of video ads considering that marketers with smaller budgets can engage content creators on platforms such as Influence where they can hire independent publishers to create content for them to be embed their ads in.
With Facebook's use of video proving to be an effective marketing tool, the big question is how it will benefit investors and the company in the long term.
Massive opportunity in video in spite of competition
Following the move by Facebook to refocus on its video strategy, there are a number of plays that could contribute to meaningful upside potential in the near term.
Research from comScore recently found out that mobile drove over $1 billion in total cyber Monday sales for the first time ever, signaling the increasing consumer shift from retail to mobile for holiday shopping. As such, marketers have been keen to make the most of this opportunity and Facebook reports seeing more marketers prioritize mobile and especially, mobile video.
Looking at the competitive landscape, Alphabet (NASDAQ:GOOG) (NASDAQ:GOOGL), which is Facebook's largest competitor in digital ads is also putting increased focus on video. While search was still the number one revenue driver for Google, online video, primarily YouTube, was the biggest driver of growth in ad revenue. Jefferies analysts calculated that it brought in about $12 billion in revenue last year. This growth in YouTube was driven by TrueView ads as well as six-second bumper ads, which have been increasing in popularity on mobile.
In addition to this, Google recently said that it would be scrapping the 30-second unskippable ads on YouTube, a move that closely mirrors Facebook, in an attempt to improve user experience. YouTube remains the "king" of video, which means that Facebook's progress towards capturing a larger market share of video ads won't continue unhampered.
However, even without catching up to YouTube, Facebook's shareholders could see a significant impact on the top line thanks to the video app for TV. Think of it this way. Facebook will be able to capture some TV ad dollars which Deloitte estimates to have topped $72 billion in 2016, up 4.5 percent from $68.9 billion generated in 2015 in the U.S alone. At the same time, the company will be able to capitalize on shift from TV to digital advertising, considering that IDC expects mobile advertising will grow nearly threefold from $66 billion in 2016 to $196 billion in 2020.
With Morgan Stanley analyst Brian Nowak estimating that 85 cents of every new dollar spent in online advertising will go either to Google or Facebook, the only potential downside here is that the new revenue sharing agreement would significantly reduce the company's operating margin on these video ads. Other than that, I expect that this new frontier will be Facebook's driving force and biggest catalyst for this year.
In conclusion, investors looking to go long Facebook shares shouldn't be afraid to do so considering that shares still appear undervalued, trading at 38X earnings compared to the industry average of 42X.
Disclosure: I/we have no positions in any stocks mentioned, and no plans to initiate any positions within the next 72 hours.
I wrote this article myself, and it expresses my own opinions. I am not receiving compensation for it (other than from Seeking Alpha). I have no business relationship with any company whose stock is mentioned in this article.