I revisit a theme I spoke about back in 2015.
"Everybody's Unhappy" - Bob Farrell
Mr. Farrell, the dean of stock market research, uttered those words along with his thoughts on the stock market in an era gone by. They have as much meaning now as they did back then, as he went on to explain what he was referring to at the time. I fast forward to today with much of the same backdrop that he described then, in place today:
"Money managers are unhappy because the majority of them are lagging the S&P 500 and see the end of another quarter approaching."

"Economists are unhappy because they do not know what to believe. This month's forecast of a strong economy or the ramblings of the disenchanted telling them all is not well. They ponder and are vexed when looking at the pros and cons of any proposed changes by the current administration."

"Technicians are unhappy because the market refuses to correct."

"Investors are unhappy because they are nervous over the bombardment of political ramifications to economic policies that are unknown. They fear new highs as if it were a disease as they are constantly reminded by the skeptics that they could give it all back".

"The public is unhappy because they can't figure out what is going on. The political stage says one thing but the stock market is saying another. They sit frozen in place and wring their hands wondering if the stock market can really go higher."

"The skeptics are unhappy because everything tells them to be wary of the market, yet the rising indexes continues to prove them wrong time after time."
It is a common question these days, what do I do now? Do I add to my positions now or raise a lot of cash? It isn't just the everyday market participants that are scratching their heads. Many portfolio managers have also been "frozen", because if they make a "big bet" right here and they are wrong, not only do they have performance risk, but also bonus risk and ultimately job risk at year-end.
I have written over and over that the ONLY people that are in the pilot's seat are those that have participated in this historic bull market. We arrive at another point in time where that point is driven home. The answer to all of that skittishness and stress is, it isn't necessary to do much of anything. Sorry for the repetitive message, but it just follows the market action week after week.
The indices have all broken out of basing patterns to new highs in unison and the recent multiple Dow Theory buy signals tell me higher prices are ahead some time down the road. So, perhaps a tweak here and there is warranted. Using a call writing strategy and culling overweight positions after a huge run, as described last week, or the ideas put forth today. When dealing with a resilient long-term trend, it is best not to try and outsmart the market.
Listening to what the market is telling us is important when it comes to portfolio management. The equity market is going through a transformation. Leadership in the stock market has shifted toward risk-on investments and away from conservative positioning. Defensive yield oriented stocks was the place to be from late 2013 until the recent upswing that started in late 2016. During the same time, economically cyclical stocks were the big under performers. Small caps stocks were also laggards as they underperformed their large cap counterparts by about 14%
The first shall be last and the last shall be first has now taken over the scene on Wall Street. Since the summer of last year when the economic data started to turn more positive, the companies most sensitive to the economy and small caps have been the new leaders. While that was taking place, the old leaders turned into laggards. One only has to look at the defensive sectors like utilities and telecom to arrive at that conclusion.
I expect this trend to continue for a while as we progress through 2017. For those who haven't made any shifts in positioning, any pullbacks in these sectors that have showed renewed vigor present an opportunity. This strategy is not for everyone, as it does come with more risk if wholesale changes are made. However, tweaking portfolios here and there to take advantage of an intermediate trend is not a bad idea for those inclined. Active investors can take advantage of these changes in leadership to enhance their returns.

It feels like people are becoming more closed minded these days so it seems to me that it will turn out to be a huge advantage to stay open minded when everyone else around you becomes more closed off.
This is definitely something I have become more and more aware of over the past few years. Recent events taking place right here in the U.S. have brought this to the forefront even more so. It can be difficult for a lot of us to look ourselves in the mirror and continuously take stock of our own beliefs. But that's the only way you improve.

Economy
The Small Business Economic Trends report for January makes a clear statement on how they feel about the political scene.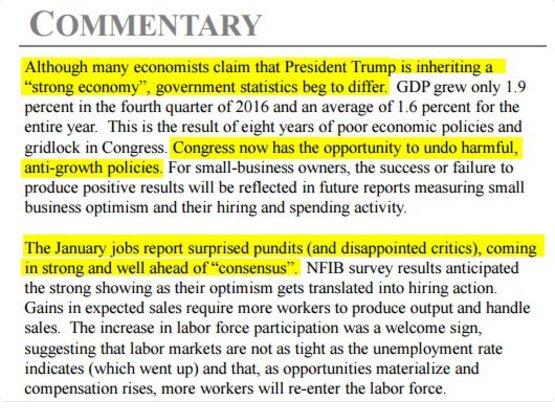 Taxes and Government Red Tape continue to be the biggest problems cited by small businesses. The question is whether anyone in Congress is listening and willing to go along with what is being proposed to alleviates these concerns.

The Wall Street Journal Reports:
"The total amount of debt held by American households climbed in 2016 by the most in a decade, driven by broad and steady increases in credit card debt, auto and student loans, and a fourth quarter surge to the highest amount of mortgage originations since before the financial crisis."
The graphics presented indicate that does not appear to be an issue at this time.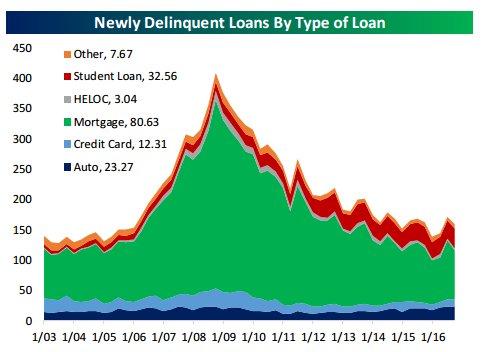 Source: Bespoke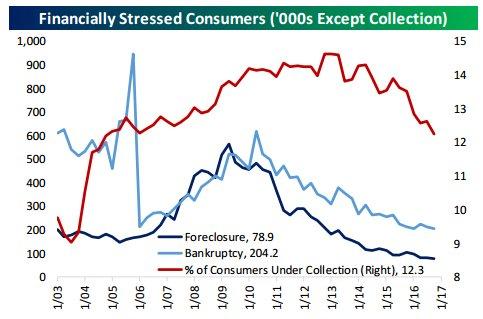 Source: Bespoke
According to a survey by Ipsos and USA Today, among people ages 45 to 65, 27% have no retirement savings, 22% have less than $100,000 in retirement savings and 78% expect to cut spending upon retirement. Although payroll, real estate and market values have recovered, former salary levels have not returned for many workers. I believe it goes way beyond the wage issue. Many have not participated in the stock market's surge for a variety of reasons. I can tell you first hand, the Baby Boomers that stayed invested have no such issues now. The difference is night and day. A comfortable retirement to a part time job to pay bills.
The final read on Michigan consumer sentiment came in at 96.3

Citi's Economic Surprise index, which measures the pace at which economic indicators are coming in stronger or weaker than expected, has surged to start 2017. The present reading is at the high end of what we have seen over the last seven years. This indicator adds to the case that a recession in U.S. economic activity is still nowhere close. Where are the "recessionistas" now?
U.S. Markit flash PMI for February took a pause (54.3) from the highs (55.8) recorded in January. The subdued report was due to the services sector as manufacturing reported a slight dip from the previous high.

Jobless claims for the latest week came in slightly higher than expected, gaining 6K from 238K up to 244K. Nothing new here as jobless claims remain exceptionally low by historical standards and have now been below 300K for 103 weeks.

Existing Home Sales hit their highest level since the last housing downturn. However, the low level of existing supply still exists. Inventory of 1.6M units rose slightly but is still the second-lowest on records dating to 1999 other than last month's 1.65M figure. That's equivalent to 3.6 month's supply, a joint all-time low.
New home sales were reported up 3.7% in January. The actual number was 555K versus the consensus expectations of 576K. Supply constraints still appears to be the issue.

Global Economy

The story being reported here lately has been the global markets participating in a synchronized rally. The basis being improving economic data, and the uptrends are continuing. Eurozone Composite PMI recorded a 6-year high when the index came in at 55.5 for February.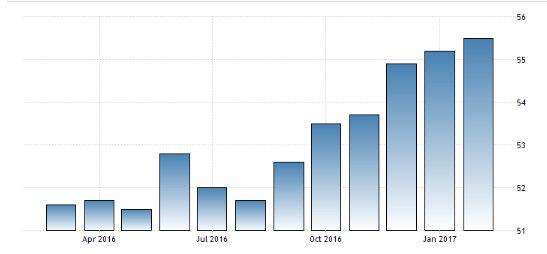 Source: Trading Economics
Eurozone Services PMI also soared in February to a reading of 55.7, outpacing expectations of 53.7.
German Business Climate survey for February came in above expectations and posted its highest level in four years, at 111. GDP was unrevised from the first look, but some internal components were notable upside surprises. Trade and construction investment were the key strong points. Taking a step back, German GDP growth continues to be excessively reliant on trade. In real terms, exports have tripled and imports have risen by 2.75x since 1991, but consumption is up only 23%, keeping GDP growth dramatically lower.
U.K. GDP year over year came in below estimates, at 1.4% vs. expectations for 2.2%.
A notable news item concerning the upcoming French election was released during the week. Independent Presidential candidate Emmanuel Macron agreed to an alliance with his centrist rival Francois Bayrou. The alliance, intended to unify the moderate vote, is an attempt to stem the far right candidacy of Marine Le Pen.

Japanese Manufacturing PMI for February came in at 53.5, better than the prior month's 52.7. New export orders increased the most since December 2013.

Earnings Observations
A list of headlines for this earnings season are compiled daily and can be found here. A quick way to get a feel for how the earnings season is progressing.
Bespoke Investment Group reports:
"With a gain of over 3% during the six week period that spanned the current earnings season, the market certainly followed the historical pattern, and this even came after a strong post-election run that preceded it. Relative to the 31 prior earnings seasons since the start of 2009, this earnings season ranks as the 14th strongest and the best since Q4 2014."
Liz Ann Sonders, Chief Investment Strategist, Charles Schwab, recently put forth her thoughts on earnings and valuations. Corporate earnings are expected to rebound back into double-digit territory in 2017.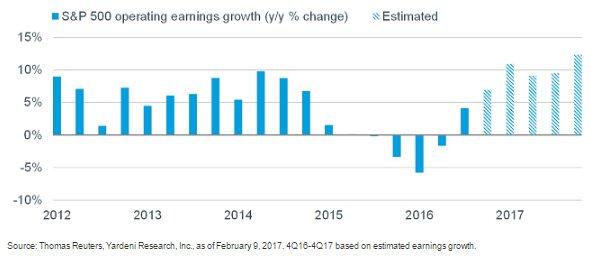 The current forward looking S&P 500 PE is marginally above the 20-year media. Bull markets do not end at median valuations. Forces involved in bull and bear markets tend to swing these ratios wider at market troughs and peaks.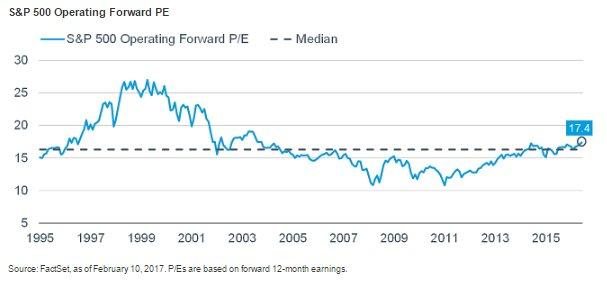 If the earnings projections do come through as forecast, then the S&P ratio might hug that median for a while before exploding upward.
I have often made the case that an above normal PE ratio is not to be feared when comparing to where interests rates are relative to history.
Ms. Sonders adds another interesting comparison to consider. Inflation.
"Clearly, a dollar of earnings you or I make is worth more when inflation is low as less of it gets eaten up by the cost of living. When inflation is high, our earnings are worth less. The same analysis can be applied to valuing corporate earnings. The table below shows that we are presently in the inflation sweet spot for valuations"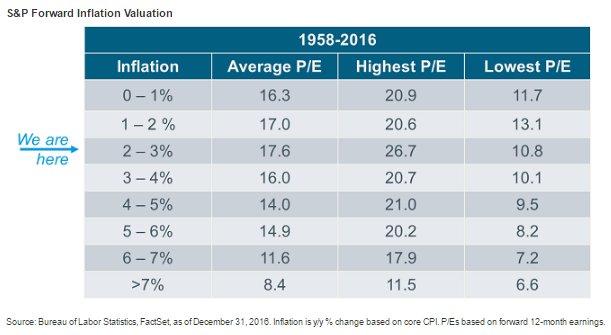 FactSet Research reports the recent data in their weekly wrap-up:
"As of today (with 92% of the companies in the S&P 500 reporting actual results for Q4 2016), 66% of S&P 500 companies have beat the mean EPS estimate and 52% of S&P 500 companies have beat the mean sales estimate."

"For Q4 2016, the blended earnings growth rate for the S&P 500 is 4.9%. On December 31, the estimated earnings growth rate for Q4 2016 was 3.1%."

"The forward 12-month P/E ratio for the S&P 500 is 17.7. This P/E ratio is based on Thursday's closing price (2363.81) and forward 12 month EPS estimate ($133.73)."
With the S&P 500 up so strongly over the last six weeks, the assumptions and opinions all seem to revolve around the idea that the short-term gains have been borrowed from future returns. That concept may make sense to some, it mimics the same thought that many harbored in January. The popular strategy back then was to Buy the election and Sell the Inauguration. Up until this point, that strategy has not worked out particularly well. All that did was add to the hand wringing crowd that sits and ponders the strategy they embarked on.
Here are some facts assembled by Bespoke. During the 31 prior earnings off seasons since the start of 2009, the S&P 500 has averaged a gain of 2.07% with positive returns 74% of the time.
Based on the market's behavior following prior earnings seasons, there is little or no evidence to suggest that gains during a strong earnings season are borrowed from future returns during the earnings off season.

The Political Scene
Oh, what a horrible thing. Oh, how can we invest with this going on? He tweets and a stock or stocks could react and go down. My response, oh, how this has been totally blown out of proportion. Let's pay attention to what the market is saying. Boeing (NYSE:BA) was the first that felt the wrath of a White House tweet The stock is hit an all-time high this week. It's time to give this topic a rest.

It is always a good idea to step back and remember that as investors we are still dealing with the antics of D.C. politicians when it comes to change. In this case, the debate about a tax plan. Then there is always the other side that needs to be heard on the topic before we may finally get some resolution.
If we think that will be a spectacle, the issues surrounding Dodd-Frank will make that look like a walk through Disneyland. The Obamacare fix is another issue that generates debate and brings up questions whether we will see a resolution.
The common thread on all of these issues is negativity. Now that could be just a result of years and years of watching Washington at work. This time around the fellow at the top is not a politician, and at the very least has put forth ideas that would have never been surfaced.
Despite the roadblocks and obstacles and all of the negativity to get something done, I do believe we will see revised versions of what the media and some pundits view as issues that they pronounce as never to be accomplished in a person's lifetime.
On the other hand, there is the contingent clamoring for the tax plan, the Obamacare fix, Dodd-Frank regulatory initiatives, etc. These are the same skeptics that told us that undoing this intensely complicated legislation will take time, now they want it yesterday and tell us that if it isn't here tomorrow, the stock market will suffer greatly.
My thoughts on all of this is to avoid all of the mindless headlines as to what the administration is doing during every hour on the day. It's all political fodder.

The Fed
Interest rate hikes at this stage of the game will help, not hurt the economy. Market participants always worry about Fed rate hikes. Remember where we are in the cycle. Rates will be rising effectively off of zero. We are just now exiting the era of financial repression and are nowhere near what might normally be called monetary tightening.
The FOMC released the minutes for its January meeting this past week. Throughout the FOMC's evaluation of the outlook for the economy, there are both notes of optimism and pessimism. Below is a list of mixed perceptions about the direction of activity from throughout the minutes.
This makes me believe the committee is uncertain, not negative; that is interesting given the sharp contrast with how equity and credit markets have behaved lately.
"Participants again emphasized their considerable uncertainty about the prospects for changes in fiscal and other government policies as well as about the timing and magnitude of the net effects of such changes on economic activity."
Some noted that several potential changes in government policies could pose downside risks. Several indicated that they continued to be concerned about the downside risks to economic activity associated with the possibility of additional appreciation of the foreign exchange value of the dollar. A few participants indicated that some of their contacts had already increased their planned capital expenditures. However, participants' contacts in some Districts, while optimistic, intended to wait for more clarity about federal policy initiatives before adjusting their capital spending and hiring.
Despite what can be perceived as uncertainty, the minutes note that many participants expressed the view that it might be appropriate to raise the federal funds rate again fairly soon.

Sentiment
Over the course of the last two years, we haven't seen bullish sentiment as measured by the AAII come close to a 50% reading for the bulls. It is now a record 112th straight week where bullish sentiment has come in below 50%. According to the latest sentiment survey from AAII, bullish sentiment rose by 5.4 percentage points to 38.46%.
Investors turn bullish at different rates and at different stages of the bull market. Therefore, sentiment can be measured in different terms at different parts of the cycle. Short-term indicators such as the daily Fear and Greed Index has been slanted heavily toward the greed end of the index lately. Investors Intelligence newsletter writers also are at extreme levels as bullish articles outnumber bearish missives by over three to one.
From this perspective, it would lead to a conclusion that in the short term there is extreme optimism in the air. All of this should come as no surprise as the financial media reminds investors of this on a daily basis, warning all to look out below. What has developed now with some of these readings has happened numerous times in this bull market and is not unusual. The takeaway is a pullback or corrective action usually follows and wipes these levels out quickly.

Crude Oil
WTI closed the week at $54.02, up $0.67. The commodity has traded in a narrow range in the last month or so and still remains above the all important $52 price level. A break either way could be right around the corner.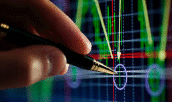 The Technical Picture
In the week ending February 17th, the S&P 500 saw a massive number of new highs. And not just new 52-week highs, but rather all-time highs. There were 40 all-time highs in the S&P 500, which is 8% of the index. That equates to no upside resistance.
Weekly momentum is the highest since March and November 2013. It is difficult for that to be sustained, but it is possible. It is now 76 days since the last top to bottom correction of more than 3% ended Nov. 4, 2016. It's the longest streak since 150 days between July 2006-February 2007. So this type of strong market action can last longer.
A look at the past to draw a conclusion. After breaking out at the 2,193 level last December, the S&P traded up to an overbought level similar to what we see now. That equated to about a 3% move above the 20-day moving average. Sideways action commenced for 3 weeks and then a 2% dip ensued. That was the extent of the pullback before the index moved higher. That event is highlighted on the daily chart below.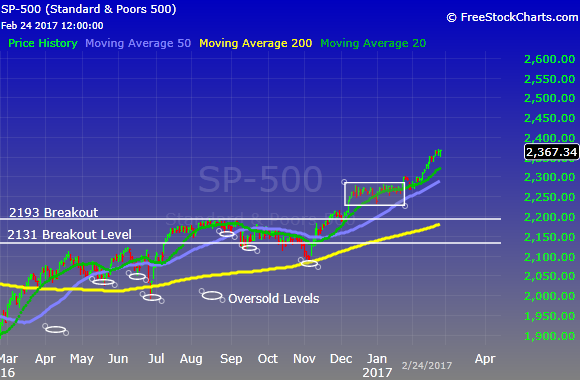 Chart courtesy of FreeStockCharts.com
I see a similar setup today. A rally that has taken the S&P to the top end of my 2,350-2,380 interim target stated last December 10th, where I stated:
'I anticipate this run to take the S&P to the 2350-2375 level before it fizzles out."
A target that is approximately 3% above today's 20-day moving average. Since the uptrend has been so strong and so widespread, a corresponding pullback could be short lived and relatively minor, about 2% or 50 S&P points.
Of course, in dealing with the markets in the short term, nothing is cast in stone. That being said, with the recent strength being exhibited in the rally, I expect pullbacks to be well contained to around the 5% level or so. Note that uptrends weaken before they reverse. Look at the daily chart above. The very short-term 20-day moving average has not been violated yet. At the moment, the index is in a relentless uptrend, and many are anxious over that. I'm not one of them.
Medium-term support remains at the 2,336 and 2,321 levels, with resistance at the 2,385 and 2,411 pivots.

Market Skeptics
There are a number of pundits telling us that when equity inflows pick up, that will be the time to be careful.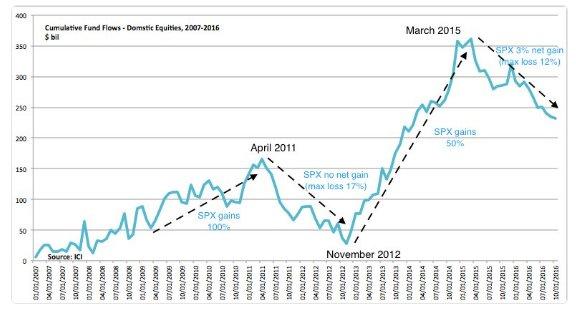 Chart courtesy of Urban Carmel; Data from ICI
The data presented above does not agree with that notion. The trajectory of equity inflows from late 2012 to March 2015 came in concert with a 50% gain in the S&P. Taking one data point or a preconceived notion and running with it can be dangerous. What has carried this rally has been institutional and foreign buying. If we now start to see a pickup in equity fund flows that many are anticipating, it takes the indices higher.

Individual Stocks and Sectors
Congratulations to those that have made their case that Mexico was not about to fall off the earth. While the initial reaction after the election was negative (-13%), the Mexican stock market ETF (NYSEARCA:EWW) is up more than any other global stock market since the Inauguration, up 7.2%. Another example where the initial reaction caused by fear and emotion is usually unsubstantiated.
It's not just Mexico. Brazil, Argentina, Canada, Germany, Japan and others have recorded new highs.

The Financial sector has been among the leaders in the recent rally that started last year. For those who believe the sector is wildly stretched by historical standards, think again. While the index has provided outstanding returns, it still is 25% below all-time highs. Once consolidation takes place by time and/or price, there remains enough fuel to take the overall market higher and profits to be garnered in the sector.

Last week the Nasdaq Biotech Index gave me a tease with a break above its 20-month moving average. See It Market noted the potential for a breakout in the sector as well as they take a look at the SPDR Biotech ETF (NYSEARCA:XBI).
Unless there is a late month rally next week, it appears that the break above the 20-month MA on the Nasdaq Biotech index (NASDAQ:IBB) may be a false signal. However, that doesn't dampen my long-term enthusiasm for the sector.
In a meeting with pharma executives on January 31st, President Trump declared:
"We're going to be cutting regulations at a level that nobody's ever seen before."
Trump's promises of deregulating the industry is positively perceived by many investors. While it is not wise to speak to reforms that are not here yet, the thought and potential for positive change is out there.
As one astute reader pointed out last week, diversification is key. The way money is rotating around from sector to sector, being diversified eliminates guessing what sector will pop next. This week the energy sector, which has underperformed year to date, got a renewed bid early in the week as the price of WTI remained resilient. That quick rally faded as we have now come to the sell the news portion of the cycle. Many E&P companies I own or follow had excellent earnings results but sold off on the news. Therein lies an opportunity.

Conventional wisdom heading into the election was that a surprise Trump victory would not be treated nicely by the market. And based on the daily headlines you see on the covers of major US papers and news networks, you might expect the market to be nervous because of all the turmoil supposedly going on in D.C. There couldn't be a more inverse correlation between the media hysteria and the action of the stock market since Trump won back in November.
In the last couple of weeks, and with technical data points mentioned today, I have noted similarities that I see here in the market action to that of 2013. That was a great time to be invested.
Although I feel the equity market will stay well bid over the intermediate term, one can come to the conclusion to be somewhat tempered in their outlook in the very near term. That doesn't mean to raise cash or start putting hedges on in anticipation of weakness. The talk from many since the inauguration, over 30 days ago, was to do just that and start buying protection.

Each investor has to decide how they want to approach that situation. For myself, I have little use for that advice when a bull market trend is underway. Any protection that has been bought has expired worthless as it has on so many other occasions in this bull market, and that eats into returns. There is a time and place for protection, it is when a downtrend is underway, and that is not the case today.
Experience has taught me to not fight the tape when it gets in one of these moods. However, since I have been along for this great ride I need not chase here as well, understanding that animal spirits can spur the equity markets higher than fundamental logic seems to justify, and such a period may be currently underway. I do not have the fear of missing out syndrome that exists to some degree now. That goes back to the concept of being in the pilot's seat.
There are risks that are brought to our attention daily, but there always are. Here are some issues that the bears can mull over to help their case as they lick their recent wounds. The new administration ends up spending too much political capital on less important issues such as immigration, leaving him without enough to push through corporate tax reform.
The Fed panics and starts to hike too quickly, choking off growth; a dollar that moves up sharply instead of grinding higher, undermining profits and exports. Of course, I can use the trade war fears, but the bears have already fired off that canon at the bulls.
Don't get me wrong, these risks need to be monitored, but as I do with all risk, I assess the probability of each one actually occurring. At the moment, these are more likely nuisances, and won't amount to much. So far, the stock market agrees, as the price action we have seen with all indices moving to new highs together tell us this is a broadly based rally.

There will be a market hiccup at some point in the coming weeks, the important thing to remember is that they will occur in the context of the third stage of this secular bull market. Using pullbacks to add to equity overweight positions is the way I plan to proceed. Four months ago, well before the election, I mentioned that we were on the cusp of an earnings driven bull market. Nothing has changed. Accelerating growth, deregulation and corporate tax reform coming out of D.C. won't hurt that backdrop at all. Neither will the global growth story that is emerging.
Remember when the S&P does finally show some weakness, rest assured it will be blamed on this, that, or some other headline. The Fed, the tax plan, issues in D.C., etc. The real reason prices will dip is simply because the rally has reached an intermediate peak like all other rallies before it, nothing more, nothing less.
Certainly those who have missed the rally, which remains elevated with the retail investor, every tick and grind higher, is like water torture. If one has been bullish, there is nothing to be wringing your hands or be unhappy about. Relax and stay the course.
Best of luck to all!
Disclosure: I/we have no positions in any stocks mentioned, and no plans to initiate any positions within the next 72 hours.
I wrote this article myself, and it expresses my own opinions. I am not receiving compensation for it (other than from Seeking Alpha). I have no business relationship with any company whose stock is mentioned in this article.
Additional disclosure: The opinions rendered here, are just that – opinions – and along with positions can change at any time. As always I encourage readers to use common sense when it comes to managing any ideas that I decide to share with the community. Nowhere is it implied that any stock should be bought and put away until you die. Periodic reviews are mandatory to adjust to changes in the macro backdrop that will take place over time.