Continuing from an earlier article on EURUSD (NYSEARCA:FXE), this article looks at price action in USDJPY (NYSEARCA:FXY). The focus will be on technical analysis, primarily using Elliott Wave to identify stages in trends, and fractals to help set expectations of what future moves may look like.
I usually have one eye on fundamentals but, as I explained in the first article, my focus is on technicals and price action as it reveals what market participants are doing in real time. I often see the charts reverse course before the reasons become clear.
USD/JPY
My last article on USD/JPY was back on December 14th, where I said 'A Dollar Yen Reversal Is Coming, And It Has Consequences'. One of the reasons for this call was the comparison with the move higher in 2014. Here is an updated chart: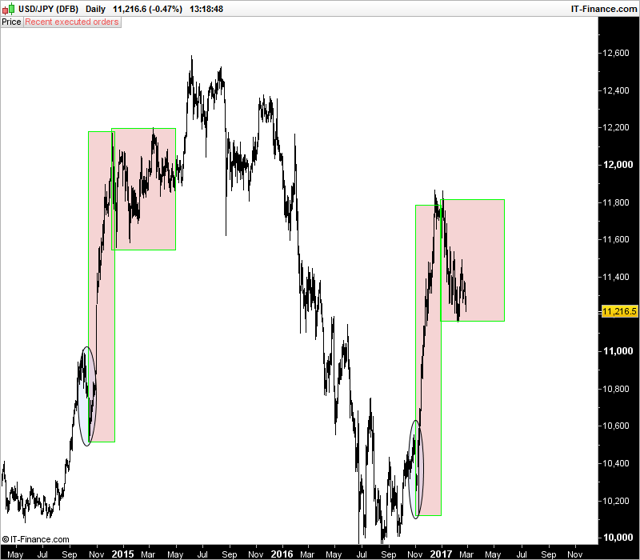 USD/JPY has entered a sideways consolidation loosely resembling that of early 2015. To be honest, even though this comparison has worked well so far, at some stage, it is bound to fail so I am using the above as a very rough guide. In this context, it looks likely USD/JPY should continue sideways before a brief final rally.
In the shorter term, traders could look for a tradeable bounce back towards the highs. Looking at a 60-minute chart, we can see the downtrend from the early January highs has been broken and price has successfully re-tested: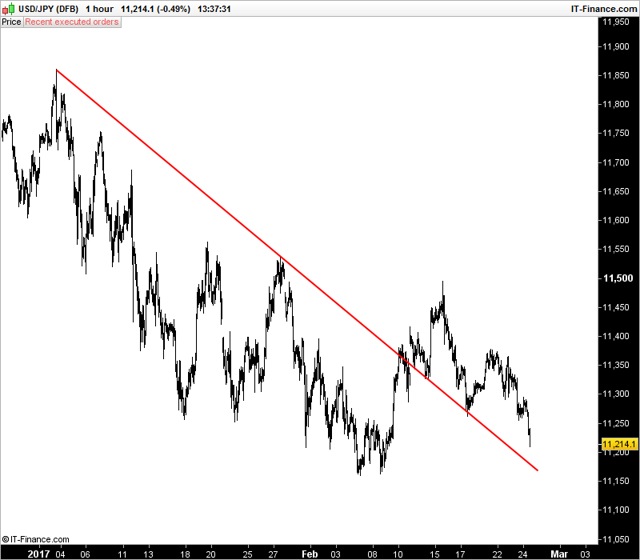 However, the pair still looks heavy. After a successful re-test, the expectation is for a rally, but USD/JPY could only bounce to a lower high before continuing lower. Sometimes we not only need to pay attention to what an instrument does, but also what it fails to do. I still think USD/JPY should recover, but this is a crowded trade, and caution is advised.
A closer look at the price action reveals similarities between the 2016 bottoming process, and the current pattern.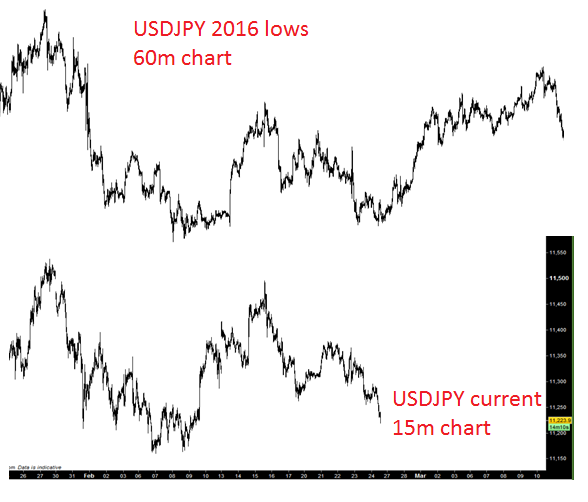 The deep retrace at the 2016 lows is present again. Of course, there is no guarantee of the same outcome, but given the higher time frame context and the short-term patterns, a move higher from the 112 area looks likely. With the 2017 high at 118.6, even a 50% retrace would give a 300 pip target. Stops should be under the 38.2% Fibonacci retrace at 111.15.
As with EUR/USD, I look at the charts for direction first. Fundamentally, the data out of the US and expectations for further rate rises should keep the US dollar bid, although the overly long positioning means rallies could be fairly weak.
Conclusions
USD/JPY has corrected 5.5% from the early January highs and has flushed out some of the late longs. Even though it's still a crowded trade, the longer term context suggests longs can be taken for a rally in a sideways range.
Disclosure: I am/we are long FXY.
I wrote this article myself, and it expresses my own opinions. I am not receiving compensation for it (other than from Seeking Alpha). I have no business relationship with any company whose stock is mentioned in this article.
Additional disclosure: I am long USDJPY spot