Introduction
I keep looking constantly for additional stocks that will fit my investment strategy, which is a form of dividend growth investing. I am not a conservative dividend growth investor. While it is by far my main strategy, I also combine some other strategies: Deep value, as I invest in companies like B Communications (NASDAQ:BCOM), sell options for additional income, and invest in stocks that do not pay dividends.
The reason I don't exercise the classic approach is that I have a very long investment horizon which allows me to take some more risks, as I don't need the income right here and right now. Alphabet (NASDAQ:GOOG) (NASDAQ:GOOGL) is an example for a stock that I own, which doesn't pay dividend.
As I shared in the past, I keep looking for stocks in the information technology sector. While some companies seem overvalued, there are companies that are valued attractively, have strong fundamentals, and fantastic growth opportunities. Their only drawback is that they don't pay dividends.
Alphabet is such a company, and in this article I will offer my thesis that Alphabet doesn't pay dividends YET. When you ignore the dividend, Alphabet passes every test in my flow chart. The flow chart below show the basic analysis method that I use when I consider investments.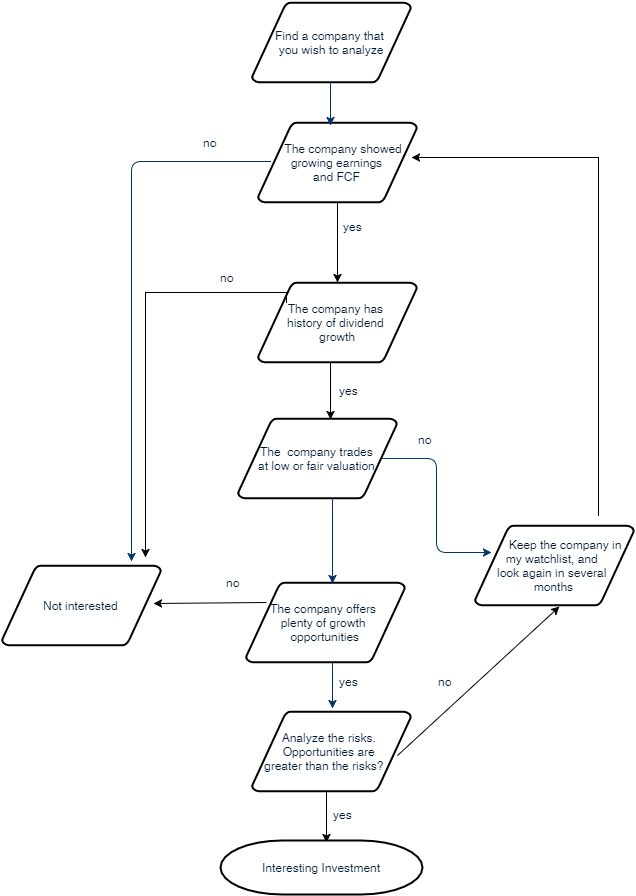 I make sure that my side strategies fit my dividend growth strategy. I sell puts for stocks I would like to buy at prices that I find attractive. I invest in BCOM because of its ability to produce massive yield on cost for me, and I invest in Alphabet because I believe that it has the potential to be a dividend champion in the future, and the process has already started.
Fundamentals
The chart below shows how mighty and powerful Alphabet is. The revenues grew very quickly, as Alphabet expanded its services worldwide, and kept offering new and innovative products and services to the customers. However, according to analysts covering the stock and the whole sector, the growth will slow down a little bit in the medium term.
The bottom line, both when looking at the EPS and the FCF grows in tremendous pace. The FCF grows twice as fast as the revenues, and it shows that the management knows how to monetize the services it offers. The FCF is what will pay for the dividends if initiated. As the FCF growth is expected to slow, Alphabet will still generate a growing surplus of cash.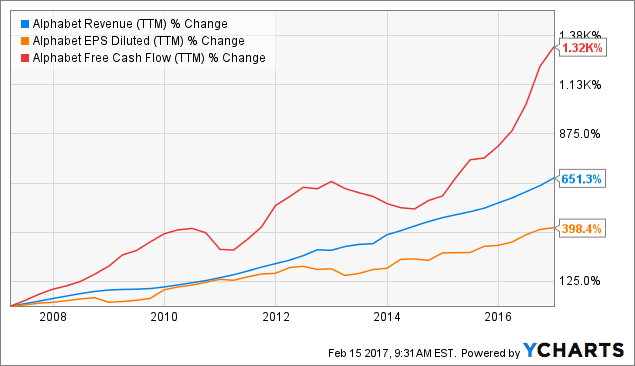 GOOG Revenue (TTM) data by YCharts
Alphabet also has an extremely strong balance sheet. The balance sheet keeps improving. The company has over $80 billion in cash and short-term equivalents. While the company started to return money to shareholders via buybacks, the amount of cash keeps growing quickly. Moreover, the company has managed to lower the long-term debt it has.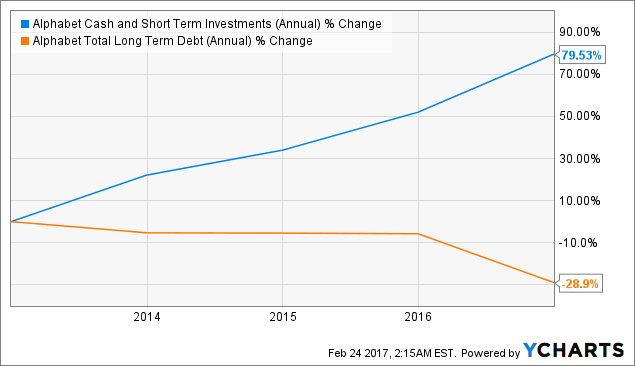 GOOG Cash and Short Term Investments (Annual) data by YCharts
As I mentioned above, Alphabet already shifted its course and started returning cash to shareholders. So far it is only buybacks, and no dividends, but as it becomes consistent, I am becoming more confident that we will see a dividend in the medium term. As I will present later in the article, buybacks are often the first sign for the coming dividend, especially among information technology companies.
Valuation
The first metric I use is the traditional price to earnings ratio. As always I am looking for companies with P/E lower than 20. The current P/E is almost 30, which might seem unattractive. However, I must take into account the EPS and FCF growth rate that Alphabet has showed and is forecasted to show in the near future. With such a quick growth, I believe that the current P/E is justified.
To take a closer look at the anticipated earnings growth, I will look at the forward P/E ratio. Here we see a whole different picture. The forward P/E is exactly 20. It means that if the company manages to live up to the expectations, the valuation is not high at all. I wouldn't call it cheap, but it is pretty attractive for a company that shows amazing growth over the past decade, and will continue to do so according to the consensus of analysts.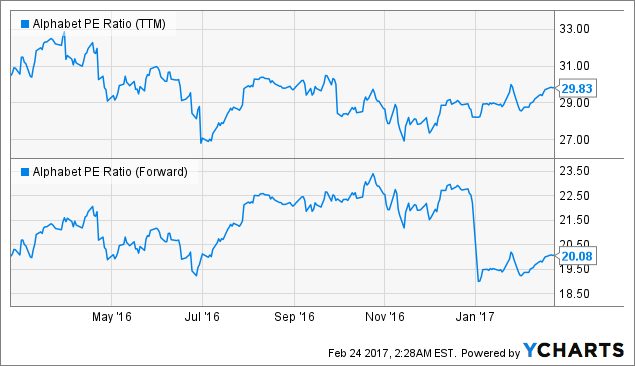 GOOG PE Ratio (TTM) data by YCharts
When I use the P/FCF ratio using FastGraphs, I see that the company trades at attractive valuation. The P/FCF is lower than the P/E ratio, and FCF is forecasted to grow quickly until 2019 according to analysts covering the company. Alphabet is a cash cow that generates massive amounts of excess cash.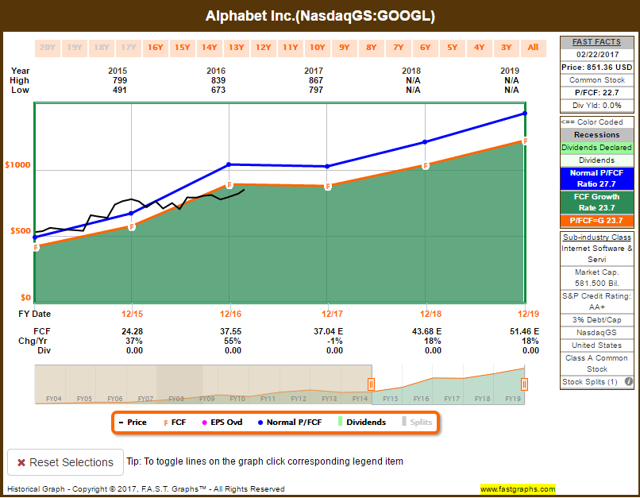 Overall, I find Alphabet to be valued attractively. Its P/E ratio is close to 30, but with its growth both in EPS and FCF, it is well justified.
The path for dividends
So Alphabet is a wonderful company, but it is for sure not a dividend growth darling. In this section I will explain why I believe Alphabet is already on its path for its first dividend payment. The first step towards dividends is the management's understanding that shareholders must be rewarded by more than capital gains.
We are already in the first step, as Alphabet declared in October 2016 that it will buy back stocks worth $7 billion. This is the second year in a row that the company announces a buyback plan, and this one is 40% larger than the previous buyback plan. In 2016 Alphabet returned 25% of its net income back to its shareholders.
The second step is the ability of the company to sustain long term cash payments of dividends. As I showed above, the balance sheet can easily support dividends together with the current buyback plan. It can be achieved while the cash and short-term investments will grow as well. Alphabet has no problem from a financial point of view to allocate some of its earnings towards dividends.
The question now is whether the management has any incentives to do so. As long as the top and bottom line are growing rapidly, avoiding the dividend can be done easily. The management will reward its shareholders with tremendous capital gains, so I believe there won't be many investors complaining.
However, in several years when the growth slows down, the management will have to reward shareholders in a different method, and dividends are the most common way. I cannot be sure whether earnings growth will weaken in three or five years, or maybe even ten years, but with its market cap touching $600 billion, it will get extremely difficult to achieve the tremendous earnings growth we got used to.
Even if we assume that Alphabet can keep growing at roughly 17% annually for the next five years, its EPS will be roughly $75. With a conservative P/E of 20 it will reach a market cap of over $1 trillion. It is almost impossible to grasp that a trillion dollar company can keep growing at such an amazing pace. Therefore, I believe that growth rate will slow down and management will be willing to reward its shareholders in the form of dividends.
Let's assume that Alphabet declares a $4 dividend which is less than 10% of its earnings forecasted for 2017. I will also assume that Alphabet will grow its earnings in the next five years at 17%, 15%, 13%, 12% and 12%, respectively. This is a very conservative assumption. I will add a 10% annual dividend growth. In five years EPS will be around $65 and the dividend payment closer to $6. In this scenario, Alphabet will be still paying less than 10% of its earnings in the form of dividends, but these payments will reward shareholders that see earnings growth declines.
The yield on cost in this scenario will still be very low at 0.7%, but it will fit my strategy as I only need the income in several decades. Even if my thesis is wrong, and Alphabet is a company that keeps growing at almost 20% per annum, I will be a happy shareholder even without the dividends.
Precedents
I look at two main precedents for my thesis: Apple (NASDAQ:AAPL) and Microsoft (NASDAQ:MSFT). Look at Apple, for example. The dividend payments started only after the amazing growth slowed down, and its growth rate became much slower. The buyback started right after the dividend payments started, and this is another case where EPS growth slowing down opens the door for returning capital to shareholders. It also shows that dividends and buybacks usually come together.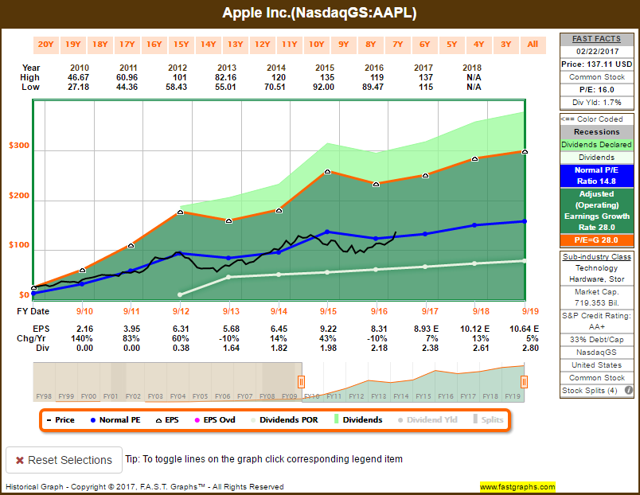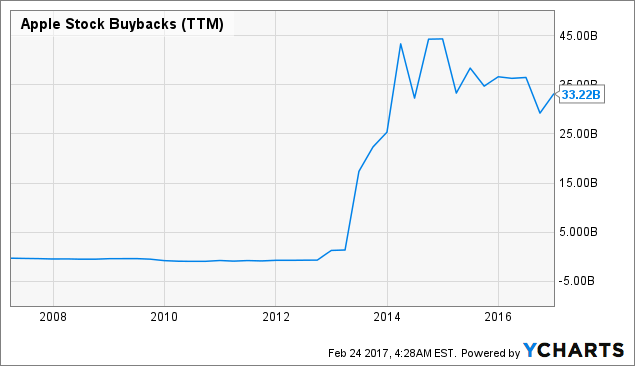 AAPL Stock Buybacks (TTM) data by YCharts
Microsoft is another example for a company that has avoided paying dividends and/or buying its own stock as long as there was rapid EPS growth. However, as soon as the growth curve flattened, it started buying back its stocks and later paid dividends, including a large special dividend. Hopefully, Alphabet will follow Microsoft with dividends joining the current buyback plan.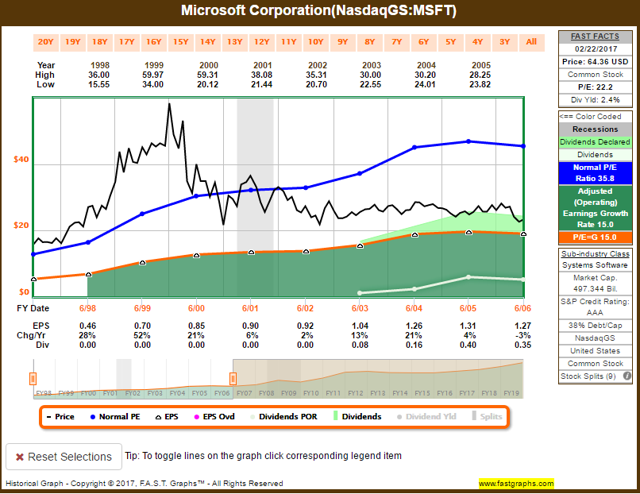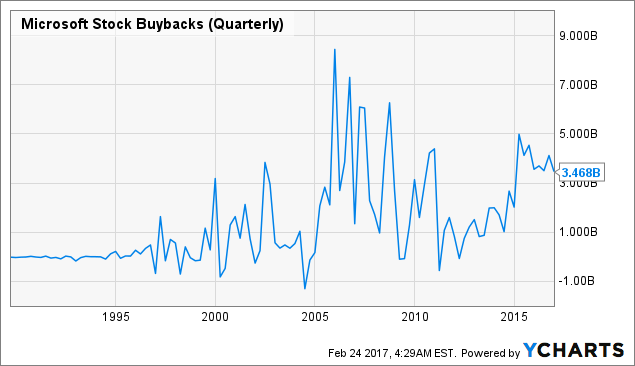 MSFT Stock Buybacks (Quarterly) data by YCharts
Why not others in the big five?
The other two companies in the big five of the information technology sector don't pay dividends as well. However, I wouldn't consider them for my dividend growth portfolio just yet. Amazon (NASDAQ:AMZN) shows amazing top line growth, but it still cannot turn it into EPS growth. While some investors have firm belief that the company will be able to turn revenues into income, I still prefer to watch it from the sidelines.
Facebook (NASDAQ:FB) is another example for a company that I wouldn't try this strategy with. The company doesn't have a long history as a public company, and I would still like to see whether it can keep growing its earnings in the long term. Moreover, I never saw how Facebook dealt as a private company with a broad weakness in the market. The only time when Facebook had to cope with declining share price was after the IPO, and I remember pretty hysterical comments, so I prefer to avoid it at the moment.
Conclusions
Having a strategy means you follow it zealously. However, it doesn't mean you ignore different strategies that can help you fulfilling your goals. My strategy as a dividend growth investor is clear, but I can still use side strategies to enhance it.
I find them complementary to my dividend growth strategy. Selling puts, buying Alphabet and investing in BCOM will support my long term goal of achieving income from my financial assets.
This strategy is relevant for young dividend growth investors. Alphabet is a wonderful company. As market cap is getting closer to $600 billion, growth cannot be infinite and will eventually slow down. If it does, dividend payments will make sense; if it doesn't, you will be able to sell it with massive capital gains. For young dividend growth investors, it is a great risk/reward ratio.
Disclosure: I am/we are long BCOM, AAPL, GOOG.
I wrote this article myself, and it expresses my own opinions. I am not receiving compensation for it (other than from Seeking Alpha). I have no business relationship with any company whose stock is mentioned in this article.