Just under a year ago I wrote an article claiming that Nestlé (OTCPK:NSRGY)(OTCPK:NSRGF) is one stock you should own forever. If you're a shareholder, or if you follow the stock closely, you'll probably already know the plethora of statistics that might be used to back that claim up. Annual shareholder returns have come in at nearly 10.5% over the past forty years. The company hasn't cut its dividend in a run stretching back to at least 1959. The last time it failed to increase the annual distribution was back in the mid-nineties. It owns over 2,000 brands - a number big enough to fill an entire article in its own right - including a host of globally recognized names. In a sector as stable as food and beverages, this leads to great quality profits. And so it goes on.
Judging by the comments, the general consensus from that piece was "great company, not so great price". With Nestlé reporting its 2016 results last week, now is a good time to reaffirm the long-term buy-and-hold case again, even at current valuations.
Nestlé 2016 results: Unspectacular But Solid
Let's start off by taking a look at what has happened since I reviewed the stock this time last year. Last week Nestlé released its annual results for fiscal year 2016. The headline figures showed revenue up 0.8% to 89.5 billion CHF with a foreign exchange headwind of 1.6%. Organic growth came in at 3.4%, comprising 2.4% from real internal growth plus 0.8% from pricing.

(Source: Nestlé 2016 Results Presentation)
This came in at the lower end of the company's guidance, partly due to non-company specific headwinds across the food sector and partly due to weaker pricing in the first half of the year. Moving toward the bottom line and underlying earnings per share was up 3.4% in constant currency terms to 3.40 CHF.
Positives for shareholders to takeaway? Probably a couple of notable points. Firstly, real internal growth was at its highest level since fiscal year 2013 at 2.4%, with broadly similar growth in both developed and emerging markets. Organic growth was also positive across all geographic sectors and product categories.

(Source: Nestlé 2016 Results Presentation)
Secondly, the company's trading operating margin was up by 30 basis points in currency neutral terms which was higher than expected. That's despite the increased restructuring charges of 300 million CHF for the year versus 2015's figure of 150 million CHF. For food and beverages, which accounts for the vast bulk of total revenue, trading operating margin was up by around 50 basis points.
Finally, the company's free cash flow generation continues to be exceptionally strong. For 2016, free cash flow came in at 10.1 billion CHF, equivalent to 11.3% of sales. Needless to say, it's a figure which comfortably puts Nestlé into the "best in class" category compared to peers.
As for the negative points, perhaps the most significant concerns sales growth, with Nestlé dropping its long-term growth target of 5-6% having failed to hit it over FY 2016. That probably won't come as much of a surprise to shareholders since the company has missed that target for the past few years now. Despite real internal growth coming in at the highest level since 2013, organic growth actually grew at the slowest pace in twenty years off the back of weak pricing.
Thoughts On The Dividend & Growth Prospects
Fiscal year 2016 marks Nestlé's 22nd year of consecutive annual dividend growth, with a proposed distribution of 2.30 CHF per share to be confirmed at the AGM in April. That's up just 2.2% on the 2015 dividend of 2.25 CHF per share. Okay, so at first glance it looks pretty lackluster. When you've got a stock with a long-term average annual dividend growth rate that's closer to 10%, then a 2.2% bump for the year doesn't sound all that meaningful.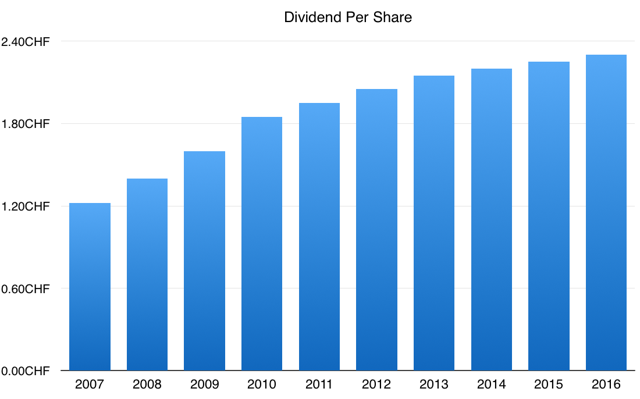 That said, we've also got to bear in mind that long-term the dividend growth rate is going to track that of earnings per share growth. At the end of the day, Nestlé is a $220 billion company pulling in around $90 billion worth of sales from all corners of the globe. Whilst its organic growth prospects are actually pretty attractive for a company of its size and sector, they aren't exactly going to set the world on fire.
So what can shareholders expect from the dividend? Well, over the past five years, Nestlé's annual dividend growth has come in at around 3.4% versus underlying earnings per share growth of 2% per annum. Going forward you can probably expect the recent low level of dividend growth to carry forward over the medium term. Bear in mind that the current payout ratio is now hovering at around 66% of underlying earnings per share.
On the plus side, the dividend remains a top priority along with investment in the underlying business; certainly ahead of stock buybacks. Management has also played down the prospect of any big M&A deals on the grounds of current historically high valuations. As it stood at the end of 2016, net debt was around 14 billion CHF against annual post-dividend free cash flow of approximately 3.2 billion CHF. In other words, the balance sheet is a fortress and the dividend is rock solid, as you'd expect it to be.
The Valuation Conundrum
The valuation is going to be a sticking point for most investors. After all, finding a high quality large-cap consumer staples stock trading at under 20x earnings is becoming something of a treasure hunt these days. Unfortunately, with underlying earnings per share of 3.40 CHF and a current share price of approximately 74 CHF, Nestlé is trading well above that figure.
Now, on the face of it that does indeed look like a very rich valuation, particularly compared to the stock's historical average. If you crunch the end of year P/E ratio data over the past twenty-five years, then you'll find it has averaged somewhere in the region of 16x earnings, notwithstanding the multiple expansion over the past decade or so.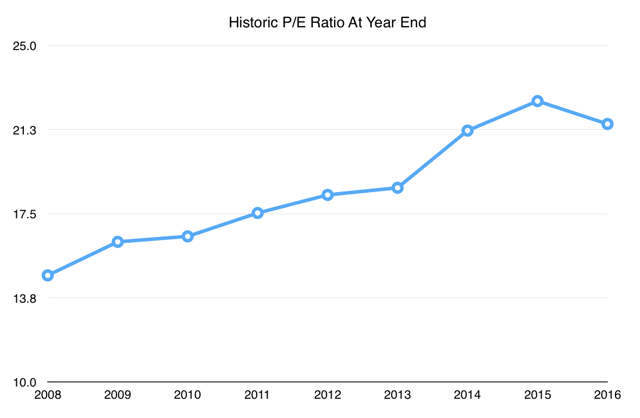 Okay, so a current valuation of 21.75x earnings versus a longer run average of 16x earnings looks like an open and shut case - even more so with a lower growth outlook than back in the early 1990s. The current dividend yield is also at the low end of its average range in the post-financial crisis era. So why do I refer to this as a "conundrum"? Well, in the background, you've also got fixed income yields trading at unprecedented levels at the same time. As I write, the yield on 10-year Swiss government debt is at minus 0.2%. The yield on US Baa-rated corporate bonds is currently in the region of 4.30%. Against those figures Nestlé's current valuation, although rich relative to its long-run average, doesn't actually look all that out of the ordinary.
What It Means Going Forward
The big question for shareholders and prospective shareholders is what that might mean going forward; specifically in terms of forward returns. To get a feel for that, let's first consider a more open-and-shut historical comparison from around the period of the dot-com bubble.
At the end of 1998, Nestlé's stock was trading for a split-adjusted price of just under 30 CHF per share on the back of split adjusted earnings of approximately 1.05 CHF per share. In addition, the company was paying out a split adjusted dividend per share of 0.38 CHF. On the headline metrics, you were therefore looking at a P/E ratio of around 28x earnings along with a 1.30% dividend yield. Finally, the long-term US Baa-rated corporate bond yield was comfortably above 7% at the time. Again, a pretty open-and-shut case of being overvalued there.
As you might imagine, anyone who bought Nestlé's stock at the time went on to underperform relative to earnings growth. Over the following decade, the stock returned 5% per annum including dividends despite earnings per share rising at a rate of around 10% per annum over the same stretch. Although 5% returns doesn't sound like much, that was actually a very strong performance given the circumstances (especially since the end period coincided with the Global Financial Crisis). Again, it's worth stressing that the starting period was arguably a much more extreme case of overvaluation than today.
Back in the present, the company expects in the region of 2-4% organic growth in 2017 rising to "mid-single digits" by 2020. Is it realistic? Well, on the downside, you might highlight the fact Nestlé has pushed its mid-single-digit target out to 2020 having failed to hit it for a few years now. On the plus side, the company is targeting an additional 200 basis points in structural cost savings by 2020 - a portion of which will flow straight to the bottom line with the rest being reinvested to sustain organic growth. Indeed, this seems to be the new target that has replaced 5-6% organic growth.
All-in-all, a growth rate of 4% per annum in terms of underlying earnings seems quite reasonable over the next decade or so; a figure which would imply earnings per share of 5.05 CHF ten years from now. If you tag a terminal P/E ratio of 15x earnings onto that, then you come away with a share price of 75 CHF, which is pretty much right around where the stock is now. In addition, you're looking at collecting an extra 40 CHF per share in cash dividends during that period - well over half the starting price. If you're someone like me who thinks Nestlé tends to oscillate between being a strong buy and a strong hold - but never a sell - then that seems to be not at all a bad deal for a fairly conservative scenario.
Disclosure: I am/we are long NSRGF.
I wrote this article myself, and it expresses my own opinions. I am not receiving compensation for it (other than from Seeking Alpha). I have no business relationship with any company whose stock is mentioned in this article.
Editor's Note: This article discusses one or more securities that do not trade on a major U.S. exchange. Please be aware of the risks associated with these stocks.