Positive Macro Economic News
January was marked by a fairly consistent stream of positive macro indicators that provided support to the global reflation story. In both the U.S. and Europe, inflation readings and expectations have risen and are now at or above 2%, indicating that economies are strengthening. U.S. production figures have been generally strong (and so have China's) and employment figures, though not overwhelmingly positive, have been decent. In commodities, crude oil prices rose into the mid-$50s per barrel. The oil market appears to believe that OPEC (Organization of the Petroleum Exporting Countries) countries will live up to their production promises, although it will be interesting to see how U.S. shale producers react to the higher prices.
U.S. Rates Remain Range Bound
Government yields in Europe climbed significantly over the month, with 10-year French and German bond yields increasing 51% and 115%, respectively (ending the month at 1.03% and 0.43%) On the other hand, U.S. 10-year bond yields finished the month approximately where they began, and generally remained below 2.50%. After forcing rates higher in the weeks after the November election, perhaps the market is waiting for signs that President Trump can achieve the pro-growth tax reforms and fiscal programs promised during his campaign. Interestingly, infrastructure spending has not received much attention in the new administration's busy first weeks and was not even mentioned in President Trump's inaugural speech.
As expected, the Federal Reserve (Fed) did not raise interest rates at its January meeting but did not back off from the notion that normalization is likely. The continuation of positive U.S. economic growth readings will likely support expectations of another 25 basis points rate hike at the Fed's June meeting, or possibly before. Although expectations are for two or three hikes this year, a couple of dynamics bear watching. First, will Trump stand by quietly as Fed Chair Janet Yellen -- who he has criticized previously for keeping rates low for political reasons -- tightens rates, which could dampen growth and help further strengthen the U.S. dollar? Second, what will the Fed do with its massive MBS (mortgage-backed securities) and Treasury portfolios, and what will the impact be on market yields if it stops reinvesting principal payments?
Reflation Trend Favors High Yield
Global growth and higher global demand are usually positive for emerging markets, even though they may push yields and the U.S. dollar higher. Perhaps reflecting this expectation, emerging markets corporate bonds, particularly high yield, continued to perform well in January. High yield emerging markets corporates returned 1.87%, outperforming U.S. high yield by 0.53% and providing a spread pick-up (in option-adjusted terms) of 90 basis points. We believe investors may continue to find emerging markets high yield corporate bonds attractive, particularly given the additional carry the sector provides which can act as a cushion against rising rates. Hard currency sovereign bonds returned 1.4% in January, also driven by spread tightening. With reflation expectations generally driving credit spreads tighter, investment grade emerging markets sovereign bonds continue to appear attractive on a relative value basis, offering a 69 basis points yield pickup versus investment grade U.S. corporates.
Strong Month for Local Currency Bonds
In local currency markets, sovereign bonds had a strong month, returning 2.25% in U.S. dollar terms, with approximately equal contributions from local rates and currencies, though some currencies lagged. The Turkish lira has struggled given the country's increasing political risk, weak growth, and high inflation. The Mexican peso remained under pressure from Trump's tough talk on trade and immigration, although it did recover somewhat in the second half of January. The U.S. dollar's reversal in recent weeks, following its strong post-election rally, may persist if the Trump administration continues to talk down the dollar. On the other hand, the dollar may find support if economic readings pointing to stronger U.S. growth and inflation continue.
Argentina Added to Local Bond Indices
Positive reforms in countries like Brazil and Colombia have helped boost returns for many Latin American bond investors over the past year. Argentina has also stood out for its aggressive agenda since President Mauricio Macri took office in late 2015 to transition away from Kirchner-era policies. Macri's agenda includes fiscal, currency, and tax-related reforms, as well as an agreement with bondholders last year to end a dispute following Argentina's default in 2001 (which caused its removal from global bond indices). This agreement allowed Argentina to tap the global debt markets last year, and the country issued an additional $7 billion in bonds in January. Following reforms that have opened its local bond and currency markets back up to local investors, Argentina will be added back to the J.P. Morgan GBI-EM suite of indices, including a 3% weight in the J.P Morgan GBI-EM Global Core Index, at the end of February. The addition will have a slightly positive impact on the Global Core Index's yield, which ended January with a 6.59% weighted-average yield to maturity, as shown below.
Yield to Maturity (%)
January 2012 - January 2017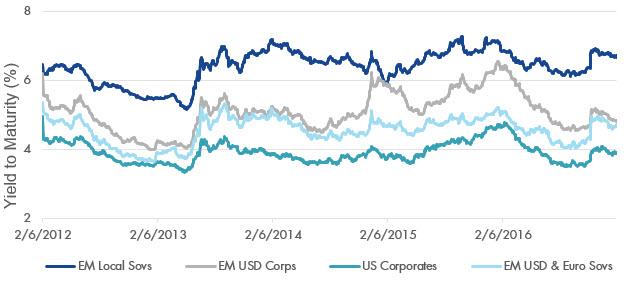 Source: FactSet as of 1/31/2017. All performance quoted represents past performance. Past performance is no guarantee of future results. Not representative of fund or fund indexes. Indexes are unmanaged and are not securities in which an investment can be made. Please see definitions below.
IMPORTANT DEFINITIONS AND DISCLOSURES
Sources of all data: FactSet, J.P. Morgan, and BofA Merrill Lynch. All data as of 1/31/2017.
Carry is defined as coupon income earned from a bond fund.
Yield to Maturity is the total return anticipated on a bond if the bond is held until the end of its lifetime.
EM Local Sovereigns: JPMorgan GBI-EM Global Diversified Index (GBI-EM) tracks local currency denominated EM government debt. EM USD & EUR Sovereigns: BofA Merrill Lynch Emerging Markets External Sovereign Index (EMGB) tracks US dollar and Euro denominated EM government debt. EM USD Corporates: BofA Merrill Lynch US Emerging Markets Liquid Corporate Plus Index (EMCL) tracks the US dollar denominated non-government debt of EM. U.S. Corporates: The BofA Merrill Lynch US Corporate and High Yield Index (IUC0) tracks the US dollar denominated investment grade and below investment grade corporate debt issued in the US domestic market. U.S. IG Bonds: Barclays US Aggregate Index (US AGG) tracks fixed-rate, publicly placed, dollar denominated and non-convertible debt issued in the US domestic market.
Index returns are note representative of Fund Returns. For fund returns current to the most recent month-end, visit vaneck.com.
The information herein represents the opinion of the author(s), but not necessarily those of VanEck, and these opinions may change at any time and from time to time. Non-VanEck proprietary information contained herein has been obtained from sources believed to be reliable, but not guaranteed. Not intended to be a forecast of future events, a guarantee of future results or investment advice. Historical performance is not indicative of future results. Current data may differ from data quoted. Any graphs shown herein are for illustrative purposes only. No part of this material may be reproduced in any form, or referred to in any other publication, without express written permission of VanEck.
This content is published in the United States for residents of specified countries. Investors are subject to securities and tax regulations within their applicable jurisdictions that are not addressed on this content. Nothing in this content should be considered a solicitation to buy or an offer to sell shares of any investment in any jurisdiction where the offer or solicitation would be unlawful under the securities laws of such jurisdiction, nor is it intended as investment, tax, financial, or legal advice. Investors should seek such professional advice for their particular situation and jurisdiction.
Please note that Van Eck Securities Corporation offers investment products that invest in the asset class(es) included in this commentary.
Debt securities carry interest rate and credit risk. Interest rate risk refers to the risk that bond prices generally fall as interest rates rise and vice versa. Credit risk is the risk of loss on an investment due to the deterioration of an issuer's financial health. Securities may be subject to call risk, which may result in having to reinvest the proceeds at lower interest rates, resulting in a decline in income. International investing involves additional risks which include greater market volatility, the availability of less reliable financial information, higher transactional and custody costs, taxation by foreign governments, decreased market liquidity and political instability. Changes in currency exchange rates may negatively impact a Fund's return. Investments in emerging markets securities are subject to elevated risks which include, among others, expropriation, confiscatory taxation, issues with repatriation of investment income, limitations of foreign ownership, political instability, armed conflict and social instability.
Investing involves risk, including possible loss of principal. An investor should consider investment objectives, risks, charges and expenses of any investment strategy carefully before investing.