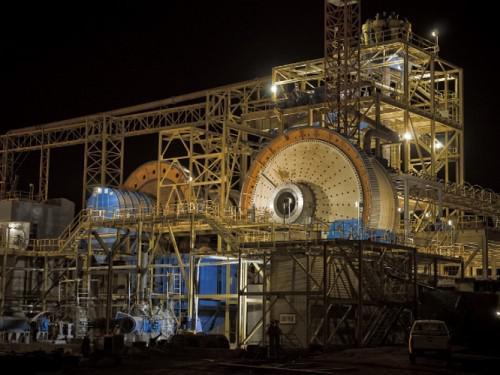 Image: Burkina Faso - Essakane gold mine
IAMGOLD (NYSE: IAG)
IAMGOLD is a mid-tier gold producer based in Canada with five operating gold mines spread across three different continents. The company also has four development projects (Westwood in Quebec, a Cote Gold project in Ontario, rare earth elements in Quebec, and Camp Caiman in French Guiana).
This article is an update to the preceding article published on November 9, 2016, about the Q3'16 results.
IAMGOLD financial snapshot:
IAMGOLD released presentation on February 23, 2016. [Click here]
To access the Q4'16 conference call transcript from seeking alpha, click here.
IAG - Fourth quarter 2016 (9 consecutive quarters)
Q4 2016
Q3 2016
Q2 2016
Q1 2016
Q4 2015
Q3 2015
Q2 2015
Q1 2015
Q4 2014

Revenues

in $million

252.5
282.4
232.5
219.7
238.2
207.6
226.5
244.7
272.5

Cost of sales

$million

233.4
230.2
208.1
213.2
283.5
227.6
228.8
231.7
239.5

AISC gold mine

in $/Oz

995
1,046
1,114
1,084
1,202
1,027
1,076
1,113
1,021

Attributable gold production

in K Oz

215
210
197
191
199
197
202
208
241

Net cash from operations

in $ million

19.1
126.6
71.2
53.1
(45.5)
9.8
31.7
27.1
72.0

Impairment charge

in $ million

0
0
0
0
621.3
0
0
0
0

Net earning

Adj. Net Earning

in $ million

(2.8)

-

17.0

21.8

(12.2)

5.9

53.1

-

(675.9)

(62.8)

(83.8)

-

(19.7)

(30.8)

24.1

-

(122.0)

-

EPS

Adj. EPS

$/share

(0.01)

-

0.04

0.05

(0.03)

0.01

0.13

-

(1.73)

(0.16)

(0.21)

-

(0.05)

(0.08)

0.06

-

(0.32)

-

Cash and Cash equivalent

$million

762.7
750.8
625.5
658.1
557.1
783.4
836.4
889.1
158.5

Capital expenditures

$ million

51.2
61.0
81.0
70.9
49.2
74.6
13.6
53.6
-

Long-term debt

$million

485.1
489
628.9
628.5
628.1
635
645
636.7
641.7

Shares outstanding basic

in million

451.8
426.82
405.9
396.6
391.4
391.4
391.3
385.1
376.9

Gold price

$/ Oz

1,190
1,326
1,269
1,188
1,101
1,121
1,194
1,221
1,201
A few balance sheet highlights:
In 2017, attributable production is expected to range between 370,000 and 380,000 ounces.
IAG established a $250 million revolving credit facility, with commitments of $170 million.
Proven and probable attributable gold reserves after depletion increased by 108K ounces to 7.8 million ounces at the end of 2016.
IAG in three simple graphs: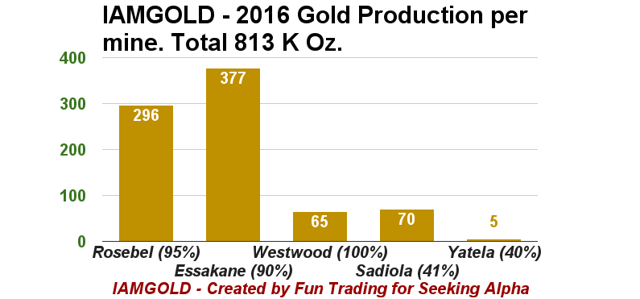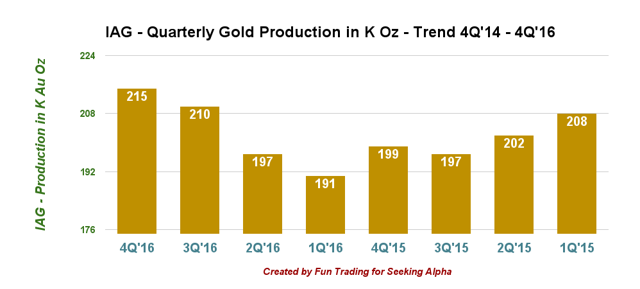 Recent sad news - One fatality at Westwood reported on February 23, 2017.
The deceased was discovered lying next to his parked equipment after the night shift. There were no indications of an accident or equipment failure. Westwood's emergency response team was immediately deployed and provided emergency assistance. Government authorities, including the provincial safety authorities CNESST, and the police were immediately notified and called to the site.
Conclusion:
IAMGOLD released very impressive 2016 results. M. Stephen Letwin, CEO, said in the conference call:
While you saw the results and I couldn't be happier. We had a great year. Operating cash flow rose 721% to 314 million. Along the road we reduced our long-term debt by 146 million and we ended the year with 763 million in cash, all of course in U.S. dollars.

Our strong financial results underscore outstanding operating performance. Production rose from one quarter to the next with 813,000 ounces for the year, exceeding guidance. All-in sustaining costs came in at the low end and we beat on cash costs.
However, revenues for fourth quarter 2016 were $252.5 million, down 10.6% quarter over quarter. I was expecting a little higher.
In general, I'm actually starting to like IAMGOLD now, and see that the company is doing a good job for the long term, despite an AISC that I consider a little too high even though it was below $1,000 in 2016.
First and foremost, the company shows basically no net debt - cash, cash equivalents and restricted cash were $763 million at the end of 2016, exceeding long-term debt by $274 million. It is a substantial advantage that many forget to take into consideration when evaluating the long-term viability of the IAG balance sheet. Barrick Gold (NYSE:ABX) is still struggling with over $5 billion in net debt.
Second, the company manages a strong project pipeline that will contribute organically to production and revenues the next few years without any risky acquisition. Projects such as Essakane with Falagountou, the Sadiola Sulfide project in Mali, Rosebel and Saramacca only 25 kilometers away from the mill, and Westwood on track to achieving full production ramp up by 2019, are quite exciting.
Furthermore, the Côté Gold project, with an estimated 8 million in indicated ounces and 1 million in inferred ounces, is an exceptional option for future growth as well. Not to forget Boto in Senegal and Pitangui.
Third, IAG generated $314 million in net cash from operating activities in 2016 or basically $50 million in FCF. Total liquidity is $900 million, excluding restricted cash of $111 million.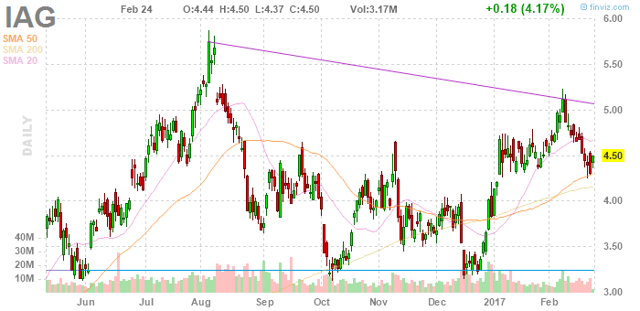 Finally, technically, IAG is showing a perfect descending triangle (right-angle triangle) pattern generally considered as a bearish pattern, which means the stock price may likely retest support at $3.25 and eventually lower.
The descending triangle is a bearish formation that usually forms during a downtrend as a continuation pattern. There are instances when descending triangles form as reversal patterns at the end of an uptrend, but they are typically continuation patterns. Regardless of where they form, descending triangles are bearish patterns that indicate distribution.
Therefore, I recommend a hold right now and wait for a pattern confirmation. The company is attractive and investors should now determine the right timing to start to accumulate. Patience is the key point here.
Important note: Do not forget to follow me on IAG and other gold miners. Thank you for your support.
Disclosure: I/we have no positions in any stocks mentioned, but may initiate a long position in IAG over the next 72 hours.
I wrote this article myself, and it expresses my own opinions. I am not receiving compensation for it (other than from Seeking Alpha). I have no business relationship with any company whose stock is mentioned in this article.