The last coincident indicator regarding the housing market that is going to be published this month is the sales number of new homes.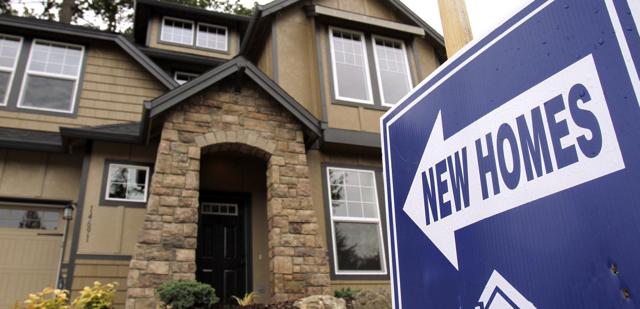 During my most recent building permits article, we saw that building permits are growing at a moderate pace. This week's existing home sales indicated the same. Existing home sales hit a decade high in January after growing 3.8% compared to January of 2016.
The new home sales story is a bit different. Economists expected 571K new home sales in January. The number came in a bit weaker at 555K. Anyhow, the uptrend has not been broken and growth is at 5.5% compared to one year ago. This is not the indication of a stunning housing turnaround. And in all fairness, I did not expect a much better number. Leading building permits are just not strong enough.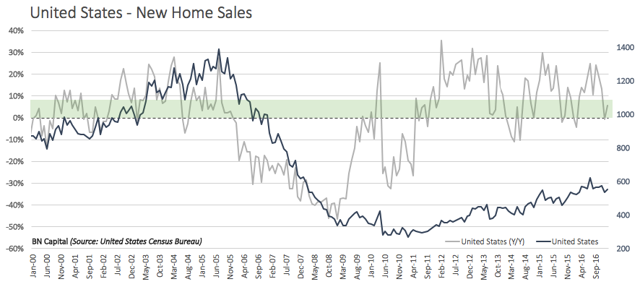 The long-term view shows that new home sales are back at levels last seen in the 1990s. Growth remains relatively consistent. As I mentioned before, this is no weakness but merely a period of moderate growth.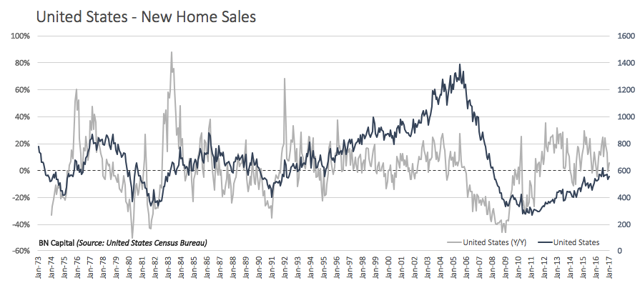 Houses for sale are accelerating. The current number is still well below the 1990s bottom but rising sharply. Houses for sale are up 11% versus one year ago. This is the highest level since June of 2016. Also note that the year-on-year growth rate is at above-average numbers. This is something that started in 2012.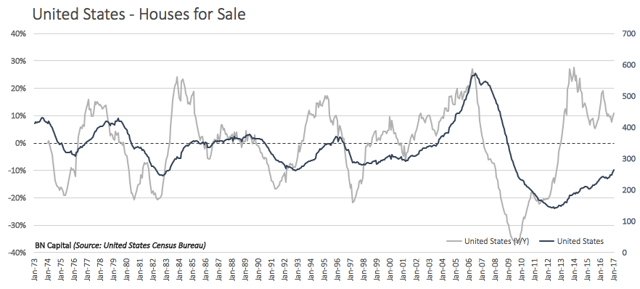 Months' supply remains at 5.7. These numbers are going sideways since 2013. The only times we saw higher numbers since 2000 were during the recession until 2012. Note that 2012 has been the strongest year for housing stocks since the recession.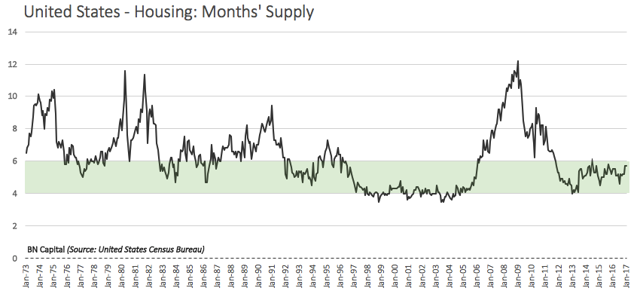 Conclusion
We can conclude one thing: the housing market is growing at a moderate pace. The latest new home sales confirm this again. A slight miss when it comes to estimates, but overall a solid growth number. The next building permits numbers will give us more info on the outlook.
Many thanks for reading my article. Please leave a comment below if you have questions or remarks. You can also send me a direct message or tweet me @LeoNelissen.
Disclosure: I/we have no positions in any stocks mentioned, and no plans to initiate any positions within the next 72 hours.
I wrote this article myself, and it expresses my own opinions. I am not receiving compensation for it (other than from Seeking Alpha). I have no business relationship with any company whose stock is mentioned in this article.