The German based Center for Economic Research publishes a monthly report with leading data for both countries and economic sectors. The institute asks about 350 financial experts in multiple countries and sectors about their outlook to get a view of what is going to happen. This is comparable to the purchasing managers index because it is forward looking. In this article, I will show you the results for the month of February. Please note that the graphs I am about to show you, come from my friend Kai Pflughaupt (Twitter: @KaiPflughaupt). I only update the graphs but didn't come up with the design.
The ZEW report looks at both the current situation and future expectations. I found a few interesting things that clash with my 'own' outlook.
First of all, the current situation is very solid in Germany and the USA. Germany is outperforming the Euro Zone once again. Germany is even stronger than the USA. The United Kingdom is the third strongest country. Note that Italy is not participating. 65.2% of all responses about Italy were negative. Only one percent had a positive outlook.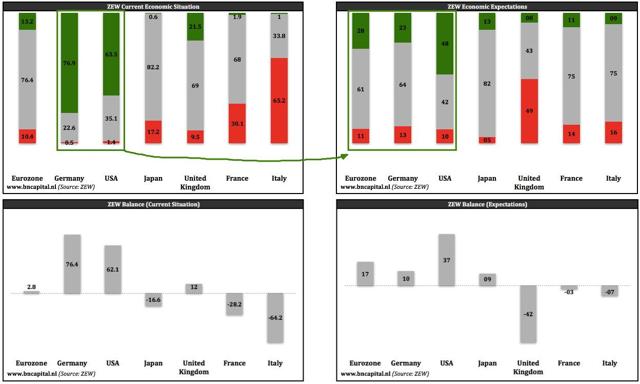 The outlook is a bit different. The Euro Zone is catching up when it comes to future expectations. The Euro Area's outlook is even stronger than Germany's. The big surprise is that people are highly negative about the United Kingdom's outlook. The UK's balance is much worse than France and Italy and way below the February average.
The next graph you are about to see shows something very important. You see the monthly balance change. In other words, how did the net performance change?
What we see is a very big surprise. The current situation has changed for the better in most countries except Germany and the USA. For this, there is an easy explanation. Both countries have performed really well in January and are still solid in February as you could see in the first graph.

Anyhow, the outlook is much more devastating. Only the United Kingdom is currently higher than last month. All other regions are slowing compared to January. Especially France, with a 15-point decline.
At this point, it is important to look if these numbers are supported by other leading indicators. In this case, I can say: NO. The first three leading regional manufacturing surveys in the US came in much stronger compared to January. European flash manufacturing PMIs also accelerated even further. This does not support the idea that growth has peaked. Although, I have to agree that France is in a much worse place than other countries. France was one of the only countries with a lower flash manufacturing PMI in February.
Conclusion
The ZEW survey shows that growth has peaked in January. Current expectations are still solid in most countries/regionals. However, the view on the UK is getting worse. The question is whether other leading indicators for February are going to support this. Flash PMI numbers are not confirming this - yet. I still believe that we are going to see an extended acceleration in February. It could be very possible that growth plateaued in March, but I don't have enough info to make a statement regarding leading indicators in March or beyond.
Many thanks for reading my article. Please leave a comment if you have questions or remarks. You can also send me a direct message or tweet me @LeoNelissen.
Disclosure: I/we have no positions in any stocks mentioned, and no plans to initiate any positions within the next 72 hours.
I wrote this article myself, and it expresses my own opinions. I am not receiving compensation for it (other than from Seeking Alpha). I have no business relationship with any company whose stock is mentioned in this article.