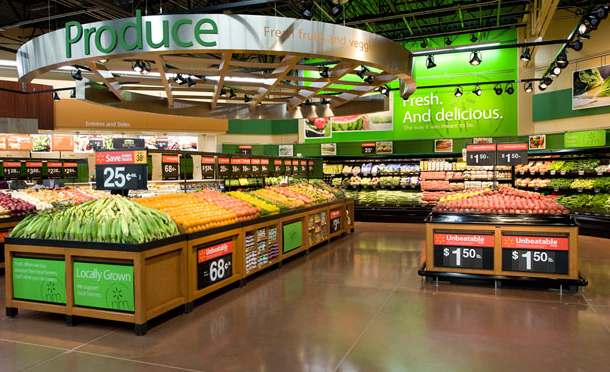 I haven't exactly been a big fan of Wal-Mart (NYSE:WMT) over the past several quarters as I've thought the company was given way too much credit for what little fundamental progress it was making. But a very well received Q4 report has the buyers out in force again and analysts racing to bump their price targets. But as good as Q4 was on a couple of levels, if we take a step back and look at WMT in the low-$70s, we still have a stock that is going for almost 17 times earnings with virtually no EPS growth. As a result, I'm still skeptical of WMT here.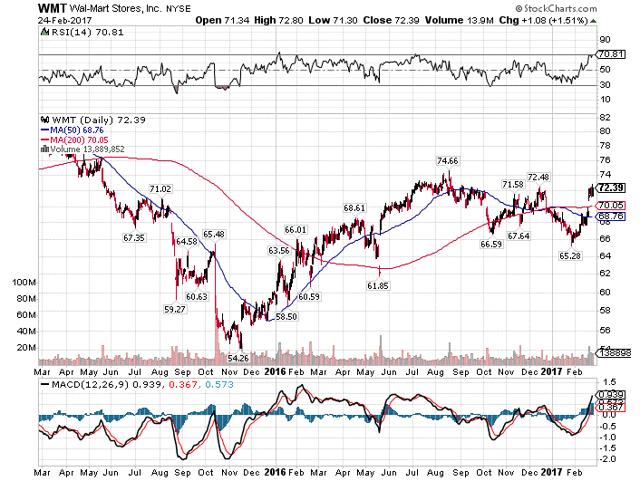 Revenue has been a big source of angst for me when evaluating WMT from the long side because it has had such a hard time generating any sort of meaningful growth. That has changed for the better in the past couple of quarters as the core business has improved markedly, aided by continued growth in the web and Market businesses. In Q4, everything moved in the right direction with the exception of the perpetual anchor known as Walmart International.
The US business did a very respectable +1.8% in Q4 on the back of a 1.4% increase in traffic. That's really an outstanding result as traffic has been weak all over retail in the past few quarters. Every subsector of retail I can think of has grappled with lower traffic counts, but WMT has bucked the trend, and while implied growth in average ticket was modest at best, the boost in traffic is really quite good.
In addition to the core business, the Market business posted a +5.3% for Q4, another staggering result in a line of quarters that look as good as this one. The Market concept has proven immensely popular and WMT is exploiting it to the fullest to be sure. It is still very small (obviously) in the context of the consolidated business, but it does provide some hope for future growth and what it has accomplished so far is impressive.
Where WMT continues to struggle is with the international business, which was once again a sizable drag on consolidated results. Currency-neutral sales were up 3%, but we all know that doesn't matter in the least because international sales have to be converted into dollars, and when that happened in Q4, it turned the +3% to a -5.1%. That's another terrible result in a long line of terrible results, and as long as international continues to dominate the revenue growth discussion, WMT is going to have a hard time boosting the top line. The US business is performing very well, but the currency translation of the international business continues to be a buzz-killer, removing two full percentage points from the consolidated revenue growth number. With the dollar remaining strong and little reason to expect that to change, it seems 2017 will look similar to 2016 in terms of revenue growth.
Unfortunately, operating margins were down significantly as SG&A costs deleveraged materially. Gross margins don't usually move much for WMT and Q4 was no exception, but expensive things like buying Jet and supporting the e-commerce business continue to drag on WMT's operating profitability. Bulls will say that at some point, those investments will stop and operating leverage will emerge, but at this point, I'm not so sure. Competitive web businesses require constant investments in infrastructure, people and even merchandise. Those things are expensive and a lot of the burden shows up in SG&A costs via higher headcount and others. Perhaps I'm missing something here, but analysts seem convinced there are already mountains of evidence this is going to occur based upon the outrageous price targets I've seen thrown around since the report.
WMT also finished its fiscal year by reducing the diluted float by almost 4% Y/Y, a meaningful move indeed. WMT is obviously beyond huge so buying back that much stock is nothing to ignore. However, will that be enough for the fundamentals to grow into the valuation? After all, revenue growth is still a valid concern and margins aren't exactly flying either.
So where does that leave us? The core US business, the Market business and even Sam's Club (!) performed very well from a revenue perspective in Q4. The problem is that almost all of the growth in those businesses was undone by currency translation from the international segment. There's no reason why one should expect that to change this year, and with estimates for less than 2% sales growth and flat EPS, I have no idea why anyone would assign an $88 price target to this stock. Nearly 17 times earnings is pretty generous when you consider all the problems WMT has, so expecting 20 times earnings is just ludicrous.
WMT is doing a lot of things right and comps are moving in the right direction. But at this point, it simply isn't translating into profit growth. SG&A costs continue higher, and with a lack of positive catalysts for gross margins, there's nowhere for profit growth to come from. That means very modest EPS growth is still going to be the norm for the foreseeable future for WMT, and I have no idea why that would make the stock worth buying at $72. WMT performed better in Q4 than I thought, but to be honest, it doesn't matter. It's not translating to profit growth so what's the point?
Disclosure: I/we have no positions in any stocks mentioned, and no plans to initiate any positions within the next 72 hours.
I wrote this article myself, and it expresses my own opinions. I am not receiving compensation for it (other than from Seeking Alpha). I have no business relationship with any company whose stock is mentioned in this article.