Ground Control to Major Golds,
Take your protein pills and put your helmet on,
Ground Control to Major Golds,
Commencing countdown, engines on.
Check ignition and may gold's love be with you....
This is Ground Control to Major Golds,
You've really begun to fade,
And the papers want to know if the rally still has legs,
Now it's time to take out resistance if you dare...
Though we're past one thousand two hundred on gold,
You're looking very still,
And I think sentiment among us is in the throes,
Shall I tell the investors you'll muster out a higher looooow?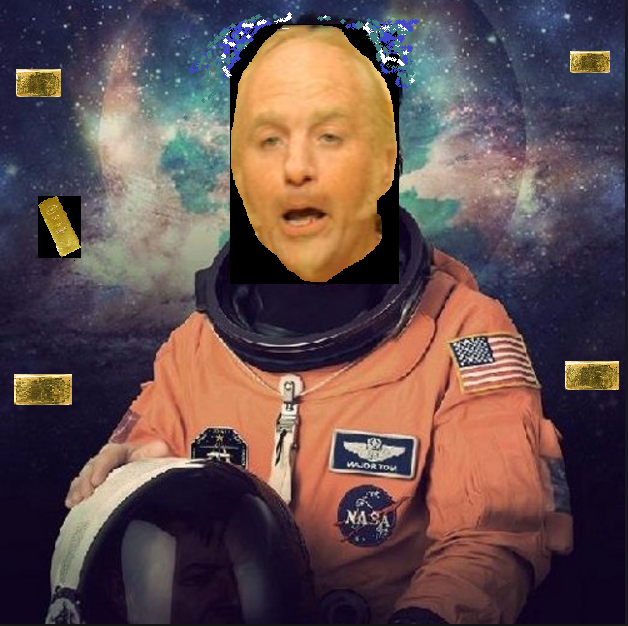 It's been a strange week in the precious metals space, and it's no surprise that many investors are bewildered by the past couple days action. We watched gold (NYSEARCA:GLD) launch higher and clear short-term resistance at $1,244/oz, while the miners did the opposite and sported their second consecutive weekly decline. Investors are right to be baffled by the divergence, as a divergence this large has only happened 10 times since the Gold Miners Index's (NYSEARCA:GDX) inception. The consensus seems to be that this is a serious red flag for the GDX, as the index should have outperformed gold today. While it certainly is frustrating, there's no concrete evidence that this is actually an ominous sign for the index. Taking a look at the past 10 times this happened, it actually leans more to being the opposite.
Given how strange a week this was, I decided to run a study to see what's happened the last time we saw this large a divergence between the metal and the miners. I used the following parameters:
Gold gains 1.50% or more for the week
The Gold Miners Index is down for the week
The thinking behind using a 1.50% gain for gold is that I did not want to use insignificant weekly gains for the metal. By using a 1.50% gain for the week, we should reasonably expect that the miners would be up given this type of move. To my surprise while the occurrences were very rare, the sample size was a little larger than I expected. Below is a look at the results:

(Source: Author's Table)
Taking a look at the above table, we can see that the average gain for these samples was 2.69%, slightly above the 1.8% gain for the GLD this week. Looking at the average weekly return for the Gold Miners Index, the average return was actually lower for the week at 1.66%, compared to this week's 2.66% decline. The one difference in this week's move by gold was that it occurred while gold made a new 3-month high. I controlled for this in another sample but found very similar results, so I decided to stay with this study to give us a better sample size.
Moving to the returns, we can see a sea of green to the right side of the table. The average 1-week return for the GDX is 0.73%, but we are positive 63.6% of the time. Scooting over to the 1-month return for the GDX, the average return is 3.39%. This average return is significantly diluted by two very ugly 1-month forward returns, but nevertheless is still quite impressive. What I find most encouraging about the 1-month return is that the GDX is positive roughly 73% of the time. While this is a small sample size and only so much weight can be put into it, the results certainly do not look as ominous as many are making this week's debacle out to be.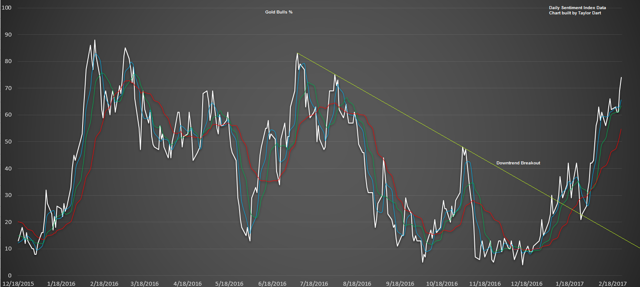 (Source: Daily Sentiment Index, Author's Chart)
Despite the Gold Miners Index sputtering this week, gold has charged higher in both price and sentiment. Bullish sentiment on gold is now above the 70% level. Bullish sentiment is trending higher, while the sentiment moving averages also trend higher as support. This is a very positive sign for the bulls, and this is the bullish alignment we want as we prepare for battle with the 200-day moving average. For those that are thinking that a 70% plus sentiment reading means we may be getting overbought, they are mistaken. The S&P 500 (NYSEARCA:SPY) hit a reading of 70% on December 8th of last year and we are now sitting roughly 6% higher in less than 3 months of trading. In addition to this, the S&P 500 never traded more than 0.3% below this level. This is further proof that a 70% reading is nothing to be concerned about, and in most cases is actually a sign of higher prices to come. The 70% plus reading on the S&P 500 is shown in the below chart by the circle.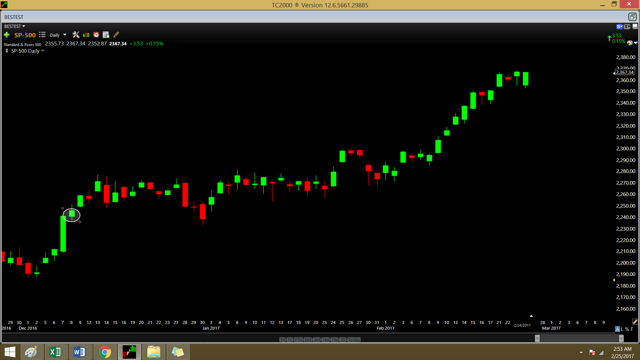 (Source: TC2000.com)
How about comparing apples to apples and looking at previous times when gold hit 70% plus bulls for the first time after registering a reading below 10% in the previous 2 months? The most recent occurrence is on February 5th of last year when bullish sentiment closed at 77%, and gold closed at $1,173/oz. I think we all know what happened next, but the chart below should help hammer this home. The metal catapulted itself $90/oz higher over the next 5 trading days, from $1,173/oz to $1,263/oz. Does this mean this is how the current sentiment outlook will play out? No. This is simply an exercise to help investors who may be worried about a 70% plus bullish sentiment reading see that it often leads to higher prices, not lower ones. A 70% bullish reading is nowhere near a contrarian indicator, and I would personally much rather be at 70% bulls than 50% bulls.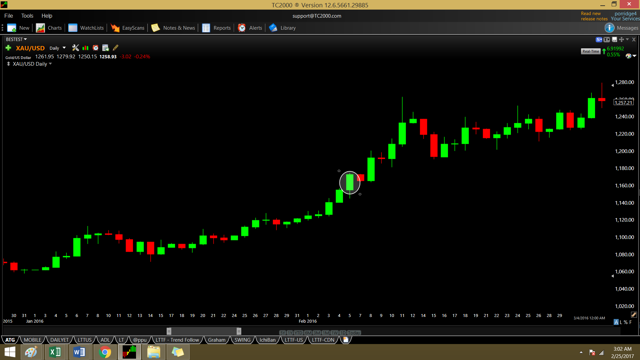 (Source: TC2000.com)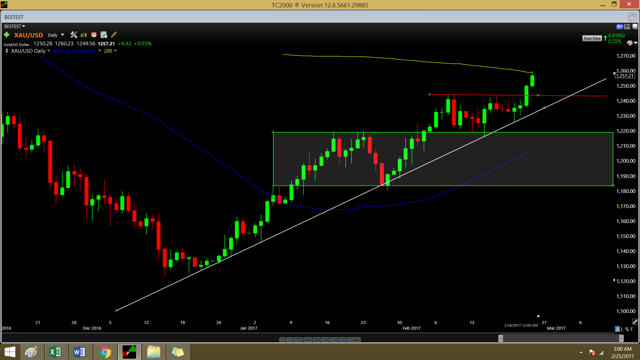 (Source: TC2000.com)
As we can see from the above chart of gold, the metal continues to ride its uptrend line up and has now broken out above short-term resistance at $1,244/oz. Gold continues to respect its January resistance at $1,220/oz, and this level has now turned into support for the time being. The only negative thing about this chart is that we have now run into resistance at the 200-day moving average (yellow line). This is not bearish, but we are now at the most significant resistance level of this rally. I would like to see gold bulldoze through this level next week, and I believe this would catch a lot of traders who are shorting right now off guard. The fact that gold did not close above the 200-day moving average today did not surprise me, as resistance does not typically get broken on its first test.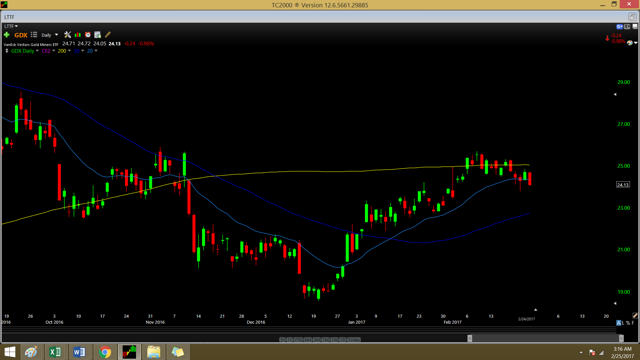 (Source: TC2000.com)
Taking a look at the Gold Miners Index, we can see that the index ultimately was rejected at the 200-day moving average. This has made me less aggressive on the index, but has not changed my positioning at all. I still remain 60% long miners across my accounts, with 30% of that weighting being new positions I've added in 2017. The Gold Miners Index is above its rising 50-day moving average, and has slightly violated its 20-day moving average. I have no interest in predicting where the next 4-5% move in the GDX is, and for that reason, I am sitting still and remaining unleveraged. If gold continues its ascent, then I would be very surprised if we breach the 50-day moving average. From a trend following perspective, my short-term momentum indicator is in slightly bearish territory, but my daily trend is still pointing up. For us to get all green lights on the index, I would like to see a close back above the 200-day moving average and above $25.75.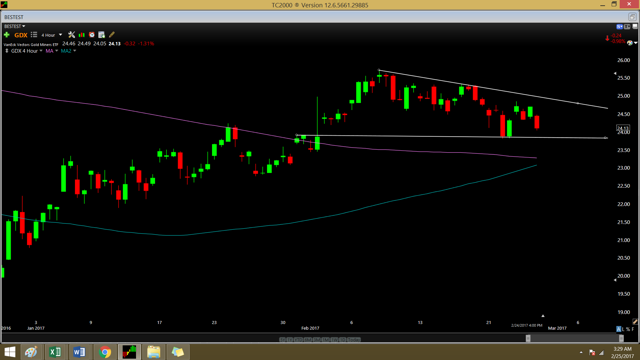 (Source: TC2000.com)
My short-term trend indicators are currently hovering around the $23.45 level, and one is trying to curl higher and assume a positive slope. If we do manage to take out this week's lows, then I would like to see these moving averages catch price on my 4-hour chart.
Despite what was a very frustrating week, I don't see any real damage done to the Gold Miners Index. Gold has actually become more bullish, and another gain next week would likely put it into 'max' bull mode for my trend systems. While many investors were hoping to see a sea of green in their accounts today, most of us instead did not bother to look after the close. There is no reason to overthink this week's action, and the table above shows that this type of divergence has not shown to be an ominous sign in the past. For the time being, I remain long my gold juniors and have independent stops on all of them in case this is one of those 3/11 cases from the above table. If gold is able to close above $1,270/oz, I plan to double my current gold position from my entry at $1,176/oz. This would give me a new average cost near $1,220/oz and a full position in my futures account.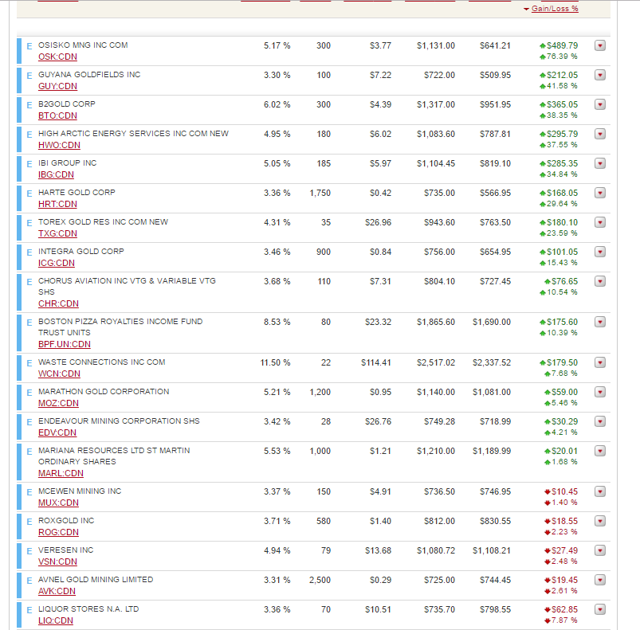 (Source: CIBC Investors Edge Account)
For full transparency, I have shown one of my accounts above. I will only be showing my smallest account going forward out of respect for my newsletter subscribers.
My three largest gold positions by weight in no particular order are:
Disclosure: I am/we are long GLD, MGDPF, TORXF, BTG.
I wrote this article myself, and it expresses my own opinions. I am not receiving compensation for it (other than from Seeking Alpha). I have no business relationship with any company whose stock is mentioned in this article.
Additional disclosure: If you liked this article and found it useful, please feel free to follow me by clicking on my name next to my avatar at the top of this article. I also invite you to follow me at www.twitter.com/TaylorDart01 where I routinely share my entries, exits, and stops on new positions, as well as updating followers on sentiment data on markets I am following.