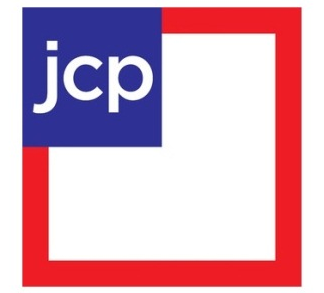 J.C. Penney's (NYSE:JCP) shares slumped ~6 percent yesterday after the retail company reported 4th quarter results on Friday that managed to beat analysts' consensus estimates, but otherwise disappointed investors with respect to comparable store sales growth, and a soft 2017 guidance. That said, I think J.C. Penney is oversold right now, offering a good entry into the stock.
Earnings Beat And Weak Guidance
J.C. Penney has turned things around in terms of comparable store sales growth from 2014-2016. For most of this time, comparable store sales have been growing, a demonstration that J.C. Penney's restructuring was working, and starting to pay dividends. The company also reduced its operating losses gradually over time, and investors have been buying into the story of a true turnaround.
J.C. Penney said it pulled in adjusted earnings of $0.64/share in the 4th quarter which compares favorably to last year's adjusted profits of $0.39/share. The retailer also beat analysts' consensus earnings expectations of $0.61/share.
But the company's weak 2017 guidance was what really ticked investors off yesterday. J.C. Penney said that it will shut down more than a hundred underperforming stores in the coming months, which obviously is going to affect the retailer's full year comparable store sales results. J.C. Penney now expects minus 1 to plus 1 percent in comparable store sales growth in 2017, which is not much to get investors excited about the stock. Further, the retail company said that its gross margin will grow only 20-40 basis point Y/Y, similarly disappointing investors that hoped for a larger gain.
J.C. Penney's 4th quarter comparable store sales growth was also not exactly what investors had hoped for. The company's 4th quarter comps decreased 0.7 percent compared to the 4th quarter of last year, missing estimates of a 0.3 percent decline, and fueling concerns that the retailer's comp recovery is coming to an end. That said, the retailer did manage to post positive earnings, though: J.C. Penney's 4th quarter profits hit $192 million compared to a loss of $131 million a year ago.
J.C. Penney Is Now Oversold
Two months ago J.C. Penney's shares were changing hands for more than $10. After yesterday's emotionally-fueled sell-off, investors can gobble up shares for less than $6.50. J.C. Penney's shares have slumped ~40 percent from the December 8, 2016 high ($10.74), suggesting that J.C. Penney is way oversold, and investors are way too bearish about the retailer.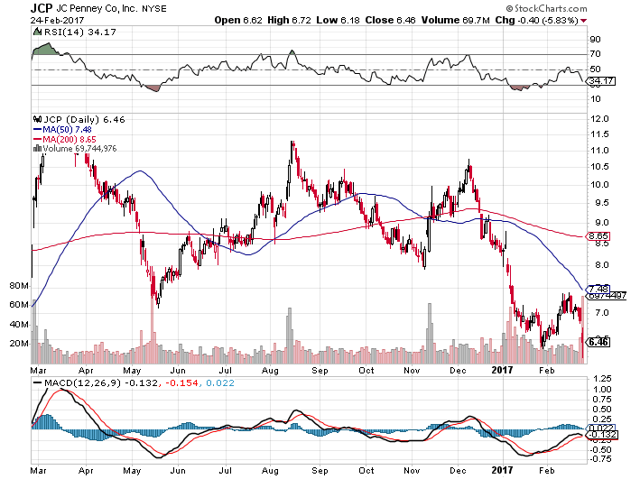 Source: StockCharts.com
Your Takeaway
J.C. Penney's 4th quarter results were not great in terms of comparable store sales growth, and the retailer's guidance for the 2017 financial year was weak. Store closures are obviously going to affect J.C. Penney's revenues and profits this year, and that's clearly not a positive. However, J.C. Penney deserves the benefit of the doubt: The company also beat earnings expectations, and has returned to profitability, which is nonetheless a sign that the retailer's restructuring is going the right way...Even though more work needs to be done. Considering that J.C. Penney's shares are oversold, I think there is an opportunity to play a technical rebound in the stock. As far as I am concerned, J.C. Penney's shares have fallen too hard, too fast. Speculative buy.
If you like to read more of my articles, and like to be kept up to date with the companies I cover, I kindly ask you that you scroll to the top of this page and click 'follow'. I am largely investing in dividend paying stocks, but also venture out occasionally and cover special situations that offer appealing reward-to-risk ratios and have potential for significant capital appreciation. Above all, my immediate investment goal is to achieve financial independence.
Disclosure: I am/we are long JCP.
I wrote this article myself, and it expresses my own opinions. I am not receiving compensation for it (other than from Seeking Alpha). I have no business relationship with any company whose stock is mentioned in this article.