Risk sentiment continued holding up for another week, with rhetoric from the Fed looking to raise rates 'soon' barely affecting risk sentiment or the USD.
Next week brings durable goods numbers and ISM manufacturing and Non-Manufacturing numbers. However, the focus will likely continue to be on policies coming out of the White House, with tax policy clues the key focus.
Trading and Technical Strategy for the week ahead:
Dollar Index, DXY (UUP, USDU, UDN, FXE, FXB)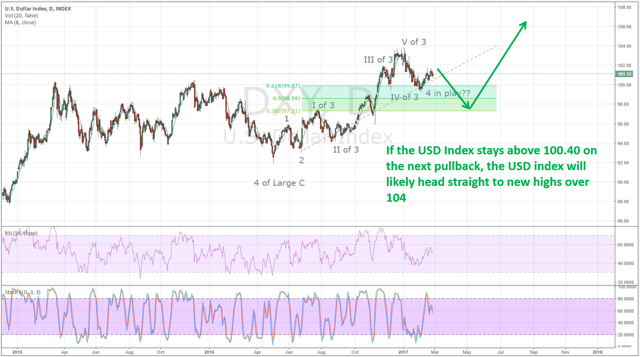 Charts created by themarketjournal, data provided by SAXO markets
| | |
| --- | --- |
| Key Levels | |
| Support: | 101.10/ 99.68/ 98.40/ 97.12 |
| Resistance: | 104/104.50/ 105.25/ 106 |
| | *Level to consider buying at for support and selling at for resistance for intra-day trades |
The USD continued to be range bound throughout the week, though the overbought conditions have now been reset. Given the current technical conditions, the next pullback in the greenback may provide long opportunities, as long as 100.40 is not broken to the downside. The Dutch elections coming up on 15th March, could be a key catalyst for the greenback.
Trading strategy:
We initiated a short position in the AUD/USD at 0.7709, but have now instead decided to hold on a little longer given the technical picture in the Australian Dollar (NYSEARCA:FXA). We do think that 0.7580/0.7615 will be tested in the coming week before any corrective bounce to the upside. Our stop loss currently resides at 0.7705.
XAU/USD (NYSEARCA:GLD)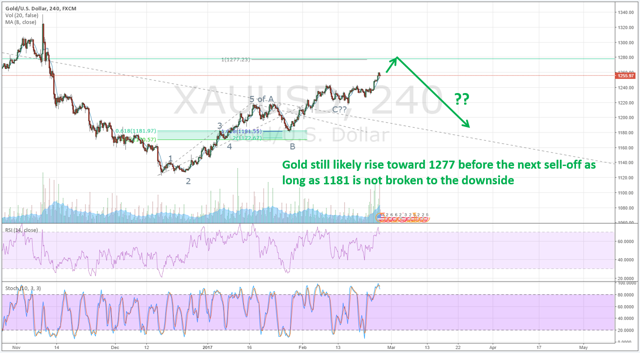 Charts created by themarketjournal, data provided by SAXO markets
| | |
| --- | --- |
| Key Levels | |
| Support: | 1245/ 1205/ 1170/ 1130/ *1100/ 1050 |
| Resistance: | 1265/1280/1305/1330/1360/1400 |
| | *Level to consider buying at for support & selling at for resistance for intra-day trades |
GOLD remains on track to move toward the 1277 eventual target for this move off the 1122.51 low back in December. Given the weak momentum in the dollar, we think this upside target will be met over the next week or two.
Trading strategy:
We prefer to wait for 1277 to establish short positions in the metal, to play for the expected larger multi-week downside move thereafter, or a bearish confirmation with a break of 1235 to the downside to establish short positions.
WTI OIL (USO)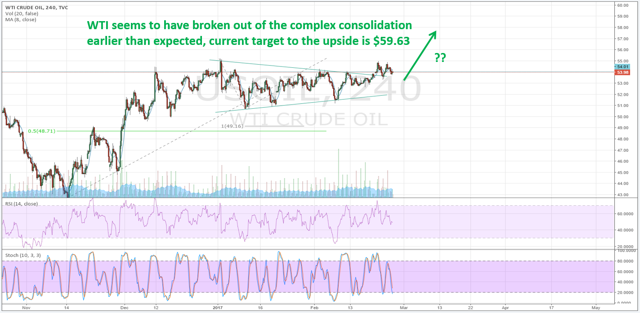 Charts created by themarketjournal, data provided by SAXO markets
| | |
| --- | --- |
| Key Levels | |
| Support: | 53.80/ 52.60/ 51.30/ 50.20/ 49.80/ 49/ 48.30/47.15/ 46.30/ 45.30 |
| Resistance: | 55/ 56.20/ 57/ 58.50 |
| | *Level to consider buying at for support & selling at for resistance for intra-day trades |
*Note on our price chart: Before we dive into the WTI technical analysis, we have decided to use the WTI continuous futures price as a chart instead of the original spot price posted in our article. This price will match the nearest dated WTI crude futures contract which will switch automatically once the contract settles, moving on to track the next nearest dated futures contract. We will also be only analyzing the technical aspect of the WTI price, given the fundamental aspect of WTI oil is well covered by many subject matter experts in the energy commodities section. At this time, the nearest dated futures contract being tracked by the above price chart is the April 2017 contract.
WTI oil broke out technically to the upside, and may now move toward the $59.63 level to the upside. We think that it is worth participating in the bullish momentum at this stage, as the risk vs. rewards are quite clearly defined in the commodity at this time.
Trading strategy:
We think position traders should wait for a pullback to around $53.25 to go long the commodity, with a stop loss of $51 to the downside, and an upside target at $59.63.
Risk Disclosure:
High Risk Warning: Foreign exchange, futures and ETF trading carries a high level of risk that may not be suitable for all investors. Leverage creates additional risk and loss exposure. Before you decide to trade any instrument, carefully consider your investment objectives, experience level, and risk tolerance. You could lose some or all of your initial investment; do not invest money that you cannot afford to lose. Educate yourself on the risks associated with trading, and seek advice from an independent financial or tax advisor if you have any questions.
Advisory Warning: THEMARKETJOURNAL provides references and links to selected blogs and other sources of economic and market information as an educational or informational service to its clients and prospects and does not endorse the opinions or recommendations of the blogs or other sources of information. Clients and prospects are advised to carefully consider the opinions and analysis offered in the blogs or other information sources in the context of the client or prospect's individual analysis and decision making. None of the blogs or other sources of information is to be considered as constituting a track record. Past performance is no guarantee of future results and THEMARKETJOURNAL specifically advises clients and prospects to carefully review all claims and representations made by advisors, bloggers, money managers and system vendors before investing any funds or opening an account with any brokerages or dealers. Any news, opinions, research, data, or other information contained within this article and our website is provided as general market commentary and does not constitute investment or trading advice.
Disclosure: I/we have no positions in any stocks mentioned, and no plans to initiate any positions within the next 72 hours.
I wrote this article myself, and it expresses my own opinions. I am not receiving compensation for it (other than from Seeking Alpha). I have no business relationship with any company whose stock is mentioned in this article.