In August 2015, after crude oil's precipitous fall, I analyzed the energy ETF XLE (NYSEARCA: XLE) and argued that an investor with average to above average risk tolerance could find better returns elsewhere. Because of the fund's diversification and already-depressed commodity prices, XLE would not share equally in the gains if energy prices had even a modest recovery.
Today, with West Texas Intermediate hovering between $50 and $55 per barrel, things are different. XLE now provides investors with downside protection in case OPEC's production cut falls apart (a strong possibility) and its diversification serves as a strength for investors fearful of picking a losing Exploration and Production company. In order to make an informed portfolio decision, it is necessary for an investor to obtain an understanding of how XLE performs throughout the commodity cycle.
XLE Throughout The Commodity Cycle
The principal argument causing my hesitation with XLE in the past was how it would perform in an oil bull market. Since the fund is composed of service companies, midstream companies, and integrated majors it is inherently set to underperform the price of oil during periods of rising prices. This occurred over the past 12 months, during which USO - an ETF that tracks the price of crude oil - outperformed XLE by about 6% (see chart below).
Source: Yahoo Finance
Of course, this same diversification that limits upside is what enables XLE to outperform the price of oil during bear markets. As you expand the above chart back another year, XLE's outperformance is dominant, only falling half as far as USO. As such, if the OPEC deal falls apart and domestic producers continue to add more rigs, then XLE will weather the storm better than E&Ps and bets on the price of oil due to the fund's diversification.
Source: Yahoo Finance
Over the past six months, XLE has lagged behind USO as oil prices improved modestly. This approximately 2% difference between the two funds' returns is essentially the price an investor pays for downside protection, a protection that is greatly needed by investors who remain skeptical of OPEC's ability to sustain higher oil prices. Today, with such an uncertain future ahead for the price of oil, this is the fund's greatest strength; XLE's ability to outperform crude oil in down markets can help fearful energy investors sleep at night by adding conviction that their downside is limited.
Source: Yahoo Finance
The Portfolio Solution for Risk-Averse Energy Investors
Investors who want exposure to the Energy sector, but want to avoid the wild swings the sector is famous for, need look no further than XLE. The charts above indicate that the fund is diverse enough to limit volatility while still achieving a strong correlation to the recent gains of the sector.
Moreover, 17% and 11% of the fund is composed of service companies and pipelines, respectively. That makes 28% (plus the fraction of the integrated companies that lie in the midstream) of the fund that benefits from the recent increase in domestic drilling: as drilling increases, so too does the demand for oil field services.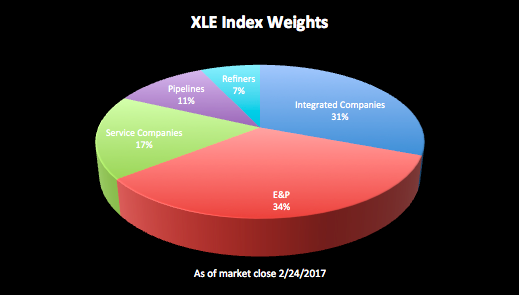 Data Source: Fund Holdings
Picking any one individual upstream company at current prices remains extraordinarily risky for investors, even though doing so could yield higher returns than a sector ETF. Recent history shows us that XLE can provide exposure to the industry without being exposed too much to any individual company's tight balance sheet and break-even requirements.
However, for those skeptical of OPEC's powers (a camp I am a member of), the Energy sector at large remains risky: the price of oil is up near a 52 week high despite lingering uncertainty. In many ways, then, the fund makes sense only for investors who are mildly optimistic about the price of oil and who have a weak appetite for the risk investing in a crude oil ETF carries.
For these particular investors, XLE remains a strongly diversified play on the sector at large. With limited exposure to E&Ps, the fund will avoid a dramatic collapse if oil prices crash, and the fund should continue to generate positive returns if OPEC manages to execute on its supply cutting commitment.
Disclosure: I/we have no positions in any stocks mentioned, and no plans to initiate any positions within the next 72 hours.
I wrote this article myself, and it expresses my own opinions. I am not receiving compensation for it (other than from Seeking Alpha). I have no business relationship with any company whose stock is mentioned in this article.