Last week Yellow Pages Ltd. (OTC:YLWDF), the largest print directory and digital marketing company in Canada, released its Q4 results. The Q4 numbers were not great but not awful either - they were largely within expectations, including mine. However, a couple of items in the press release spooked investors, and the stock has subsequently sold off by a whopping 44%!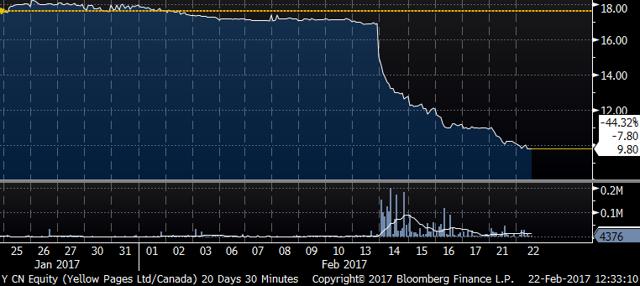 Yellow Pages stock is not very liquid, with average daily volume in the past year of only 80k shares, or ~$1.4M in value traded. On what was (before the post-earnings sell0off) a $475M market cap company that is not very much liquidity. The company had some meaningful institutional ownership as seen below.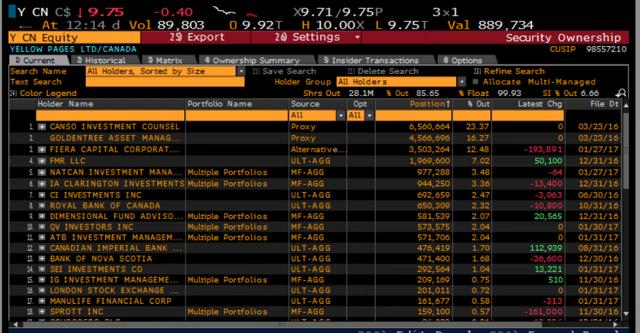 But the stock has only traded ~4.5M shares since the earnings release, which means that if you assume the majority of these institutional holders still want out, the stock could be headed even lower in the near-term unless some buyers step in (so far they have been elusive).
So what happened to cause investors to indiscriminately sell their shares, even with the stock down over 40% in just a few days? First there was a one-time, $600M non-cash write-down of intangible assets. The company blamed a marked acceleration in an unfavorable change in the product mix in Q4 for the write-down. Basically this means the company expects to be less profitable than it previously anticipated selling digital products. It still has $741M in intangibles on the books that it amortizes on a quarterly basis. This write-off will serve to lower the non-cash amortization expense on the income statement each quarter, which had been on the rise as the company capitalizes its software development costs. The intangible amortization was serving as a tax shield as it lowered net income and boosted cash flows from operations. However, as part of the large write-down and associated loss in the quarter the company recorded a $161M tax benefit. As such the company does not expect to make any cash income tax payments in 2017 or 2018 per its outlook in the supplemental disclosure. So the net effect on cash flow should be slightly positive for the company going forward.
The second thing that spooked investors was the lack of guidance for 2017. The company instead deferred 2017 guidance to its annual meeting in May, leaving everyone to wonder what expectations for margin, customer acquisition and digital growth should be going forward. The combination of these two items were enough to scare many investors; they hit the eject button. The company likely received a lot of pressure from investors after earnings came out, so it decided to placate them by putting out a press release this week providing some high level guidance for 2017. The biggest news for investors was the revised EBITDA margin guidance. Previously the company had expected a 28-30% margin as it executed on its return to growth plan. Yellow Pages (or YPG) had hit that targeted range every quarter in 2016. For 2017 the company is lowering its expected EBITDA margin range to 22-24%, which is quite a drop. The company notes that some of that margin decline is due to what it calls 'non-reoccurring investments related to addressing the product mix effect." I take this to mean additional marketing and branding spend to educate customers on some of the higher value-add services Yellow Pages provides. The company is also working to address consumer perception of the Yellow Pages brand, shifting from an old print directory business to a digital first, value-add marketing partner for its customers. I questioned the decision to change its name from Yellow Media to Yellow Pages a year or so. Maybe it is time to change it again to something less reminiscent of those big yellow directories sent to everyone's home that now get thrown right in the recycling bin. Guidance also included a goal of 45,000 new customers in 2017, a stable customer count, and digital revenue growth of 4-7%. Expectations for capital expenditures were unchanged at $70M.
Obviously the margin guidance for 2017 is disappointing, however I believe it can stabilize in the 24-25% longer-term as it has for some of Yellow Pages' peers in Europe. This is still a healthy margin and should help to generate a sizable amount of free-cash-flow over the longer-term. Clearly the confluence of these factors should have led to a stock price decline post earnings, but the magnitude of this sell-off seems extreme. I updated my model with Q4 data, 2017 guidance and longer-term projections. Here are my topline projections (inputs highlighted in yellow).

From there I used the following EBITDA margin expectations. Based on these assumptions, I concur with management that EBITDA can stabilize in 2018.

To arrive at free-cash-flow that can be used to repay debt, I used the following assumptions and arrived at these estimates.

According to my projections, the company will likely only generate ~$50M in free cash flow that can be used to reduce debt in 2017. On the earnings call the company said it expected about $75M in FCF in 2017. The guidance press release this week did not mention FCF, so we will have to wait and see. The biggest unknown variable is the restructuring costs outflows. I assumed $20M, which would be down from $34M in 2016. It could be $10M or it could be $30M. We will have to wait and see. I don't expect much benefit or draw from changes in working capital in 2017.
The balance sheet as of December 31 showed $75M as the current portion of long-term debt. It seems like a stretch to me based on what we know today. Regardless, the FCF expected to be generated in 2017 is a major step-down from the $95M generated in 2016. A big portion of the drop-off of course comes from the margin decline. But the company is also bumping up capex in 2017 as it spends $20M on leaseholder improvements as it relocates its Montreal headquarters - presumably more toward city center to attract the younger generation of workers (millennials). We have seen GE and McDonald's do the same. This is a major expense and could not come at a worse time, but presumably it will be a one-time item. The company expects capex to drop from $70M in 2017 to $58M in 2018. 2018 includes $8M to relocate its Toronto office. These are not insignificant expenses, and as a shareholder I hope the company weighed the costs vs. benefits for these moves very carefully. If the margin improves slightly in 2018 and digital growth can stay in the low single digits, the company should see a nice rebound in FCF in 2018 - up to $70-$75M.
Long-term shareholders recognize that the company has the ability to prepay the senior notes at par on June 1 of this year. It now seems doubtful that the company can refinance the debt at a significantly better rate than the current 9.25%. My assumptions presume the company continues to use all FCF to reduce debt and refinance next year at a 7.5% rate. On the earnings call the CEO was noncommittal about what it will do with its FCF in 2017. He left the door open to more acquisitions, which I am sure did not make the bond holders feel great considering the acquisitions made to date have been lower margin than company average and more cyclical in nature. In addition, Juice Mobile saw major employee turnover post-acquisition and lower than expected growth as a result. It also operates at a 10-15% EBITDA margin at best. I doubt shareholders or bond holders want the company to make any more meaningful acquisitions at this point.
I firmly believe that the company should continue to direct all FCF to reduce debt. I think that the current level of debt is sustainable given what we know about the company's prospects today. However, interest costs are still a very meaningful expense (~$35M in 2017). Reducing the senior notes to $100M or less can save the company at least $20M in cash flow annually. That would be a very meaningful addition to FCF that can be used for either shareholder returns or acquisitions. For now, my hope is that the company continues to direct all available free cash to debt repayment. My projections estimate that the senior notes (assuming a refinancing at some point before maturity in 2018) could be below $100M by 2019. YPG will never be an amazing business. Competition in digital marketing is intense. Yellow Pages benefits from its scale, and it can maintain acceptable levels of profitability so long as it continues to provide innovative and accretive solutions to its customers. It also needs the Canadian economy to hold up - particularly the real estate market.
In conclusion, I certainly congratulate the short sellers - they nailed this one in the near-term. Though at the current market cap of $272M, even $50M in FCF in an 18% FCF yield. That type of yield is usually reserved for highly levered companies that could go bankrupt. If Yellow Pages does $175M in EBITDA in 2017 (down from $235M in 2016), it is still only levered 1.75x through the senior notes (2.4x through the debentures). Is Yellow Pages at risk of going bankrupt? I do not see that happening. It will not have to pay any cash taxes for some time and has made great progress on its pension obligations. I think the current price is more a reflection of the lack of liquidity as well as some investors just dumping without running the numbers. They saw the intangibles impairment and massive GAAP loss in Q4 and hit the eject button. If the company continues to use all FCF to de-lever down to $100M in senior notes by the end of 2019, I have to believe the shares (on the TSX) are worth at least $16-$18/share. That does not even assume any meaningful multiple expansion from this very depressed level. That just assumes value being transferred from the bond holders to the equity holders as it essentially de-risks the balance sheet.
But for now investors are taking a wait and see approach. I have to believe some buyers step up here soon if the stock keeps dropping. It could hit $8/share on the TSX if the relentless selling continues. That would put the FCF yield above 22% assuming what should be a trough in FCF at only $50M. While it is true the company's prospects have dimmed, it is not lights out for Yellow Pages. Assuming the Canadian economy does not fall off a cliff, this company is not going bankrupt. I believe that buying under $10/share should prove to be a very nice entry point over the next 1-2 years. Personally I lost about everything I had made on this stock with the latest drop. I trimmed several times in the past few years in the high teens/low 20s. I'm waiting to see where shares shake out before adding. The warrants are tempting, but based on what we know today I'm not sure the share price will ever get near the conversion price of $28.16. Yes there is a big time premium in the warrants, but they are definitely more risky. I would put most of my capital to work in the common stock (or debentures if you can get your hands on some) if I was adding here. Risks to my thesis are numerous, and include continued margin pressure, a marked decline in the Canadian economy, and more non-accretive acquisitions. At its annual meeting in May the company needs to let all stakeholders know that it is committed to reducing debt further and will use all FCF for that purpose. That should help boost shares. Best of luck to all.
Disclosure: I am/we are long YLWDF.
I wrote this article myself, and it expresses my own opinions. I am not receiving compensation for it (other than from Seeking Alpha). I have no business relationship with any company whose stock is mentioned in this article.