WTI (NYSEARCA:USO) finished the week pretty much flat again, rising just 0.4% from the week before.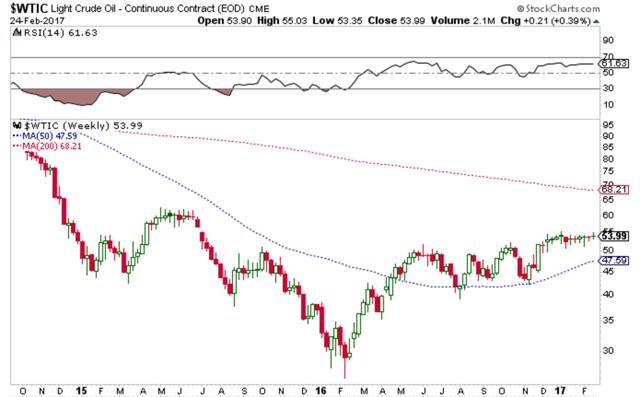 The trading range has considerably tightened over the last several weeks as physical oil traders shift their focus to spreads rather than going outright long or short futures.
With US oil production a primary focus for many observers, the common belief is that the Permian will provide bulk of the production growth in the years ahead. In this week's International Petroleum presentation, Energy Aspects gave a presentation on where it expects most of US crude production to come from: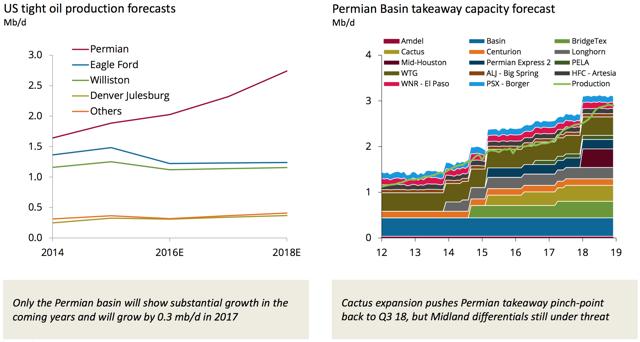 Source: EIA, DrillingInfo, Regulatory Data, Energy Aspects analysis
The Permian according to Energy Aspects is expected to provide all of the US crude oil production growth over the next two years totaling 600k b/d from 2016 level. This alongside NGL, and condensate production will push US production 1.1 million b/d higher Q4 2017 over Q4 2016. Crude production will likely only rise 300k to 400k b/d for 2017.
Permian production as you can see will also be somewhat constrained by the available takeaway capacity. Producer guidance has also been a good measurement in how to estimate Permian oil production, and there's no doubt we will see growth.
For US Gulf of Mexico crude production, however, Energy Aspects expects a decline this year and sees the medium sour differential tightening.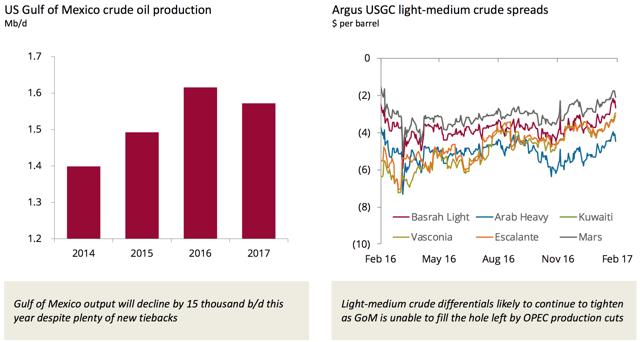 Source: Argus, EIA, BOEM, Energy Aspects analysis
As a result of the forecast, Energy Aspects expects US production to increase 400k b/d year over year on average, and most of the crude production increase will come from the Permian while other shale basins lag.
Disclosure: I/we have no positions in any stocks mentioned, and no plans to initiate any positions within the next 72 hours.
I wrote this article myself, and it expresses my own opinions. I am not receiving compensation for it (other than from Seeking Alpha). I have no business relationship with any company whose stock is mentioned in this article.