Consumers are saving money on important costs. Energy is inexpensive in comparison to years past, and though future prices are difficult to predict, oil and gas can remain that way. Agricultural products such as corn and wheat also cost less presently. Additionally, while there is concern about future trade with Mexico, the depreciation of the peso should cheapen its agricultural goods. Consequently, there is reason to believe that select retail businesses such as Home Depot (NYSE:HD) can continue to perform as their customers may have discretionary funds available.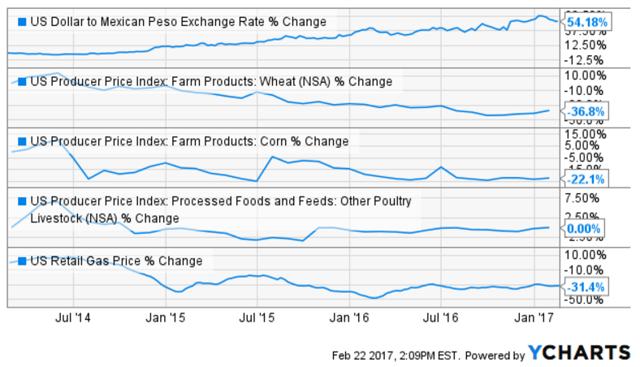 Ironically, the peso's decline has been material for some left-leaning commentary because it is supportive of Mexico's exports. However, at least temporarily, the effect upon fresh fruits and vegetables should be an added benefit to consumers. Here is a YChart showing the exchange rate since the election: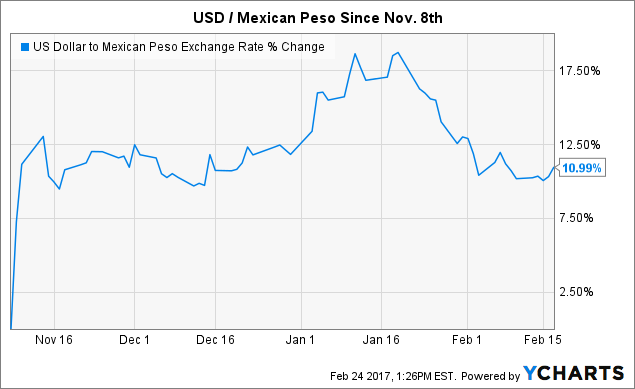 US Dollar to Mexican Peso Exchange Rate data by YCharts
Though it is somewhat off-topic, core measures of inflation, which back out food and energy prices, might rise faster in 2017. Items included in the core basket of goods are automobiles and household furnishings. Though known to be volatile, non-core data can remain relatively subdued several months into the future, at least.
Still, with a transition underway after campaigning that was rife with commentary on protectionism, it is not clear what is rhetoric and what policies might be pursued and implemented by the government. The steel industry is focal; and its products are used in the production of core goods. At least two former employees of the steel firm Nucor Corporation (NYSE:NUE) now have important positions that pertain to trade. There is indication that industrial metal prices are going to continue rising. Here is a graphic from quandl.com showing recent trends: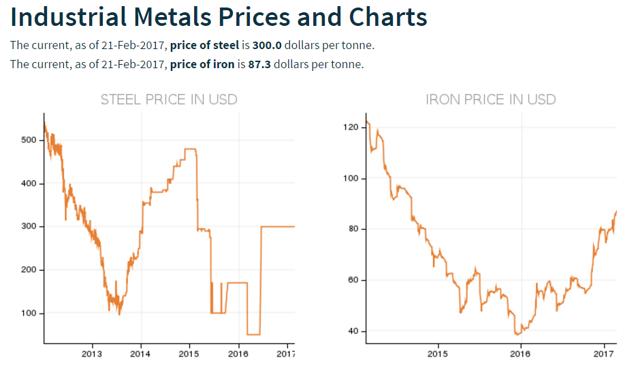 While a border tax is encountering serious questions from senators, a tariff specifically on steel, that further supports prices, could be most feasible. If so, it might still require time to discern if steel is an opening salvo with China before consumer costs go up extensively because of any simultaneous tension with Mexico.
The overall backdrop has implications for retail. Some storefronts can do better when there are economic problems, examples include auto parts retailers and dollar stores. However, with the probability that consumer spending can continue to propel growth, as less needs to be budgeted toward food and energy, countercyclical stocks might not immediately regain favor. On the other hand, discount stores, particularly those whose locations are separate from shopping malls, meaning TJX Companies (NYSE:TJX) as opposed to Sears (NASDAQ:SHLD), continue to do fine.
Reportedly, Bank of America has recently downgraded an auto parts retailer (NYSE:AAP) and a dollar store (NYSE:DG) while declaring home improvement stocks to be among its top picks. The firm recommends retail establishments such as Home Depot and Lowe's (NYSE:LOW); as well as the appliance producer Whirlpool Corporation (NYSE:WHR). If Whirlpool has pricing power, it should be fine. However, it makes sense that a non-mall retailer can also gain from Whirlpool's upside while being better insulated from any risk involving the cost of metal.
Uncertainty about future trade policy is an overhang, particularly for the stocks of retailers that import products. The implementation of a border tax adjustment could be difficult for them. Similarly, tariffs with trading partners would also make consumer products costly (including fresh vegetables and fruit from Mexico).
Home Depot
Home Depot's shares are up over 200% in the past five years and setting all-time highs after reporting a strong Fourth Quarter. So, the objective here is to figure out what remains ahead after such substantial gains have already occurred. Fortunately, the current quarterly SEC filing should also the annual one, or Form 10-K, which is most helpful for obtaining information about a publicly traded corporation. Unfortunately, the firm has been slow in issuing it, and some investors are probable to wait until after the weekend to make decisions. In the meantime, there is a recent report that the White House is not on board with a border tax, three days after Home Depot's Four Quarter results.
Jefferies has recently bumped up its HD price target from $162 to $167, while maintaining a Buy rating. It sounds as if there could be positive implications for Whirlpool:
Strong growth in big ticket led a broad-based top-line beat despite the challenging comparison. Strong expense leverage and a lower tax rate ($0.04) led to an $0.11 beat. FY18 sales guidance came in ahead of expectations as HD remains bullish on housing and appliance share gains, though growth in low margin categories will be a headwind to EPS. Given room in its leverage ratio, we see upside to EPS guidance on stronger share repurchases…Our $167 price target on HD shares is based on shares selling at about 20.5x our FY19 estimate of $8.18. The multiple premium reflects strong momentum and share gains as HD executes well in one of the best areas of retail...
Another detail from Jefferies:
While tax policies are uncertain we don't believe the net impact on HD would be significant if a BAT were put in place as the detriment would be more than offset by a reduction in corporate tax rates.
That could be true, and further support Home Depot fundamentally. The entire retail sector of the stock market could be pressured though. While a border tax might not be in the making, it seems that a select tariff or two might be in the cards.
Home Depot is an S&P 500 (NYSEARCA:SPY) stock. It appears to be one of the stronger components of the index. If you think the market is going to move higher, or that there will be economic growth, it could be one to own. Preference would be to avoid buying it at its 52 week, and all-time high prices though. If it pulls back 5%+, it would trade under $138. The current dividend yield on the S&P 500 is 2.02%; however, HD might not be available for an equivalent $136.60.
Pursuant to the eventual appearance of its Form 10-K, HD stock might be obtainable at a price under $138 next week or after. There would then be 21% upside to the Jefferies target, without consideration of dividends. Corporate results may be fueled in part by ongoing consumer savings on food and energy. Brusque measures on trade would be a concern, but rising steel prices that support core inflation could be more of a worry to Whirlpool.
Disclosure: I/we have no positions in any stocks mentioned, but may initiate a long position in HD, SPY over the next 72 hours.
I wrote this article myself, and it expresses my own opinions. I am not receiving compensation for it (other than from Seeking Alpha). I have no business relationship with any company whose stock is mentioned in this article.