AV Homes (NASDAQ:AVHI) reported its Q4 results, beating analysts' expectations by 44% and 25% on the EPS and revenue fronts, respectively. However, shares were down by almost 10%, before recovering almost all of the losses.
Why did that happen?
The company reported a 14% decrease in its units orders, which was offset by a 6% increase in average selling prices. Thus, its dollar value for new orders decrease by 9% in Q4.
This means that there is no revenue growth in 2017. That's why shares of the company were down aggressively (down 9% after one hour of the conference call).
However, we think that is not an issue. The new orders decline was caused by the lower number of selling communities, not due to lack of demand.
We think investors noticed that, which is why shares somehow recovered at the end of the trading day, closing with a loss of 2.6%.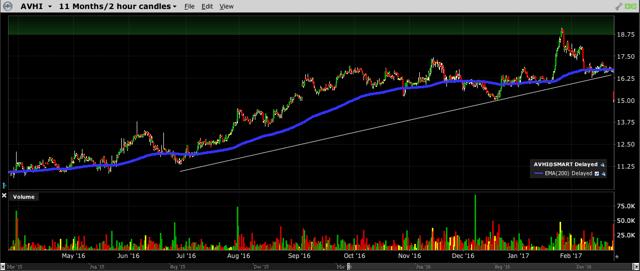 AVHI stock touched the $15.10 level, and then rebounded on modest volume.
We think that $15.10/share is an important level for AVHI stock. That is where the strong uptrend lies, where we had a huge bullish volume (seen in chart below), and where the exponential moving average for 200 periods is (the blue line in the chart above).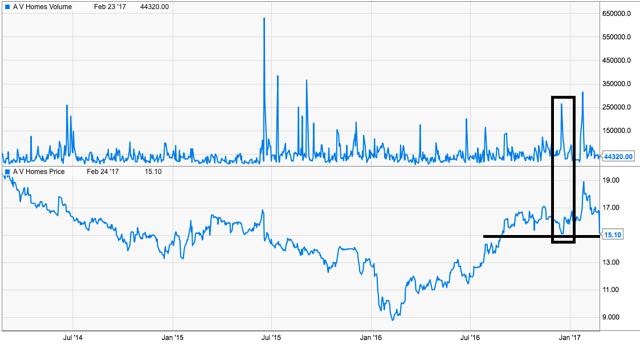 AV Homes Q4 results were impressive: the company reduced its net debt to total capitalization from 45% in Q4 2015, to 31.5% in Q4 2016.
In addition, margins are expected to expand due to growth in North Carolina, Florida, and Arizona.
We are still excited about the company's entrance into the North Carolina market. Average prices per unit for net contracts signed increased 7.4% from Q3 to Q4 2016.
That's because the housing market in North Carolina is controlled by the sellers, which opens further increase in prices in the future.
Using Zillow predictions, we believe that will still be the case in 2017.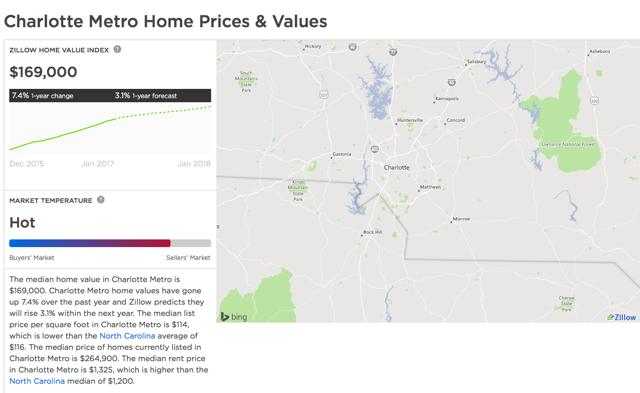 AV Homes guided for a $741 million revenue for 2017, 4% lower than 2016 revenue levels.
At 0.87 EV/R we believe there is a huge margin of safety.
We also believe that the expected jobs growth under the new administration will increase the demand for new and used homes.
The stock is also trading at 0.8 price to book value, which makes it an attractive acquisition target, as it has $110 million in net deferred tax assets.
Management is also seeking acquisition targets, making growth its top priority. It mentioned that in its conference call one hour ago, and its huge increase in its cash holdings proves that.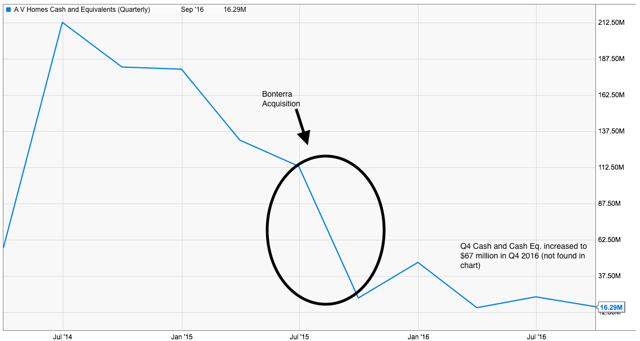 In conclusion, we believe that a close below $15.10/share will trigger a sell off in the stock price. However, if that level persists, we believe it's an attractive entry point, since all the negativity around that stock has been fully priced in (the stock is down 26% since new home sales in the US decreased 10% in December).
We recommend that investors enter into a long position, with a stop loss of $14. We believe that the investment is attractive from a risk/reward perspective.
Disclosure: I am/we are long AVHI.
I wrote this article myself, and it expresses my own opinions. I am not receiving compensation for it (other than from Seeking Alpha). I have no business relationship with any company whose stock is mentioned in this article.