The headline is a trick question, as I already own Coca-Cola (NYSE:KO). I just finished an interesting book by Michael Lewis entitled The Undoing Project: A Friendship That Changed Our Minds. Mr. Lewis is the author of some really interesting titles including:
The Big Short
Liar's Poker
Flash Boys
Moneyball
Boomerang
The Blind Side
In The Undoing Project, he tells the story of two prominent Israeli Psychologists, Daniel Kahneman and Amos Tversky, and their work on how humans think and make decisions.
One of my takeaways is that humans aren't very good at making data driven decisions, and are influenced strongly by bias. Among the many biases discussed was framing.
"Should I Buy Coke?" feels very different from "Should I sell Coke?" but it shouldn't. The data are the same in either direction, yet, I've owned Coke now for nearly five years, and I've grown attached to its brand, history, dividend growth, and I really don't want to sell my shares.
Yet, if you ask me whether you should invest in Coke today, I would likely tell you no; there are better opportunities out there based on today's valuation, Coke's pathetic growth, and the long term prospects of sugary drinks overall. And while the dividend is okay, heck, you get a bigger dividend from several utilities, and they are growing faster than Coke!

Coke's stock has increased around 20% over the past 5 years, but trails the S&P 500 over that same period by a wide margin, which is pretty disappointing.
Here is the FastGraph for KO: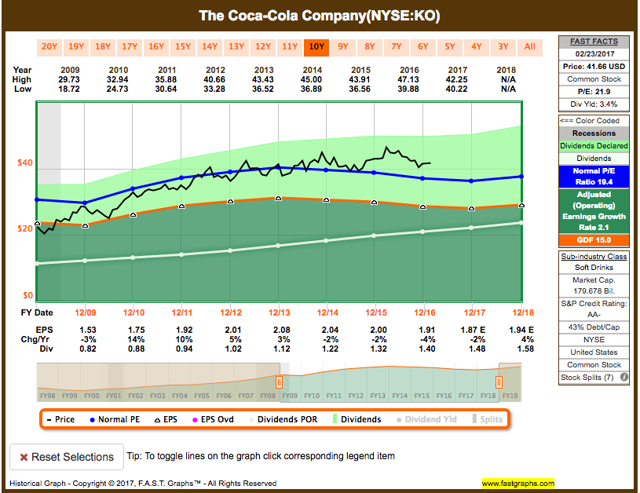 It's suffered four straight years of declining earnings and revenue, is moderately overpriced today, and is forecasting another 2% decline in earnings for 2017... not much to get excited about.
If I know based on the data that Coke is not a great investment, and that I can name several better opportunities (Southern (NYSE:SO), Duke Energy (NYSE:DUK), Pfizer (NYSE:PFE), and Stag Industrial (NYSE:STAG), to name a few), WHY DON'T I SELL? I would never buy a stock with the fundamentals of Coke today - yet I hesitate to sell for some reason. Another concept in the book is the strength of the emotion "regret." If I sell, and something good happens to catalyze growth at Coke, I will suffer regret, which would be much worse than if I simply stick with Coke, and nothing good ever happens.
It turns out there are quite a few biases - over 100 if you look at Wikipedia - that are likely to effect our decision making in all things, including investments.
Perusing the list, I'm guilty of many!
For me, in the case of KO, it seems I may prefer chronic underperformance over long periods to the threat of a sharp dose of regret.
Food for thought.
Disclosure: I am/we are long KO, PFE, STAG, SO.
I wrote this article myself, and it expresses my own opinions. I am not receiving compensation for it (other than from Seeking Alpha). I have no business relationship with any company whose stock is mentioned in this article.