The Baltic Dry Index rests at historic lows, but there is an apparent short-term rally in the works. The Baltic Dry Index rose 19 points to hit 875 on the 24th of February. This development comes on top of a ten-day rally from a three-month low of around 685.
As I mentioned in The Bullish Case for DryShips, DryShips' (NASDAQ:DRYS) bullish thesis depends on a recovery in shipping rates. Despite its cash-strapped position, George Economou is using his company's liquidity to buy up new and used vessels at historic lows, so if shipping rates recover, operating income will explode at a rate disproportionate to the increase in prices. Fixed costs will stay the same, and growth in variable-based income will go to the bottom line.
Despite dilution and self-dealing management, there is a real possibility the market is letting negative publicity cloud its assessment of the stock. The short-term moves in the Baltic Dry Index are not reflected in the movements of the equity, and this may be unjustified when considering DryShips' operating leverage-based strategy.
The Baltic Dry Index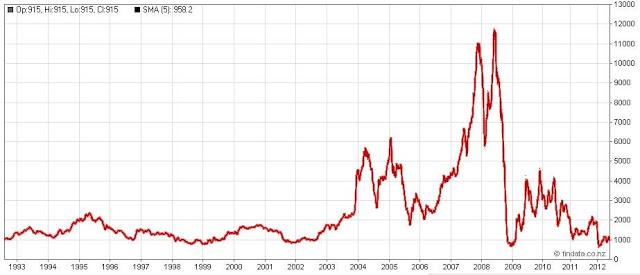 (Source)
The Baltic Dry Index measures the daily cost of shipping dry bulk - usually commodities - across the ocean. The index can be a proxy for economic activity in the emerging markets. The index fell from historic highs after the great recession and resultant commodity slowdown.
When commodity demand fell, the huge glut of ships drove down the price of transport AND the cost of the ships themselves. DryShips seeks to exploit this by buying up ships at distressed prices, so when the industry recovers, not only will the company take market share, but it will also have been able to grow while others had been shrinking. Shipping can be seen as a proxy for commodities, so investors who are bullish on things like oil, gold, and emerging markets should have a positive outlook for shipping also.
Short-term Disequilibrium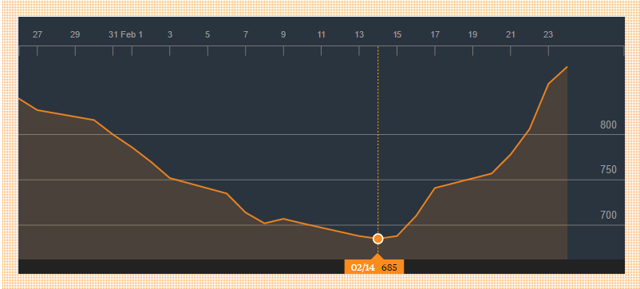 (Source)
The Baltic Dry Index represents daily rates; this means the price changes in the index can directly reflect the profitability of dry shipping firms in the short-term. Consequently, this information is very relevant to the day-to-day movement of dry bulk equities like DryShips, Top Ships Inc. (NASDAQ:TOPS), Navios Maritime Partners (NYSE:NMM), Safe Bulkers (NYSE:SB), Diana Shipping (NYSE:DSX), and others.
The Baltic Dry Index has been on a ten-day tear, rising 2% on Friday alone, and this may be the beginning of a long-term rally - especially considering bullish news coming out of OPEC regarding oil. Note, oil is not a dry bulk commodity, but these things tend to move in tandem.
However, in these ten days of increasing dry shipping rates, the corresponding equities, excluding TOPS, have tanked. DryShips posted the worst returns by losing almost 50% at a time when the index increased from 685 to 875.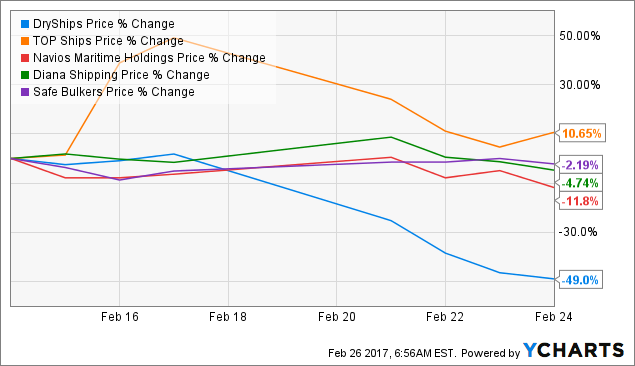 Conclusion
The dry shipping industry has some tailwinds in the form of rising daily rates as reflected in the Baltic Dry Index. This index is a key factor in the company's operating leverage-driven strategy. However, the market is not positively reacting to this bullish news; or if it is, the good news is being lost in the bad and canceled out due to selling and shorting pressure on the stocks.
DryShips bulls should keenly watch the Baltic Dry index when forming a thesis about DryShips. The company depends on a shipping recovery, but the recovery will need to be substantial to overcome the cloud of negativity surrounding DryShips and its industry in general. This is not a recommendation to buy or sell any security.
Disclosure: I/we have no positions in any stocks mentioned, and no plans to initiate any positions within the next 72 hours.
I wrote this article myself, and it expresses my own opinions. I am not receiving compensation for it (other than from Seeking Alpha). I have no business relationship with any company whose stock is mentioned in this article.
Editor's Note: This article covers one or more stocks trading at less than $1 per share and/or with less than a $100 million market cap. Please be aware of the risks associated with these stocks.