Yesterday Spectra Energy (NYSE:SE) announced that the planned merger with Enbridge (NYSE:ENB) is expected to close on Monday February 27, 2016. The combined company will be the largest energy infrastructure company in North America with an enterprise value of $126 billion. Pro-forma, the merged entity's enterprise value will place it in the top 10 of all global energy companies.

History
In 2002, Duke Energy (NYSE:DUK) acquired Westcoast Energy, a Canadian corporation, which owned Chatham, Ontario-based Union Gas. On January 3, 2007, Duke Energy completed the spin-off of its natural gas business - including Westcoast Energy and Union Gas - to form Spectra Energy. Duke Energy shareholders received 1 share of Spectra Energy for every 2 shares of Duke Energy.
Spectra Energy was added to the S&P500 on December 29, 2006.
As the chart below shows, it hasn't always been an easy ride for Spectra Energy shareholders. In March of 2009, in the midst of the "financial crisis", Spectra traded as low as $11.59. In the MLP sector wide sell-off, the company corrected more than 50%. But it has recovered every bit of that drop since the merger was announced late last year: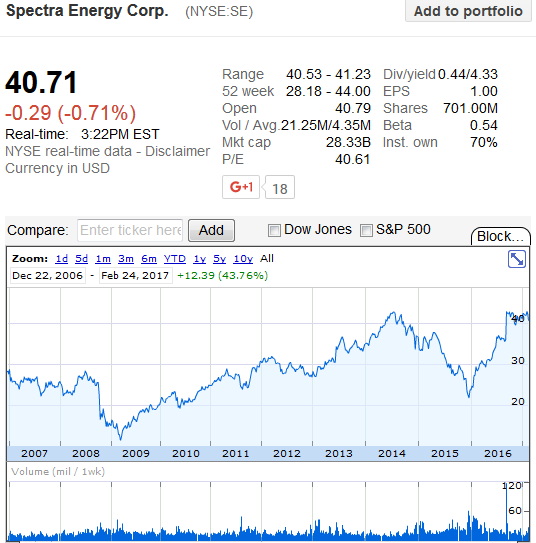 Over the past 10 years, Spectra Energy is up just over 60%. The quarterly dividend today ($0.44/share) is exactly double that of 10 years ago. The company currently yields 4.3%.
The last annual report - for FY2016 - was released today and is available here. Full-year EBITDA amounted to $2.6 billion.
But you can't talk about Spectra Energy without talking about the MLP it established in 2007 for net proceeds of $345 million: Spectra Energy Partners (NYSE:SEP).
SEP is also up ~60% since going public. However, it has been the better investment over the past 10 years as compared to Spectra Energy because of its generally higher yield. Today Spectra Energy yields just over 6%: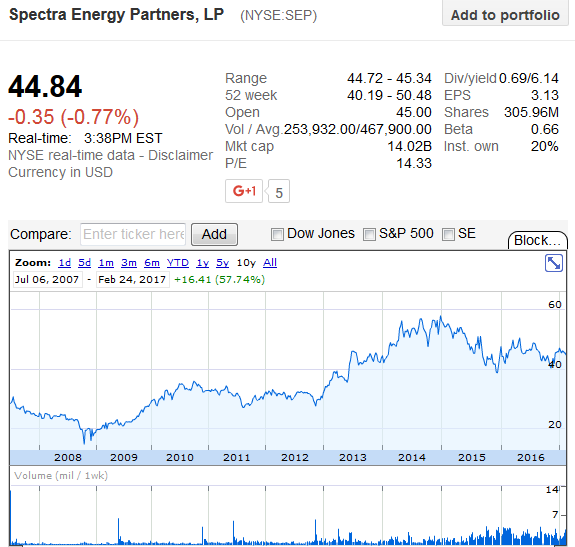 Other than the general partner being taken over by Enbridge, little is expected to change for Spectra Energy Partners: it will remain independent and keep trading on the NYSE exactly as before the merger. The large inventory of natural gas infrastructure projects is intact. It remains one of the largest and highest quality MLPs in the sector and is able to self-fund organic growth projects at very attractive rates due to its investment grade credit rating.
As I mentioned in a previous article (Recent Selling In Spectra Energy Partners Presents A Great Buying Opportunity), I do not expect Enbridge management to make any moves that would degrade SEP. After all - and as I pointed out in the piece - of SEP's $1.225 million of total net income in 2015, Spectra Energy's share is estimated to be ~$990.8 million (80%). So why would Enbridge spend 10's of billions to buy Spectra Energy only to potentially kill the "golden goose" (i.e. SEP)?
In fact, ENB's recent moves with Midcoast Energy Partners (NYSE:MEP) and Enbridge Energy Partners (NYSE:EEP), to simplify its complicated MLP structure, bodes well for the combined companies - and for SEP -moving forward.
Outlook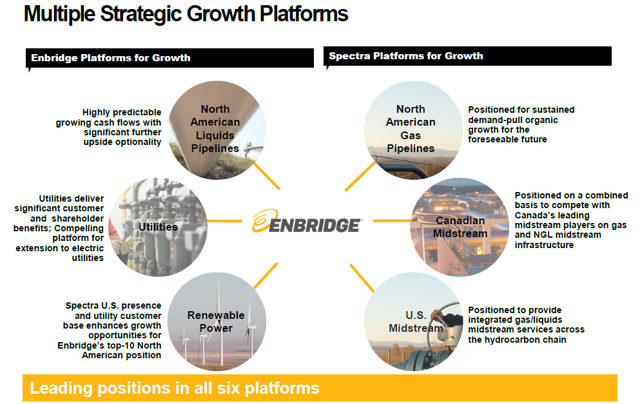 Source: Merger Joint Presentation Slides (available here)
Enbridge will have six growth platforms moving forward - and it is a demonstrated leader in each segment. Enbridge currently yields 4.3% and has significantly outperformed both SE and SEP over the past 10 years: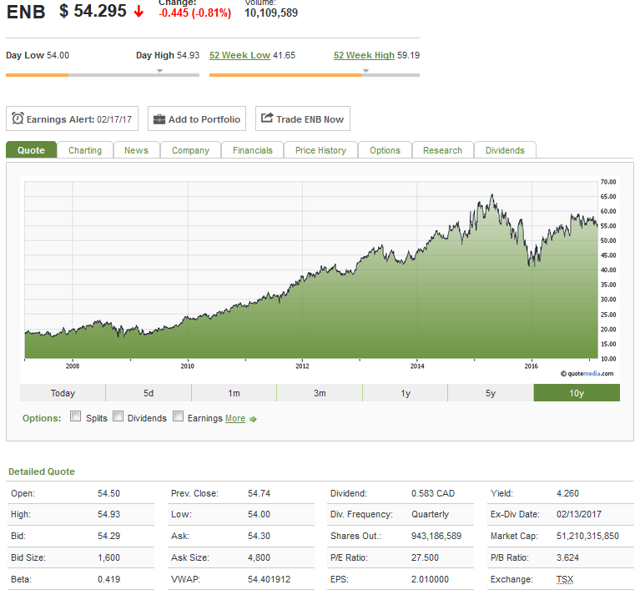 Source: TMX Money
I hope investors in both Spectra Energy and Spectra Energy Partners have held on to their shares - it should be a good ride. Enbridge expects to grow the dividend at a 10-12% CAGR through 2024 - and that despite a quite conservative 50-60% estimated payout ratio: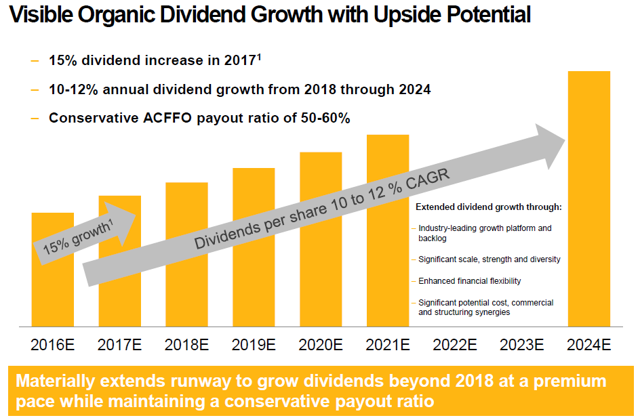 If it can achieve that dividend growth goal, ENB's stock chart 10 years from now will probably look pretty similar to the last 10-year stock chart (very nice, and shown above). Meantime, note the dividend is expected to increase 15% this year.
As a result, Enbridge is the kind of stock that long-term-oriented income investors should add to their IRA account and allow to grow.
Disclosure: I am/we are long SE.
I wrote this article myself, and it expresses my own opinions. I am not receiving compensation for it (other than from Seeking Alpha). I have no business relationship with any company whose stock is mentioned in this article.
Additional disclosure: I am an engineer, not a CFA. The information and data presented in this article were obtained from company documents and/or sources believed to be reliable, but have not been independently verified. Therefore, the author cannot guarantee their accuracy. Please do your own research and contact a qualified investment advisor. I am not responsible for investment decisions you make. Thanks for reading and good luck!